LOUISVILLE, Ky. (WDRB) -- Tyler Edwards had scholarship offers to wrestle and play football in college. But with a list of automotive certifications under his belt, the 18-year-old Southern High School senior is poised to jump directly into the workforce after he graduates next month.
He's been told that in three years, he may earn up to $35 an hour repairing diesel engines.
Edwards has been working as an engine technician at Palmer Trucks for seven months, and they've already assured him that a full-time job is waiting once he gets his diploma in a matter of weeks. The promise of a job has him feeling "secure" as he begins his career.
"I have a plan after high school, and I'll be taken care of as long as I do my job," Edwards said Friday as his fellow classmates milled about at Southern's job fair. "And I'll be bringing home a check every week."
Edwards is one of many Jefferson County Public Schools students who are exiting high school with full-time jobs or internships lined up after completing the Academies of Louisville program, which is wrapping up its second year.
At Southern, 67 students in the school's automotive engineering academy were recognized for certifications they received during the 2018-19 school year. Afterward, the school held a job fair that included employers like Ford and Neil Huffman Automotive Group so those still looking for work can network with prospective employers.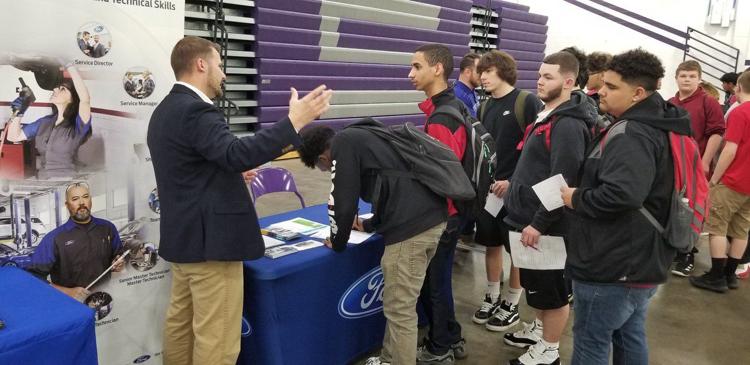 Earlier Friday, Jeffersontown High School held its first ever college and career signing day to recognize those who have accepted athletic scholarships as well as 14 seniors and juniors who have received jobs, internships or co-op opportunities through the school's Academies of Louisville program.
Sherae Brackens, an 18-year-old senior at Jeffersontown, received a full ride to Morehead State University, but before she makes the roughly two-hour trek east on Interstate 64, she'll be an intern in Brown-Forman's human resources department for the summer.
It'll give her some money to pad her savings and, if all goes well, additional opportunities. Brackens, a participant in Jeffersontown's business and health science academy who wants to open her own dance studio one day, says she will help Brown-Forman develop new ways to onboard employees as they're hired at the company.
"I was told if I'm really good at what I do in that position, then I can do projects while I'm at school as well," she said.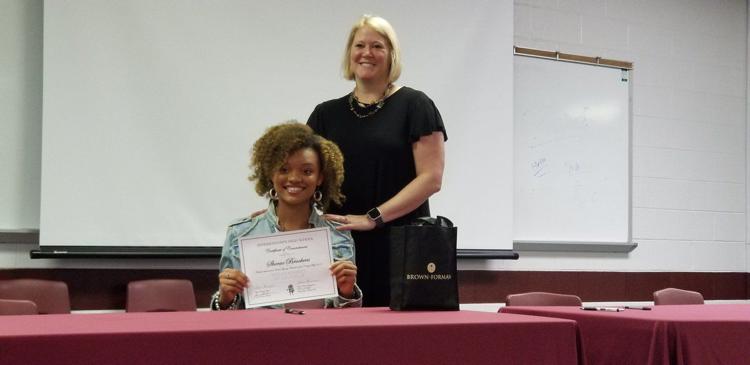 Another Jeffersontown senior, Evan Hunt, is going to work in welding and fabricating for CEPEDA Associates, a U.S. Department of Defense provider. Hunt says the company builds specialized, complex equipment for the U.S. Navy, such as life-support systems for submarines that he described as "amazing."
"I am really fortunate that I was able to get this job," said Hunt, who will earn between $18 and $20 per hour starting out. "I was able to have my instructor help me make these connections."
Those who are readying for jobs or internships won't be going far for work, part of the Academies of Louisville program's aim at developing a local workforce. Last year, 50.2 percent of JCPS graduates were ready to transition from high school and just 18 percent were ready to enter the workforce after graduation, according to state testing data.
Nearing the end of its second year at JCPS, teachers in the program say it's shown a lot progress in a short amount of time.
"I think just knowing that they definitely have a plan and we don't have to worry about them once they graduate is awesome," Ashley Drager, Jeffersontown's academy coach, told WDRB News Friday. "In so many of their cases, they're going to be making great money, and they have opportunities that I don't know that they would have known about had their teacher not guided them in the right direction, had the community not rallied around them."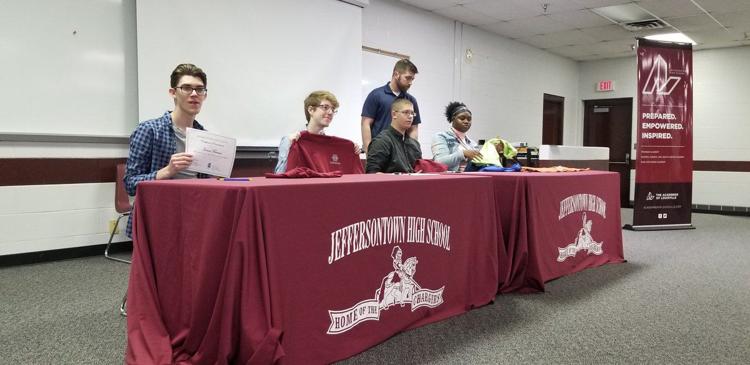 John Owen, an auto tech instructor at Southern, said this school year was "one of the best" in terms of the number of certifications his students obtained and that Friday's job fair was "the biggest one we've ever had."
"This industry is in need of technicians and mechanics so bad," he said. "It's just a natural fit for the business people to come out and recognize this. They need people. We have people ready to go."
Even though college isn't in some of his students' immediate plans, Owen says postsecondary work may still be in the future for some.
"The job market's so competitive that these employers are wanting to pay for their school," he said.
Trevin Boone, a senior at Southern, has been offered a job at Bluegrass Collision after graduation. That was his co-op experience this year, and his work there has been focused on auto body work, including restoring classic cars.
Boone makes $10 an hour as a co-op student now, but that figure will jump to around $13 or $15 per hour once he starts full-time work, he said. He noted that owners of classic cars are willing to pay top dollar to maintain or restore their vehicles to pristine condition.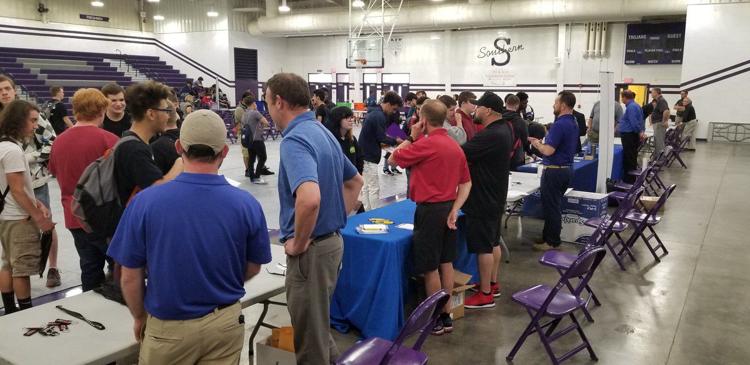 Boone and Edwards see plenty of local job opportunities on the horizon for themselves and their peers with auto certifications.
"You're always going to have cars," Boone said. "You're always going to have something that's going to be wrecked. Who's going to fix it? That's where we come in."
"Something that you're always going to need is a mechanic or somebody to work on the body of a car," Edwards said. "It's just like a doctor. We need doctors to stay alive. We need mechanics and body people to stay on the road and look good."
Copyright 2019 WDRB Media. All Rights Reserved.