LOUISVILLE, Ky. (WDRB) -- Differences between the highest- and lowest-rated schools in Kentucky and Jefferson County Public Schools are stark, though perhaps not as apparent as the four stars that separate them on paper based on 2018-19 assessments may indicate.
Five-star schools and those that would have been if not for significant achievement gaps between groups of students, both across the state and locally, are generally white and serve low-risk populations of students who don't suffer from learning disabilities, come mostly from financially secure families and don't need to learn how to comprehend English, according to an analysis of testing data by WDRB News.
While high-performing JCPS schools are more diverse than their peers across the state, students at those schools come from affluent families at a higher rate and are less likely to have learning disabilities, particularly those that require testing accommodations.
About 47% of students with individual education plans needed testing accommodations in reading at the highest performing JCPS schools compared to about two-thirds of students with IEPs who needed testing help at the district's one-star schools.
Fewer than 5% of students at high-performing JCPS schools were identified as disabled on reading assessments, a rate of about half the 10.7% statewide average for similarly rated schools and nearly a third of the 13.7% of disabled students who took reading exams at one-star JCPS schools.
Most of those schools also have an advantage that others in Kentucky's largest school district don't: They get to pick which students walk through their doors and learn in their classrooms through competitive application processes.
That presents what Terry Brooks, executive director of Kentucky Youth Advocates, calls an "ethical dilemma" for JCPS regarding its magnet programs. The district, he says, is essentially operating two school systems under one umbrella.
"I continue to think that JCPS and the Louisville community … face an ethical question as to the impact of magnets on all those other schools because you create certain environments and expectations," Brooks said in a phone interview Friday.
Raoul Cunningham, president of Kentucky's NAACP, says the disparities in testing results show a need for JCPS to provide more critical resources to schools that desperately need them.
On average at the district's one-star schools, nearly 80% of students were identified in 2018-19 reading assessments as economically disadvantaged. That number is generally reflected at other low-performing school across the state, where 78.6% of students who took reading assessments last school year were poor.
What's more, 5.5% of students at low-performing JCPS schools who took reading tests were homeless, slightly higher than the 5.1% average for other one-star schools across the state, and 13.1% were English learners, including those who have exited the status but remain monitored. By contrast, just 2.2% of those who took reading tests at high-performing JCPS schools were identified as English language learners.
Those one-star JCPS schools also had higher populations of black students compared to their peers across the state.
While low-performing schools across Kentucky were still majority white, the population gap between white and black students is 3 percentage points. At JCPS, populations at one-star schools are 47.5% black and 31.9% white.
Cunningham said the demographics of the district's one-star schools were "not surprising," particularly the fact that they serve students who are predominantly poor and black.
"These are all indicators of conditions that the school system has to deal with if it is going to eliminate the differences in the test scores and the disparities," he said in a phone interview Friday.
Locations of the district's lowest performing schools also reflect Jefferson County's history of housing patterns, said Raymond Burse, general counsel for the NAACP. Of the 27 JCPS elementary schools rated one star, for instance, just six are east of Interstate 65 and none are in Louisville's affluent East End. Fifteen of those low-performing schools are west of I-65 and north of the Watterson Expressway, an area that encompasses the city's West End.
"You've got some concentrated poverty in certain neighborhoods, but given that, what is it that needs to be done by the school system itself to make certain that resources are allocated to make a real concentrated difference?" Burse said.
The needs at schools in those neighborhoods are different than at a school like Norton Elementary, one of two five-star elementary schools in JCPS that are not traditional or magnet schools, he said.
"You have to in fact face the differences and say from an educational and a developmental standpoint what is it that we need to do different in these schools to make those students successful," Burse said.
Burse said he believes the Jefferson County Board of Education is committed to the racial equity policy it passed, but he wants to see more action from JCPS administrators toward enacting it. That includes putting the best teachers and classroom materials in schools that most need them, he said.
JCPS, which is home to 49 of the 89 one-star schools in Kentucky and 35 of the 50 lowest performing 5% of school across the state, has established additional supports for schools identified as accelerated improvement schools, or AIS, in hopes of improving academic outcomes for their students. The district is adding 10 more schools to the program based on this year's assessment results, bringing the total number to 46.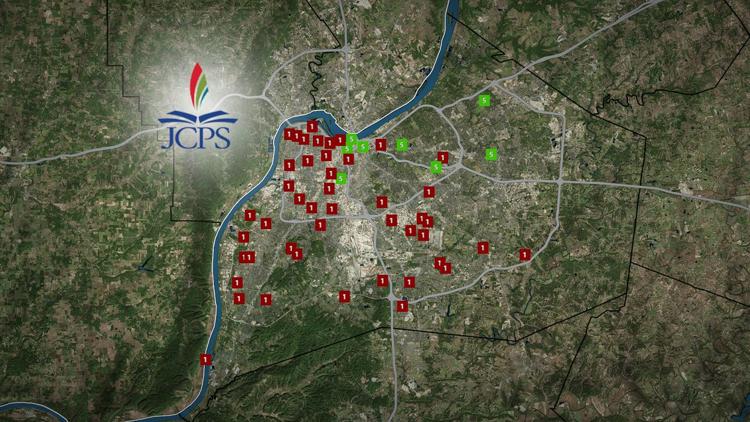 The district provides stipends for teachers who transfer into AIS schools and those who teach there plus five extra days of training before the start of the school year. AIS schools also have an academic instruction coach assigned to them and a pool of $3 million for additional resources, according to JCPS spokeswoman Toni Konz-Tatman.
Further, the 2019-20 budget approved by the Jefferson County school board Sept. 24 pumps millions more into turning around its low-performing schools. New allocations in the AIS department's budget include $3.1 million in stipends for certified non-administrative staff, $3.2 million in professional development, $2.3 million for middle and high schools, $1.4 million in application-based funds, and $25,000 to support new teachers at AIS schools.
"In my district there are schools that need help," Diane Porter, chairwoman of the Jefferson County Board of Education who represents District 1, said in a phone interview Friday. "There are students that need help, so we have to be intentional with what we're doing for those students."
Porter's district has some of the highest and lowest performing schools in JCPS, from five-star schools like duPont Manual High School and J. Graham Brown School to one-star schools like Academy @ Shawnee and Roosevelt-Perry Elementary, many of which have been identified as CSI.
Of the 20 elementary schools in her district, 13 were rated a single star under the state's new accountability system introduced this year.
Porter noted that Cochran Elementary, which is also a District 1 school, made significant progress as it climbed out of CSI status based on its 2018-19 accountability results. The three-star school was one of 20, and the only from JCPS, that made the Commissioner's List in recognition of its academic growth and improved proficiency rates on state tests.
Still, some say change isn't happening at a quick enough pace as kids slip farther behind academically.
Gov. Matt Bevin, a school choice advocate who has criticized Kentucky's largest school district in the past, called this year's assessment results "a continuation of a trend" at JCPS and that "a little more time and a little more money" hasn't worked in recent decades, so change is necessary.
"We've had a lot of resistance to any change," Bevin said Friday. "We've had a lot of resistance to parents and students having any choice with the promise that if we keep doing the same thing, somehow it will get better. Well, it's not getting better."
Porter, however, said she believes the district's approach to turning around its struggling schools will yield dividends.
"We cannot leave children behind," she said. "In my experience in education, the accountability plans continue to change. Things change, but what doesn't change is the need to educate all children, all children, and that's our responsibility in public education."
Copyright 2019 WDRB Media. All Rights Reserved.