LOUISVILLE, Ky. (WDRB) -- School wasn't always easy for Victor Hernandez Gonzalez, a fifth-grade student at Coral Ridge Elementary.
"I used to get mad a whole lot, like a lot, like anger issues," said Victor, 10. "But now I'm able to keep it all calm. Things are smooth."
His days of disruptions behind him, Victor is considered a model student by his teachers at Coral Ridge. He credits Tracey Roberts, a mental health practitioner at the school who started her new role in November, with helping him make that transformation last year.
"One day is just a day, but the other one's a new day, a great day," Victor said.
Jefferson County Public Schools dramatically increased its number of school-based mental health professionals in hopes of reaching kids like Victor and helping them through issues they're dealing with inside and outside their school's walls.
The district has 109 of its 130 mental health practitioner jobs filled and previously had 68 mental health counselors on staff, according to JCPS Communications Director Renee Murphy.
Roberts says there's evidence that the efforts of her and her colleagues are paying off. Mental health practitioners go over district- and school-level data monthly, and during this month's meeting, Stephen Lin, a JCPS research and evaluation specialist, said school attendance is improving while suspensions are dropping across the district.
She believes putting a greater emphasis on students' social and emotional needs will also yield results academically.
"We are definitely worth having, and we are definitely having an impact in kids' lives," Roberts said.
Roberts, a former Coral Ridge receptionist who transitioned to mental health counseling after earning her master's degree in school guidance counseling at Spalding University, works with about 25 kids now, seven or eight of them in one-on-one settings. They're generally referred to her by their teachers or parents, she said.
More than a week into the 2019-20 school year, Roberts is still building relationships with those Coral Ridge students she sees regularly. Trust is particularly important in a position where helping some of the district's youngest learners grapple with complex emotions or devastating traumas is critical.
"We have kids who've dealt with homelessness," Roberts said. "We have kids who've dealt with, they don't have enough food. Here for these seven hours, they feel safe and they feel comforted, and I'm just trying my best to equip them with resources and tools and strategies that when I'm not with them that they can use at home to hopefully help them feel calm and safe as well."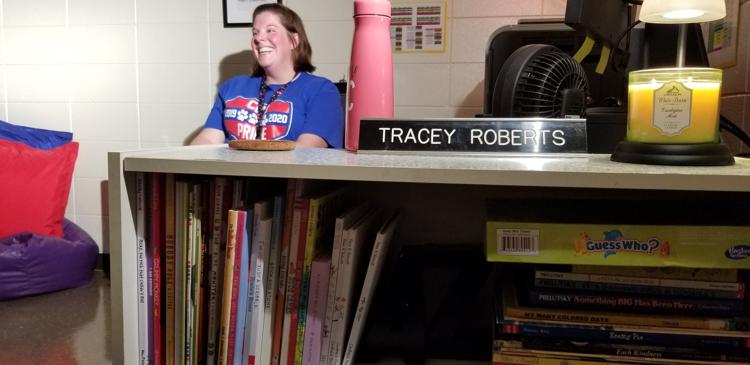 That sense of calm and safety starts in Roberts' office. She uses soft lighting and a scented candle warmer -- eucalyptus mint filled the air on Friday -- to help set a relaxing mood in her space. A bean bag and pillows lie in one corner of her office, and a small table and chairs line the wall.
Her shelves are filled with things like books and board and card games, which can be helpful resources to help kids deal with adversity.
"Something as simple as Uno, you're teaching kids how to follow rules," Roberts said, noting that she gets frustrated when another player hands her a draw-four card. "You can be teaching kids that sometimes things happen and you just roll with it."
Mental health practitioners like Roberts serve as their building leads in developing strategies centered around trauma-informed care. That means they get professional development in that area, which they then use to train the schools' teachers and staff.
Teachers shouldn't take it personally when kids shut down during class, Roberts said. Students might need time in the classroom's "cooldown corner," and if teachers need her help, Roberts says she's just a phone call away.
Sometimes she can recognize when students are having a difficult time just by looking at them. Cheerful students suddenly becoming sullen and clenched fists are among signs that they're dealing with issues.
"The biggest thing is building relationships and learning and knowing your population and the students you're dealing with," she said.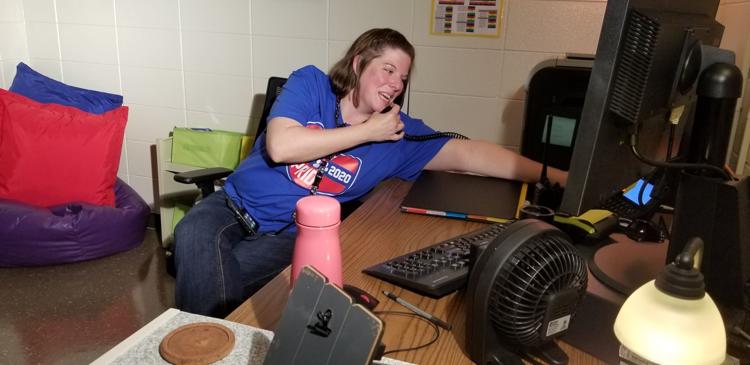 Those relationships extend to the kids' parents. Roberts can see students individually up to three times before parents need to give their permission for the sessions to continue, and all group session participants need parental consent before Roberts can work with them.
At times, parents have balked at getting school-based mental health services for their kids. But far more often than not, a phone call from Roberts can change their minds.
"I talk to parents, and I say it as, 'If your child had strep throat would you take them to the doctor, and if the doctor said you need an antibiotic would you get it for them?'" Roberts said. "… We need to take care of our mental mindset and our mental health just as we would anything physical because a lot of our mental can feed into our physical."
Roberts says hearing teachers say some of her friends -- as she calls students like Victor -- have become model students in their classrooms is her favorite part of the job.
She wishes she had had someone to help her through issues in her childhood, a major reason behind her decision to change careers.
"If I had to give you one sentence of why I do what I do, it's because I want to be who I needed when I was younger and I didn't have," Roberts said. "And if I am the one person in this building that they feel safe with and that they can just cry to or they can sit in here and yell to or just not even talk to me but they just come in here and calm down and they're good to go, then I've done what I wanted to do."
Copyright 2019 WDRB Media. All Rights Reserved.