LOUISVILLE, Ky. (WDRB) -- The apprehensive tone of Stan Mullen, head of security and investigations for Jefferson County Public Schools, was evident in the email he sent to representatives of local law enforcement agencies the morning after their proposed contracts for school resource officers were ultimately nixed by the Jefferson County Board of Education.
"I regret to inform you that the Jefferson County Public Schools Board of Education did not approve SRO contracts," Mullen wrote in an Aug. 7 emailed obtained through a public records request by WDRB News.
"This school year will start with a feeling of fear for all."
Mullen isn't the only one to express safety concerns at JCPS schools after a split 3-3 board vote left SRO contracts with the Jefferson County Sheriff's Office, Jeffersontown Police and Shively Police unapproved Aug. 6, according to correspondence involving school board members and certain JCPS staffers like Mullen requested by WDRB News.
But while some share Mullen's concern about the lack of police in schools, others on the school board who voted to let the SRO contracts lapse don't agree with his grim perspective.
Corrie Shull, who represents District 6 and was one of the three who voted against renewing the SRO contracts, said only a fraction of schools in JCPS even had SROs. Most had already been pulled by Louisville Metro Police before the board's Aug. 6 vote, which affected 11 schools.
"We have 156 schools in Jefferson County, so there's a bit of exaggeration with that," he said. "I hate that he said that. It's not necessarily true."
James Craig, who represents District 3, was blunt in his reaction.
"I'm glad that Dr. Pollio is looking for someone else to run the SRO program," he said, referencing JCPS Superintendent Marty Pollio. "... I regret that any member of the administration would say such a thing in response to a board directive."
Combined with the Louisville Metro Council's decision to go along with Mayor Greg Fischer's budget proposal to pull 17 LMPD officers from JCPS schools due to financial strain on the city, JCPS opened the school year without a single SRO for the first time since 2002, as Mullen noted in his Aug. 7 email.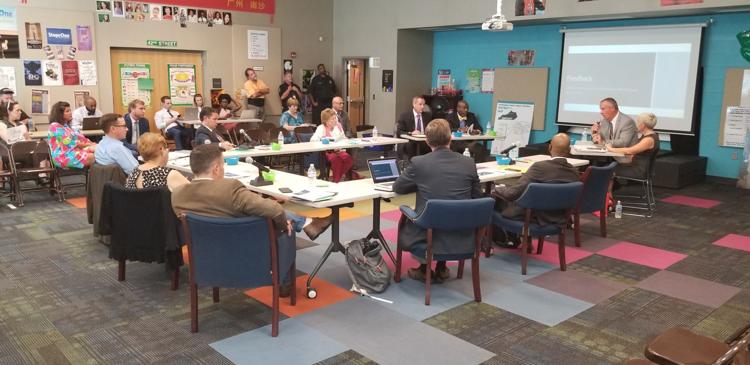 Much of the criticism for the lapsed SRO contracts in emails obtained by WDRB News was directed at the three board members who voted against renewing the deals that would have allowed assigned officers to patrol 11 schools at JCPS, the emails provided to WDRB News show.
"Your vote against the SRO contracts cost you the votes of me and my family members," an emailer named Mike Crask wrote Aug. 8 to Craig. "I hope you are running again so I can vote NO on you."
One JCPS mother, whose name was redacted entirely by the district, wrote that the 3-3 vote left her "very shocked and disheartened."
"I understand that it was a split decision and I can not fathom as to why," she wrote in an Aug. 7 email to all six board members at the time. "There is absolutely NOTHING more important than our students safety and to think that some may not feel that way is very bothersome as a parent and as a community member."
Madison Yochum, a teacher at Pleasure Ridge Park High School, wrote in an Aug. 8 email to Corrie Shull, who represents District 6, that she felt safe "every single day walking into school" with an SRO.
"My students LOVED our SRO because he made them feel safe and loved, speaking with them in the hall, stopping by to see them during lunches, and taking a few under his wing to raise up as culturally competent citizens," she wrote. "His actions told us that if anyone entered our building with ill intentions he would happily give his life to keep them safe."
"I am, quite honestly, afraid that our schools simply don't have the tools necessary to protect our students in the event of a shooting or other tragic event which are becoming all too common across the country," Yochum continued. She later thanked Shull for his response to her email, in which he said his decision was based on data and research.
At least one of those three board members – Chris Kolb, the board's vice chair who represents District 2 – has also been a subject of derision by staff in an email obtained by WDRB News.
"Remember guys and gals," Kevin Conder, a JCPS security monitor, wrote Aug. 13 in an email that included a link to a news report of a Muncie, Ind., teen who was arrested outside Muncie Central High School with a loaded handgun based on a tip received by the school's resource officer.
"Police officers don't stop school shootings... 'there's nothing an SRO can do to stop them...' (Kolb). Stay safe, and have a good first day of school. Remember this happened just 3 hours north of here."
Kolb declined a request for comment.
Linda Duncan, who represents District 5, said the generally negative response to the board's split vote that left the SRO contracts unapproved didn't surprise her.
The decision, she said, essentially stripped the voices of school leaders who wanted police to provide security in their buildings. Most people she's spoken with "are incredulous," Duncan said.
"This is a recommendation that the superintendent made based on the needs expressed by our principals who are working directly with these problems," Duncan said.
"What are we doing vetoing their expressed need? I just feel we should not be the ones cutting this off as an option for our principals, and not all principals feel that they want an officer there. I understand that, but the principals who do feel that they need them are basing it on what's going on in their schools."
But Shull, Craig and Chris Brady, who represents District 7, say reactions to the move away from SROs have been mixed in their experiences.
Shull said that emails obtained by WDRB News don't necessarily reflect what people have said to him in the community.
"The people who affirm the decisions generally don't email," he said. "It is always people who are in opposition to the decision that has been made who email and who are the loudest."
For Craig, some of his harshest critics have emerged on social media. He shared a Facebook comment with WDRB News that derided "40 years of consistent failure by leadership" at the district, which he said lines up with the timeline of the landmark federal ruling that forced JCPS to desegregate.
He said his decision to vote against the SRO contracts was reached, in part, after speaking with teachers on the subject of school safety.
"I didn't go into this voting wholly James Craig's conscience," Craig said. "I did a hell of a lot of due diligence before casting this vote."
The board is formulating policies for an internal force of JCPS resource officers, which are expected to come before members for a vote next month. The board approved the creation of a temporary project manager position to get the district's new SRO program off the ground.
No one has been hired to the role yet, according to JCPS.
Brady said he voted in favor of the SRO contracts in large part because the district had taken significant steps toward developing its own in-house security team that would replace SROs and be accountable to the district's administration. He also worried about the impact of the officers' "sudden removal" to schools that had come to rely on SROs .
But had JCPS not shown any sign that they were moving toward hiring its own team of officers, Brady said he may have sided with Kolb, Shull and Craig in opposition to the contracts.
"I might have voted against extending those contracts as well simply because I would want to motivate and send a message to the administration that we really need to do this," Brady said. "It is imperative, in my view, that security personnel are accountable directly to the administration within JCPS."
While the worst hasn't befallen JCPS in the wake of the removal of SROs by the city and lacking board support, Mullen indicated his belief that such a crisis may have been prevented by officer Tony Sacra last school year at Valley High School.
Sacra, a former SRO at Valley who was commended by the school board in June, stopped student Tashunka Campbell as he walked toward the school on April 16 while serving a suspension.
Campbell, who is jailed on a $75,000 board as he awaits trial on felony charges after his $30,000 bond was revoked when prosecutors found a social media video of him brandishing a handgun while on release, was found with a .38 caliber revolver and ammunition in his pants pockets by Sacra and LMPD Lt. Grant Riggs.
"This situation was another potential tragedy adverted by their professionalism and dedication," Mullen wrote in an April 19 email to LMPD Chief Steve Conrad.
Copyright 2019 WDRB Media. All Rights Reserved.