LOUISVILLE, Ky. (WDRB) – Indiana reported 862 additional cases of COVID-19 on Wednesday, one of the highest single-day increases in new infections, state data show.
There were 51 new deaths from the respiratory illness, taking the total number in the state to 1,264 since the first case was confirmed in March.
On average, 150 to 160 people Hoosiers die from influenza during a typical seven-month season, state health officials have said.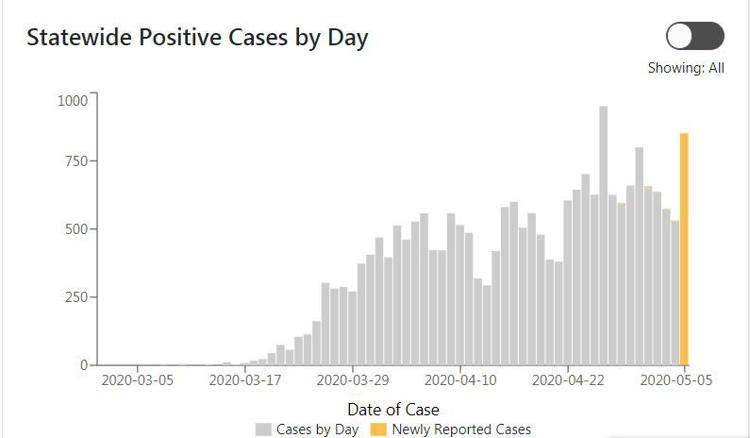 The increase in new cases comes as Indiana works to add more testing to meet its goal of 6,000 exams per day. The Indiana State Department of Health reported 4,692 additional tests that were conducted between March 30 and Tuesday.
Overall, 120,496 tests have occurred, and about 18% of those were positive for COVID-19, the illness caused by the SARS-CoV-2 novel coronavirus.
The number of new cases disclosed Wednesdays is the most since 964 were announced April 26, the most in a single day.
There were six new cases confirmed in Floyd County, where 218 infections have been confirmed since the pandemic began. In all, 27 people there have died.
In neighboring Clark County, 339 cases have been reported, including eight new ones. There have been 23 deaths.
Citing adequate hospital capacity, Gov. Eric Holcomb began lifting restrictions on some businesses and service this week. Restaurants will be allowed to reopen at 50 percent capacity starting next week.
Small business marketplace
Holcomb is requiring servers and kitchen staff to wear masks or face coverings when restaurants resume dine-in service. He has advised other businesses to follow their industry guidelines for reopening, which can include masks and other personal protective equipment (PPE) for employees.
On Wednesday, Indiana launched an online "marketplace" for small businesses to get hand sanitizer, face shields and other PPE made in the state. Nonprofits or businesses registered in Indiana qualify if they have less than 150 employers; are encouraged to use PPE to reopen, under Holcomb's plan; and are in the restaurant, retail, personal services or office sectors.
The program will provide bundles of PPE based on a business' size, said Luke Bosso, chief of staff of the Indiana Economic Development Corp.
"We continue to encourage everyone to continue to try to source PPE from traditional providers and use the marketplace as a secondary source," he said. Bosso said about 10,000 requests will be fulfilled during the first week.
Bobby Bass, owner of Southern Hospitality Food & Entertainment, said his restaurants will start to bring workers back early next week and open to customers by the end of the week. 
Bass, whose group operates MESA Collaborative Kitchen and MESA Kids in New Albany and several restaurants in Corydon, said his plan involves cleaning and sanitizing space. 
"I feel confident with the 50% capacity and then all of the steps that our staff is going to take that we'll be able to provide a safe environment, Lord willing, for all of our customers," he said.
Expanded testing
More testing was set to start in Indiana on Wednesday as part of a deal with OptumServe Health Services, which will run the exams at 20 National Guard sites, including in Scottsburg and Columbus. Those are the closest to the Louisville metro area.
Another 30 sites are expected to open by next week in Clark, Jackson and Harrison counties.
The state is paying OptumServe Health Services $17.9 million to operate the sites. It plans to test those with symptoms, as well as "close contacts" of people who have tested positive, and residents of nursing homes and other group-living settings. 
The test centers are to be open Monday to Friday, but they have limited capacity. To register, go to lhi.care/covidtesting or call 888-634-1116.
Reporter Dalton Godbey contributed. 
Copyright 2020 WDRB Media. All Rights Reserved.