LOUISVILLE, Ky. (WDRB) -- Amarielle Barbee is brimming with excitement at the prospect of seeing her friends and making new ones when Jefferson County Public Schools kicks off its Summer Backpack League on Monday.
Her "adventure" over the next four weeks is called compassion in action, one of several opportunities available to nearly 1,000 third- through sixth-grade students who've signed up for the district's new $1.2 million summer learning program.
"I like to see people smile, and I like to see people happy," Amarielle, a rising fourth-grader at Lincoln Elementary Performing Arts School, said when asked what led to her choice.
The 8-year-old also hopes to see her academics improve, which strikes at the heart of what JCPS officials and teachers in the program hope to achieve with the Summer Backpack League as it launches next week.
The new program is free for families and includes breakfasts, lunches and field trips, and it's been touted as a potentially game-changing tool for JCPS students struggling in reading and math. Teachers will have access to their students' Measures of Academic Progress test scores from last year, giving them an idea of where the kids are academically and if they have any special learning needs, said JCPS Chief Academic Officer Carmen Coleman.
"We hope that if we have some kids who have gotten discouraged, we hope this puts them back on a winning streak," she said. "That's No. 1, and that momentum can carry us a long way, so we do hope for some really concrete results with MAP, for example."
For teachers, it's an opportunity to try new lessons in a less formal classroom setting.
As an added incentive, the district is letting teachers who participate in the Summer Backpack League keep any materials provided through the program so they can use them in their regular classwork in the upcoming school year. Teachers are being paid their typical daily rate for working in the program, Coleman said.
"One of the advantages of being able, as a teacher, to work in the Backpack League is that we get to try out our deeper learning unit that we're working on, and by having the opportunity to try it out, then that gives us the skills that we need to go back to the classroom and do this kind of work in the classroom on a regular basis," said Lisa Downs, a teacher at Schaffner Traditional Elementary.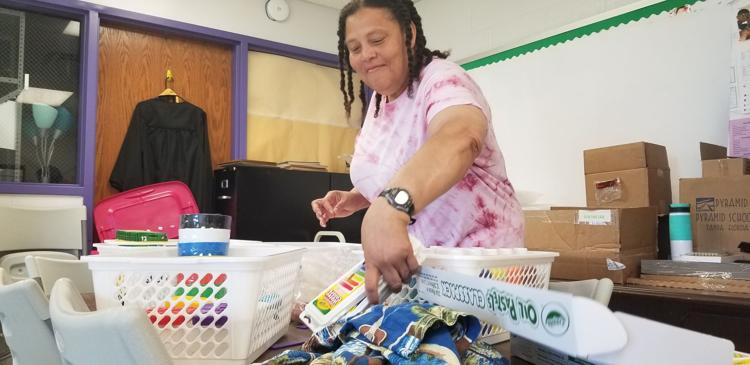 Downs is working with Heidi Keairns, a librarian at Field Elementary, on an adventure called chasing art, which they've been working on since first drafting their proposal in February.
The 42 kids who've signed up to be in their classes will be reading the book "Chasing Vermeer," a mystery book where students solve a case involving a missing painting. One of the book's main characters carries pentominoes – block shapes made with five conjoining tiles – in his pocket, which Downs and Keairns say will add a math element to their reading and art lessons.
"They'll be doing really deep, rich math tasks that they might not even realize is math, so that's the beauty of it," Downs said.
Kids in Downs's and Keairns's classes will be taking a field trip to the Speed Art Museum, and artists and mathematicians will be dropping by their classrooms at Male High School to share their expertise with students.
At the end of the four-week program, students will stage a museum for their families to show off the pieces they created.
"We're going to have fun and do art and be creative," Keairns said.
Other camps offered through the Summer Backpack League include a Hunger Games-inspired archery adventure and one focused on the life of Muhammad Ali, Coleman said.
"We have several groups that are doing things to focus on the local community, so very real, authentic learning experiences, not sitting in desks in rows in classrooms," she said.
Coleman likened the launch of the Summer Backpack League, which is modeled after a similar program in Boston, with the opening of a new school. Forty-two buses will transport kids from throughout Jefferson County to Male, which is the program's central hub, and on field trips throughout the Louisville area, and nutrition service workers will prepare two meals a day for camp participants.
She said coordinating the logistics of transportation and food service for nearly 1,000 students was "a little overwhelming to think about" at first.
But her colleagues at JCPS have made every effort to ensure a smooth launch when the Summer Backpack League kicks off Monday.
"Everybody's been thinking, 'How can we?'" Coleman said. "Nobody says no. Everybody tries to work to yes."
Although JCPS is preparing for its first Summer Backpack League, Coleman is already thinking about ways to make it better for next year. That includes opening the four-week program to even more students, she said, noting that not every student who applied could get in this year.
For Coleman, the program's $1.2 million cost will be money well spent.
"I always like to say if we can put them on a winning streak, you can't put a price tag on that," she said. "The difference that makes is just unlimited."
Copyright 2019 WDRB Media. All Rights Reserved.