LOUISVILLE, Ky. (WDRB) -- Louisville's health chief warned Tuesday that COVID-19 cases are rising at an "alarming rate," with new infections on some days five times higher than just a month ago.  
City data show deaths linked to the virus are declining. And Dr. Sarah Moyer, the director of the Louisville Metro Department of Public Health and Wellness, said hospitals are "nowhere near capacity."
But Moyer told reporters during an online briefing that new daily cases have risen from around 40 per day in June to more than 200 per day recently. Last Thursday, the city reported 246 new cases, its highest single-day increase.
And while hospitals aren't at risk of overcrowding, she said a surge in cases could result in more deaths and hospitalizations, as well as health complications from the virus in people who recover. There are 90 people hospitalized with COVID-19, Moyer said, up from around 50 to 60 in June.
"The number of new cases per week has doubled every week since we started July -- and we know we still aren't identifying all the cases in the city," she said.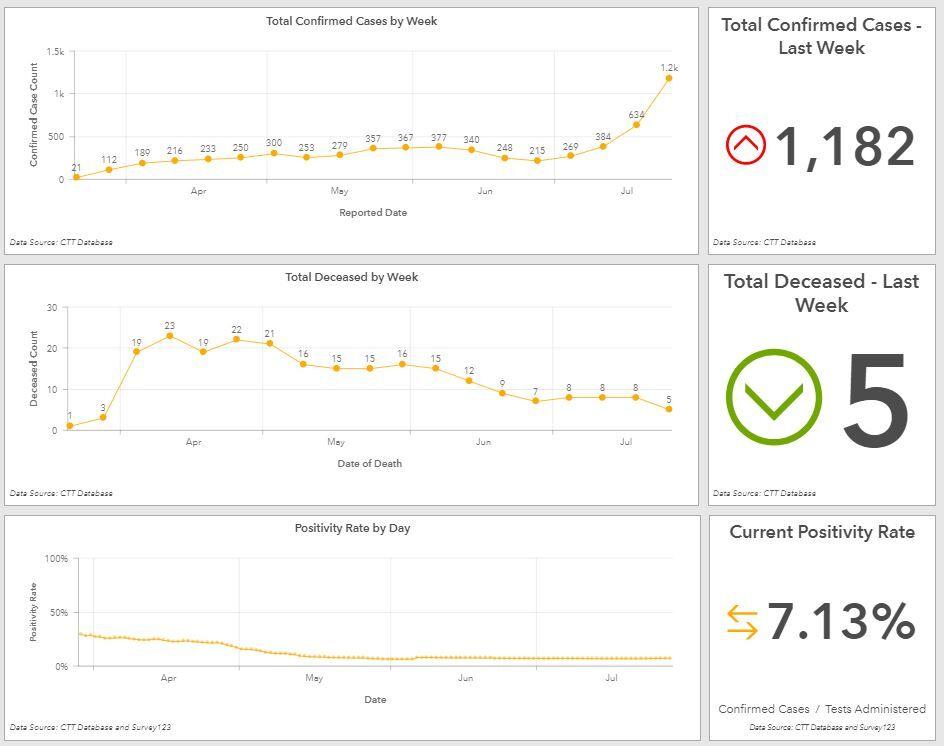 Moyer said she and Mayor Greg Fischer spoke with Dr. Deborah Birx, the White House coronavirus task force coordinator, by phone on Monday.
Fischer said other mayors and public health directors from the region joined the call. Birx recommended preventative measures to help stop the virus from spreading, including mandatory mask usage; closing bars; and reducing indoor restaurant capacity, he said.
Kentucky Gov. Andy Beshear, who held a joint press conference with Birx in Frankfort on Sunday, announced Monday that he was ordering bars to close and restaurants to operate at 25 percent of their normal indoor capacity. Those restrictions will last at least two weeks.
Moyer once again urged Louisvillians to wear masks in public, wash their hands frequently, limit the number of people they interact with and stay outside around others.
"I think people are tuning out these messages, and it's unfortunate," Moyer said. "Because we have a quickly spreading wildfire on our hands and people seem to be oblivious to the flames.
"We need every person to use every resource they have to douse the flames of the wildfire, to stomp out every burning ember. Each of us has to fundamentally re-think the way we go about our lives. We can't be normal right now. We simply can't have our pre-pandemic lifestyles."
Beshear has strengthened some measures meant to keep the coronavirus illness from spreading. Last week, he restored state guidance calling for no more than 10 people at social gatherings, like house parties, down from a 50-person limit.
At the same time, racial justice protests continue in Louisville over the March death of Breonna Taylor, whom police shot and killed during an undercover drug raid of her apartment.
Asked if there is concern about protesters spreading COVID-19, Moyer said that "anytime you're in a closed contact situation, don't have a mask on, there is risk of spread."
She said anyone "at risk" from protesting or other activities ought to get tested or be quarantined for 14 days before visiting older relatives or returning to work.
Moyer said less than 10 of the city's 6,000 cases has been linked to protesting. The health department did not immediately respond to a question Tuesday seeking more data.
"When you do a big comparison of everything else and all the other risks, it's small in comparison (to) our bars and our travel and our restaurants and our workplaces, where people are inside and closer together, or gyms or fitness centers, where people may not be able to wear a mask and are breathing hard," she said.
This story may be updated.
Copyright 2020 WDRB Media. All rights reserved.