LOUISVILLE, Ky. (WDRB) -- Even more Jefferson County Public Schools maintenance workers are coming forward to claim the state's largest school system discriminates against African American employees on the job.
Fifteen of the district's custodians and laborers joined with local attorney Teddy Gordon at Christ Center Ministries church in West Louisville to announce the filing of a class action lawsuit. That's where the group started meeting in February to discuss the institutional racism they feel has held them back in JCPS. 
"Being ran down and constantly harassed just wears you down," Meyzeek Middle School night custodian Glenn Harris said. "I'm really not even a custodian; I'm a whipping boy, basically, and I don't like that feeling."
The group filed the lawsuit Thursday claiming JCPS's operation services division is "a good ole boy system" where African American employees are not considered for jobs, are not promoted and are subjected to a hostile working environment.
"We all know it's been happening," attorney Teddy Gordon said. "Without us being here, it's been happening. It'll happen today. It'll happen next school year in August, and it'll continue to happen until we intervene."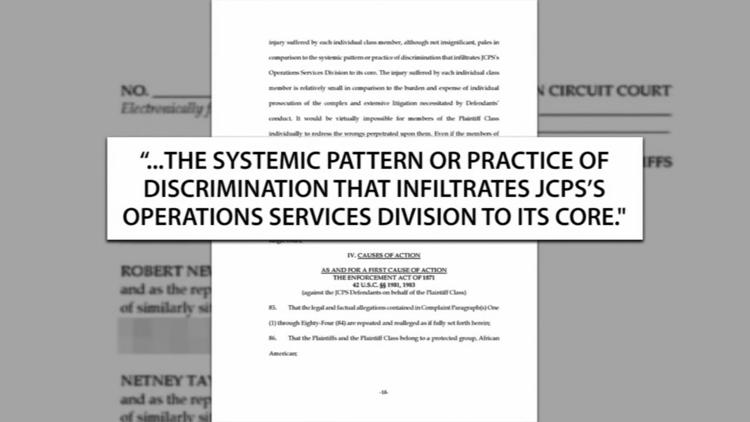 The filing singles out the district's Chief Operations Officer Michael Raisor, Director of Property Management Robert Tanner, Housekeeping Manager Kelly Kirk and Training Specialist Dr. Anthony Johnson as defendants. Noticeably absent from those listed by name is Superintendent Marty Pollio. 
The operation services team includes people who fix, build, clean and maintain the district's more than 160 schools.
"It brings in discouragement to people like us to not even apply for jobs where we know that we're educated enough, experienced enough and have the skills to do those jobs," Christ Center Ministries Pastor Troy Duncan Sr. said. "Enough is enough."
Duncan is the first African American locksmith in JCPS.
Many workers shared stories about speaking out or reporting wrongdoing, and then being retaliated against and written up by their supervisors.
Kevan Sheppard works as a custodian at Price Elementary. He says he was retaliated against after reporting a co-worker watching a video that included Caucasian people talking about going "ni***r hunting" over the weekend.
"I was being threatened," Sheppard said. "My work was being scrutinized. I was being followed. They were sitting out in the parking lot. They were watching my comings and goings. They were using other employees to come and do it for them."
The lawsuit aims to include African Americans who worked in operation services up to five years ago. Initially, six plaintiffs are signed to the case representing four sub-groups.
"This is a case about a systemic pattern or practice of discrimination," attorney Pete Jannace said. 
The group has much more in common than the color of their skin. Many also admit their JCPS personnel files are thick, filled with grievances, investigations and write-ups. Gordon called the group "Brave for coming forward while acknowledging the move could cost some of them their jobs. 
In Duncan's case, he already battled JCPS through litigation and won his job back with the school district in 2001. 
"Stand up for what is right," Duncan said. "We're here and we're not going anywhere."
WDRB reached out to the chairman of the school board, Diane Porter. She is a career educator and an African American woman. At the time of reporting, Porter said she had not yet seen the legal complaint. By policy, JCPS administrators won't comment on pending litigation.
Related stories: 
Maintenance and operation workers filing lawsuit claiming systemic racism in JCPS
Copyright 2019 WDRB Media. All Rights Reserved.