CLARKSVILLE, Ind. (WDRB) -- The developer of a sprawling riverfront park planned for Southern Indiana says it controls land for the project's first phase, a milestone that comes as architects are close to completing an initial design.
A master plan for the roughly 400-acre site is expected to be made public later this year or in early 2020, at which point the River Heritage Conservancy would begin a fundraising campaign, said Scott Martin, the nonprofit's executive director. The project's overall cost and construction schedule haven't been set.
In January, the conservancy announced it was hiring Philadelphia-based OLIN to craft a plan for the mix of publicly owned property and private land near the Falls of the Ohio. Since then, Martin said, researchers have been surveying the site and documenting its natural and cultural history.
"We knew it was needed," he said. "But now we really know it's needed, and we've got to get it right."
Martin said work continues on laying out the proposed park's roads, trails, shelters and other infrastructure. In doing so, he said planners have sought to follow Frederick Law Olmsted's approach in designing Louisville's Cherokee and Iroquois parks.
"First thing you do: Understand your landscape. You have to know your resource before you can do a park plan. So we really stepped back to learn," he said.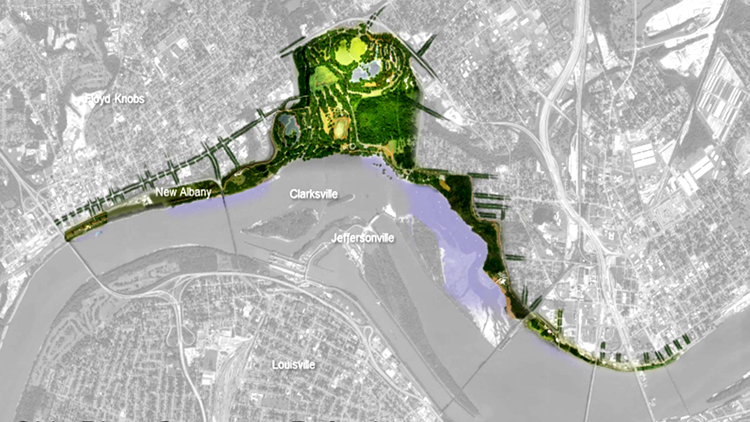 While the conservancy has acquired or gotten access to the land for the initial 100-acre phase, Martin said it could take decades to complete the entire plan. 
The conservancy owns 95 acres, and other public agencies own about 150 acres in the park boundary -- accounting for about 245 of the 400 total acres. Martin said his group can't condemn land and only will work with willing property owners, such as businesses in the area that aren't now interested in selling. 
And there are other challenges. In a 2017 report, the U.S. Army Corps of Engineers projected that as a result of climate change parts of the Ohio River basin will see more rain, and stream flows increasing up to 50 percent, in the decades to come.
Martin said the conservancy has "challenged our architects to design a park that when it floods, we're the park you want to come to."
On the edge of the proposed park, he said, a section of Emery Crossing Road overlooking the river in Clarksville collapsed in recent weeks as a result of flooding in February.
"We have to ask questions about where is it appropriate to build roads, trails and infrastructure," he said. "Where is it appropriate to stay the heck away, projecting that increased water?"
Even before work begins in earnest, the project already has changed the area.
In May, the U.S. Environmental Protection Agency began cleaning up the former Graveyard Auto site on Emery Crossing. Federal authorities found arsenic and lead in soil, drums and car batteries on the property that is part of the park plan.
Martin said the EPA finished its work last week. Crews stripped off a layer of soil and removed containers of arsenic, tarnished soil and thousands of tires, then capped and resealed the area, he said.
Once the park's master plan is done, it will go to public agencies that own the other potential parkland: The Indiana Department of Natural Resources, U.S. Army Corps of Engineers, Jeffersonville Flood Control District and Town of Clarksville.
"That will be, quite frankly, a little bit of salesmanship," Martin said. "But it's really casting a new vision forward that all the agencies can come together and get behind."
Reach reporter Marcus Green at 502-585-0825, mgreen@wdrb.com, on Twitter or on Facebook. Copyright 2019 WDRB Media. All rights reserved.