LOUISVILLE, Ky. (WDRB) -- First-year Portland Elementary Principal Michelle Perkins wanted her staff to get a better understanding of the community their students come from and the opportunities available to them there.
So she arranged for the school's teachers to spend part of their first day back on the job Monday undergoing professional development training at Farm to Fork, a Portland catering company and eatery that specializes in using locally-sourced ingredients.
As a school that offers an environmental magnet program, Perkins says it only makes sense for Portland Elementary's teachers to understand the community in which their students live.
"We have to understand what the environment is so that we can help kids make that same connection," Perkins, who was an assistant principal at Portland Elementary for five years before accepting the principal job for the 2019-20 school year, told WDRB News as teachers ate lunches provided by the school's parent-teacher association.
Perkins wants the school to explore different partnership opportunities with different Portland businesses and organizations, in part to help broaden students' understanding of their community and to reinforce lessons taught in Portland Elementary classrooms during the school year through service and learning projects.
She noted that Portland Elementary has an instructional coach whose focus is on project-based learning opportunities and said she hoped students would be able to see tangible proof that they're making a difference in their neighborhood.
"Portland is a very tight-knit community, and so I want them to own and build on that," Perkins said.
The outing also gives teachers an opportunity to connect with their colleagues for the next school year – and get their minds off last-minute classroom preparations. Perkins arranged for her staff to ride to Farm to Fork on a student activity bus borrowed from the Academy @ Shawnee.
"Riding on the bus over here, we're playing music and just joking," Sarah Helvey, a teacher in residence who works with University of Louisville students pursuing education and has been at Portland Elementary throughout her 18-year teaching career.
"Plus when you're in the building, especially this close to school, it's really hard to not be preoccupied with, 'Oh I've got this in my room.' When you're off-site, you're kind of forced to focus on the new initiatives that are coming down the pike."
The familial atmosphere at Portland Elementary isn't lost on first-year teacher Tre'Von Watts, a University of Louisville graduate who's going to teach fifth-grade social studies and reading.
In fact, that was something that appealed to the 2015 Butler Traditional High School graduate, who said he was unfamiliar with the school before he applied for a teaching job.
"In order for us to build that community with our students, we have to build that community with our staff," Watts said. "… This is all building one big community with Portland."
That sense of community is a critical part of Portland Elementary's goal of developing a "whole-child environment," Perkins said, noting that the school has partnerships in place to help address kids' mental and physical health needs.
"Our families feel supported," she said. "Our teachers feel supported, and I strongly believe that when teachers feel supported, they carry that into the classroom."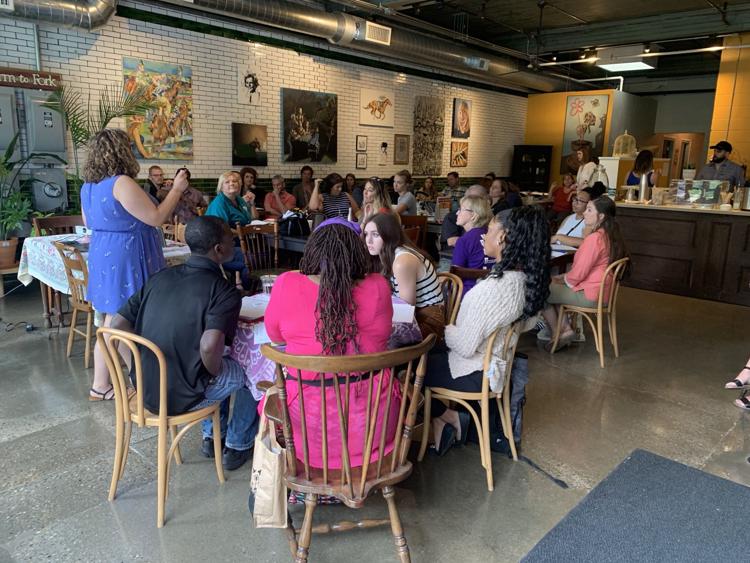 Getting out in the Portland community may also help foster relationships with organizations in the neighborhood, Perkins said. Students, for example, could get a hands-on lesson on how the food they eat makes its way to their plates through Farm to Fork, she said.
Perkins plans to take her staff to other Portland spots to broaden their understanding of the neighborhood their school serves throughout the year.
"You have to know who you're serving, and as schools, we serve the community and we are an extension of them," she said. "If we want our community to feel a part of our schools, then we have to do more. We have to be visible, and we have to do these things in a proactive way.
"When families see us as resources and part of their world, then it makes them feel more comfortable with us."
Copyright 2019 WDRB Media. All Rights Reserved.