LOUISVILLE, Ky. (WDRB) – A second bill that would require high school and collegiate athletes to participate in sports based on their sexes assigned at birth rather than their gender identities has been filed in Kentucky's General Assembly.
House Bill 459, sponsored by Rep. Regina Huff, was filed Wednesday.
Like similar legislation filed in the Senate on Jan. 24, HB 459 is called the Save Women's Sports Act.
Huff, a Williamsburg Republican who chairs the House Education Committee, did not immediately respond to requests for comment Thursday. Representatives of Kentucky-based LGBTQ organizations could not immediately be reached for comment.
HB 459 would require Kentucky high school and public college students to participate in sports based on their sexes as indicated on their original birth certificates.
If that document has been edited or a student's gender is subject of an official challenge, they must undergo a medical examination to determine their sex based on internal and external reproductive anatomy, natural testosterone levels and genetic makeup.
The Kentucky High School Athletic Association currently allows students to participate in sports based on their gender identities only after undergoing gender reassignment surgery. If that occurs after puberty, transgender students must also provide proof that they're taking hormone therapy appropriate for their gender.
Joe Angolia, the KHSAA's communications director, says the agency does not track how many transgender students participate in Kentucky high school athletics.
"Because of a combination of State and Federal regulations surrounding both HIPPA and FERPA, we don't get the individual names or schools, nor do we need them since the execution of the policy is in the hands of the local school," Angolia said in an email to WDRB News.
Those high school standards are stricter than the NCAA, the largest governing body for collegiate athletics in the U.S.
The NCAA allows transgender male students to participate in either men's or women's sports without hormone therapy, but transgender females must undergo at least a year of hormone therapy for before they can compete in women's sports.
If a transgender male receives hormone therapy, NCAA policies prohibit them from participating in women's sports.
"It is also important to know that any strength and endurance advantages a transgender woman arguably may have as a result of her prior testosterone levels dissipate after about one year of estrogen or testosterone-suppression therapy," a handbook on the NCAA's transgender participation policy says.
"According to medical experts on this issue, the assumption that a transgender woman competing on a women's team would have a competitive advantage outside the range of performance and competitive advantage or disadvantage that already exists among female athletes is not supported by evidence."
The legislation was filed the same day that Gov. Andy Beshear became the first Kentucky governor to speak at the Louisville-based Fairness Campaign's annual rally to advocate for a statewide fairness law to protect LGBTQ individuals from discrimination and for a ban on conversion therapy.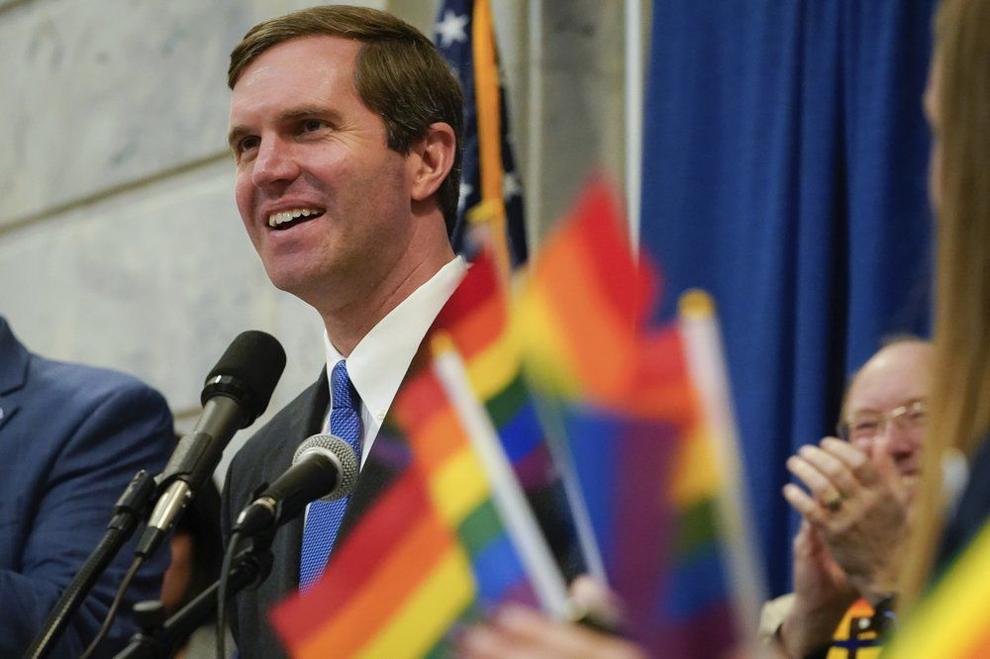 Unlike Senate Bill 114, HB 459 does not restrict access to locker rooms during practices or sporting events based on biological sex.
Both HB 459 and SB 114 would allow students who are deprived of athletic opportunities to sue within two years.
Earlier this month, families of three female high school runners in Connecticut sued the state's athletic commission and five school boards in federal court over the state's policy allowing students to participate in sports based solely on their gender identities, according to a report by the Associated Press.
They also filed a federal Title IX complaint in June.
The two transgender females at the heart of their complaints, who have won more than a dozen state track championships between them since 2017, are looking to be added as defendants in the case. According to a report by ABC News, their lawyers say they have undergone hormone therapy and have testosterone levels "that are typical for non-transgender girls."
Copyright 2020 by WDRB Media. All rights reserved.