LOUISVILLE, Ky. (WDRB) – Speaking to thousands of supporters at the Muhammad Ali Center last Sunday, Vermont Sen. Bernie Sanders was just a block away from the headquarters of Humana Inc. when he named the health insurer as one of the forces opposing "guaranteeing healthcare for all Americans as a human right through a Medicare for All, single-payer program."
Left unsaid at the Aug. 25 rally is that Humana, a pillar of the Louisville economy with some 12,000 corporate jobs, would likely topple under presidential hopeful Sanders' vision of a healthcare system financed entirely by the federal government – one that has no role for private insurance companies.
Yet, Medicare for All might not pose an existential threat to Humana – the largest corporate headquarters in Kentucky. In fact, it could be a bonanza of an opportunity for a company whose main business already involves Medicare.
It all depends on how single-payer healthcare might advance if Democrats find themselves in a position to pass such sweeping changes after the 2020 election. (Sen. Maj. Mitch McConnell, R-Kentucky, has said Medicare for All plans will not move forward so long as Republicans control the Senate).
In televised debates this summer, Democratic presidential candidates have argued about whether their plans should preserve private insurance or move entirely to a government system.
Yet, that discussion has mostly glossed over the fact that, today, 22 million people get their government-funded Medicare benefits through private insurance in plans offered by companies like Humana.
Humana is the second-biggest player in Medicare Advantage, the version of Medicare that works like private insurance. In Medicare Advantage, the government pays fixed fees to insurers, who in turn pay for the healthcare provided to seniors enrolled in the program.
Medicare Advantage is Humana's bread and butter: Since 2009, the company's revenues have nearly doubled, to $57 billion in 2018, thanks primarily to its increasing presence in the program.
Humana covers about 4 million people through Medicare Advantage, up from 1.5 million a decade ago. What's more, Humana has essentially bet the farm on its Medicare business.
Its fortunes are more linked to the program than those of other insurance companies, who have bigger commercial, Medicaid and other lines of the business.
Last year, 73% of Humana's revenue came from Medicare Advantage, up from 53% a decade ago, according to WDRB's analysis of company reports.
Against this backdrop, an expansion of Medicare could be a boon to the company. But it depends on the extent to which the government system would have a role for private health insurers in administering Medicare benefits.
For example, Sen. Kamala Harris of California, one of the top Democratic presidential contenders, put forward a plan in July that would allow companies like Humana to play a similar role in an expanded system as they do today with Medicare Advantage.
"Private insurance companies and private carriers, if they comply by our rules and play by our rules, will be able to offer those employees (who get employer coverage today) healthcare coverage under a private Medicare plan," Harris said during the July 31 debate televised by CNN.
While the broader healthcare industry has mobilized a campaign to undermine the Medicare for All concept, Humana has not explicitly decried it.
In fact, Humana CEO Bruce Broussard in recent months has emphasized the potential upsides for the company.
Speaking at a conference in March, Broussard said Medicare for All presents "a great opportunity for the industry to be able to expand the population that it is coordinating care with."
Broussard added that it was unlikely that the federal government could afford a system in which all healthcare services are covered with no "care coordination" provided by insurance companies.
"Medicare for All is a relative description," Broussard said during the company's annual shareholders meeting April 18. "When we think about Medicare for All, we don't think about Medicare for All without an insurance program … Medicare for All could be viewed as, Medicare Advantage for All."
Asked to comment for this story, Humana spokeswoman Kate Marx referred to Broussard's remarks during an earnings call in May, in which he said Humana "does not support any bill that would eliminate Medicare Advantage or make private insurance illegal."
He also talked up the growing popularity of Medicare Advantage among seniors and Humana's decades-long history of fostering "private and public partnerships that transcend party lines."
Marx did not directly answer a question about whether Humana supports the Partnership for America's Health Care Future, a healthcare industry group running ads decrying Medicare for All as "a one-size-fits-all government takeover of the healthcare system."
"The Partnership's positions on lowering costs and improving quality are important components of the Medicare Advantage program in engaging individuals with chronic conditions," Marx said in an email.
The fact that Humana and other big players in Medicare Advantage, such as United Healthcare, might thrive in a Medicare for All system has not been lost on some Wall Street analysts.
While single-payer talk has weighed on health insurance stocks this year, "The evidence has pointed toward a more moderate approach where private industry would be involved and therefore, Humana would seem to stand to benefit," said David Windley, who follows Humana for Jeffries LLC, in an interview.
Windley added that Humana has a lot less to lose in a Medicare for All system than other health insurance companies because Humana's business is already so concentrated in Medicare.
Medicare Advantage has been the health insurance industry's biggest growth area for years.
The number of people eligible for Medicare is climbing as the Baby Boomer generation ages into the program, providing more potential customers every year. And, those seniors are increasingly choosing Medicare Advantage over original Medicare.
Private Medicare plans from Humana and others are attractive because they cap seniors' out-of-pocket costs while providing dental, vision, hearing aids and other extra benefits.
About 22 million people – or 34% of the Medicare population – are in Medicare Advantage plans this year, up from 10.5 million people (23% of the Medicare population) in 2009, according to the Kaiser Family Foundation, a research group.
But despite its growing popularity, does Medicare Advantage actually save the federal government money? There's "a lot of debate" about that but no "clear answer," said Gretchen Jacobson, a Medicare policy expert at the Kaiser Family Foundation.
In Sanders' view, there is no reason to have a layer of profiteering insurance companies between healthcare providers and the government payer of the bills in a Medicare for All system. His campaign said Medicare Advantage is "rife with fraud with insurance companies over-billing the government and denying needed care to boost profits."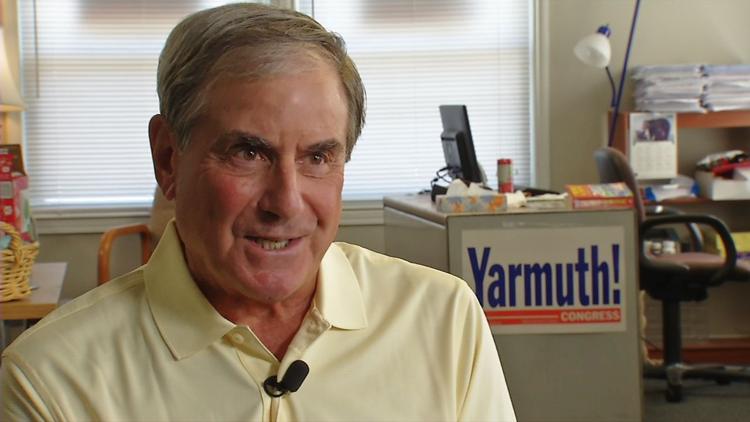 U.S. Rep. John Yarmuth, D-Louisville, the chairman of House budget committee, said in an interview that the government "probably pay(s) too much" to companies in the Medicare Advantage program. He cited Humana's "record profits" in recent years as evidence of that.
At the same time, Yarmuth said Humana "should play a role" in a single-payer system. He acknowledged that it would be "a disaster for Louisville, economically" if the company were put out of business.
Yarmuth said the main problem in healthcare is spiraling costs, which is why "managed care" companies like Humana should be part of a single-payer program.
"I don't think the government will be capable of administering a health insurance program for 330 million people," he said.