LOUISVILLE, Ky. (WDRB) – Hundreds of Kentucky high school students are quitting or deciding not to play football, resulting in a recent low number of players in public and private schools last year.
Administrators, coaches and observers point to several factors to explain the downward trend, such as the growing awareness of brain diseases and other health risks linked to head trauma; the rise of young athletes specializing in a single sport year-round; and increasing expenses associated with the game.
"I'm just one of those guys that thinks it's a lot of reasons jumbled into one, and I think it's a lot of reasons that are just now starting to come home to roost," said Scott Carmony, who's in his fourth season as the head football coach of duPont Manual High School.
Slightly more than 13,000 students suited up for high school football teams last year, according to data from the Kentucky High School Athletic Association. Overall, participation last season was down 8.9% from the 2015-16 school year, a high-water mark across the state when 14,305 students played on high school teams.
For Jefferson County Public Schools, schools had 1,317 players on their rosters last season, down 19.2% from the 1,629 JCPS players who participated in high school football during the 2012-13 season. That season was the highest in terms of football participation for the state's largest school district, according to data dating back to the 2011-12 football season provided by JCPS.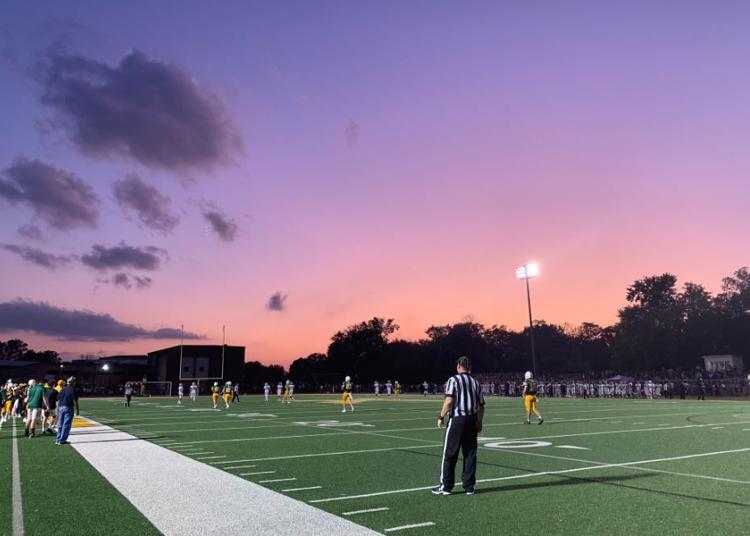 Participation across Kentucky has dropped every year since the 2015-16 season. And there is no indication that additional younger players are on the horizon.
Thom Wachtel, football coordinator for the Catholic School Athletic Association since 1995, has noticed a substantial drop in the numbers of kids who participate in youth football.  There were 30 teams in its fifth- and sixth-grade league and 28 in its seventh- and eighth-grade league when Wachtel took over.
Now, he said, each league has just seven teams.
"I wanted to quit being director, but I can't leave it in this state," Wachtel said. "… I had over 1,200 to 1,400 boys playing football. I'm probably in the 500 range now, 600 kids. I can't leave it right now."Julian Tackett, commissioner of the Kentucky High School Athletic Association, has observed firsthand the ebb and flow of high school football participation throughout the state for years.
He says the state has made significant strides in making football safer in recent years to ease health concerns, such as new rules meant to deter blows to players' heads and limiting the playing time for freshmen and junior-varsity players who also play on varsity teams.
Player estimates for the current season that began last month aren't yet available, but Tackett offered a grim prediction for the sport at the high-school level unless Kentucky's sanctioning body continues to evolve in its approach to football safety.
"We can't just keep saying, 'The problem is the kids. Play it like we did back then,'" Tackett said. "That's how we'll lose football."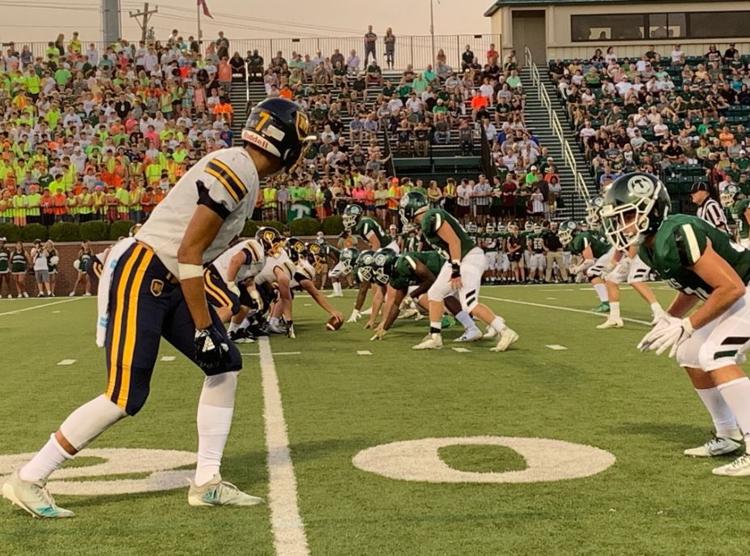 Mounting safety concerns
Research is still developing on chronic traumatic encephalopathy, or CTE, a disease associated with repeated blows to the head. But some professional and college athletes have taken early findings to heart and decided to hang up their football cleats rather than risk debilitating brain trauma. Former San Francisco 49ers linebacker Chris Borland made waves as one of the first players to cite head trauma as a primary reason for his sudden 2015 retirement after a promising rookie season.
But recent studies, which rely on studying brain tissue donated by families of the deceased, indicate that such injuries aren't nearly as prevalent for youth football players as they are at the collegiate and professional levels.
Researchers at the University of Texas Health Science Center at San Antonio studied brain tissue from 300 athletes and 450 non-athletes for signs of CTE, perusing yearbooks and obituaries to glean exactly which sports they played in their youth. The study, published in June, is the largest yet into the neurodegenerative disease.
They found that 27 of the 300 former athletes' brains, or 9%, showed signs of CTE, with 15 CTE-positive diagnoses, while 15 of the 450 non-athletes' brains, or 3.8%, had features of the disease, six of them positively diagnosed with CTE.
Digging further into the research findings, the team found that of the 124 brains that belonged to people who played football in high school, 14 of them, or 11.3%, had signs of CTE and eight samples, or 6.5%, were positively diagnosed with the disease. For comparison, six of the 48 brains from former high school baseball players, or 12.5% of the sample, demonstrated signs of CTE and five, or 10.4%, were diagnosed with the disease.
But of the 15 brains that belonged to collegiate or professional football players, incidences of CTE skyrocketed. Seven, or nearly half, showed some signs of the disease, and three were positively diagnosed with CTE.
Three of the 12 former collegiate or professional baseball players' brains studied showed signs of CTE. None was diagnosed with the disease.
Essentially, researchers determined that as players climb up the ladder of competitive football, their risks of developing CTE dramatically increase.
Dr. Kevin Bieniek, director of the brain bank at the university's Glenn Biggs Institute for Alzheimer's and Neurodegenerative Diseases, said his team's findings likely show a "dose-response effect" whereby the longer a person is exposed to something, the likelihood that they will encounter an associated outcome grows.
"These findings paralleled the takeaways of other smaller, restricted studies that have shown high rates in professionals, intermediate rates in collegiate athletes, and relatively low rates in high school athletes," Bieniek said in an email to WDRB News.
Such findings aren't lost on those involved with youth football in Kentucky, who are emphasizing their efforts to make football a safer sport. High schoolers won't be squaring off against cream-of-the-crop competitors on a regular basis like they would at colleges or in the pros, Tackett said.
"Any time that we can get something that will allow the kids to safely prepare for competition but try to mitigate some risk, we're going to do it," he said.
That includes changing how players are taught football at a fundamental level. The NFL has invested tens of millions of dollars in USA Football, which has emphasized "heads up," or body-based,tackling in order to limit the number of hits to players' heads. The organization also trains coaches on concussion protocols, playing in the heat and proper hydration.
"All of our guys are teaching the heads up program, getting the head out of there," Wachtel said.
Even if players forgo football in favor of other high school sports, they still risk injury in their sports of choice.
Carmony said he's encountered students in his career who have declined to play football to stay healthy for other sports like basketball and baseball.
"The irony of that is I'll see them walking down the hall during baseball season on crutches," he said. "It's like, 'What happened?' 'Well, I got hurt.' You can get hurt walking down the steps here."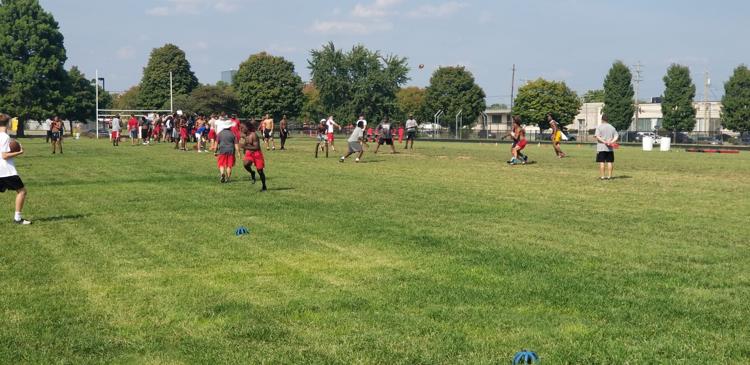 Future of football in the Bluegrass
While participation numbers are on the decline, no one is close to writing off high school football in Kentucky.
Still, some programs are struggling to field teams. In fact, some have chosen to drop the sport due to factors like low player turnout or the expense associated with fielding a team. Trimble County, for instance, resumed play this year after calling off last season because few players came out for the team, according to The Madison Courier. 
Many schools are finding it difficult to get enough players for freshmen, junior varsity and varsity teams. Tackett said there are now fewer than 100 freshmen teams in the state, and Carmony said local teams have instead opted to field "froshmore" teams made up of freshmen and sophomores rather than junior-varsity squads.
What's more, KHSAA is considering allowing some smaller schools to field eight-player teams to keep programs active. Some of those schools, Tackett said, "are really treading water" this season.
It's not a foreign concept in the state. Kentucky Country Day was the last eight-man football champion crowned during the 2002-03 season.
"The eight-man game is really exciting because you have nobody on the outside, so it's high-scoring," Tackett said. "So sometimes it's a good fallback."
Despite mounting concerns with the game's safety and declining participation in recent seasons, coaches like Carmony see a sport that has only grown in popularity at the highest levels.
"You watch college football on Saturday," Carmony said. "It's never been more popular in the history of the sport. I mean, the NFL owns a day of the week, right? They own Sunday. It's never been more popular."
"Do I see it continuing and totally bottoming out? That's hard to say," he continued. "I would like to say no. I would like to think that sport is way too popular for that."
Copyright 2019 WDRB Media. All Rights Reserved.