LOUISVILLE, Ky. (WDRB) – Perched on an earthen levee above Butchertown, the Beargrass Creek Flood Pumping Station is the neighborhood's main defense from a rising creek. During heavy rain, up to eight pumps push high water away from nearby homes and businesses.
In the past, the 1950s-era station had been used every three or four years. But it's swung into action three times since the start of 2018 – the wettest year on record in Louisville.
"We had every pump in here running" during that year's record February rains, said Dane Anderson, the Metropolitan Sewer District's flood protection supervisor.
MSD spent $7 million to upgrade electrical systems at the plant and rebuild one pump in recent years. The utility estimates the station needs $121 million more to install two extra pumps and make other improvements to handle stronger storms expected in the future.
That investment is part of a long-range plan MSD unveiled two years ago to shore up the city's aging flood protection and sewage treatment systems, stormwater-prone viaducts, and crumbling sewers. In all, the work would take 20 years and cost $4.3 billion.
But MSD has made little progress on its Critical Repair and Reinvestment Plan, a result of a pressing federal deadline to fix sewage overflows and a strategy that counted on double-digit rate increases it's been unable to get.
The Metro Council, which must approve any spike in customers' bills above 6.9% a year, so far has balked at giving the mayor-appointed agency that power. Council members who spoke with WDRB News say the city's budget woes could complicate any effort to revive a rate hike.
As a result, MSD no longer expects to finish on time. Except in cases involving the federally mandated "consent decree" and urgent fixes – such as a $2.2 million pump repair in southwestern Jefferson County – officials say none of the other work has begun.
Besides setting a record in 2018, three of the five wettest years in Louisville history have occurred in the past decade, according to National Weather Service data. Despite dry conditions this summer, Louisville's rainfall levels for 2019 were nearly 7 inches above normal as of Aug. 15.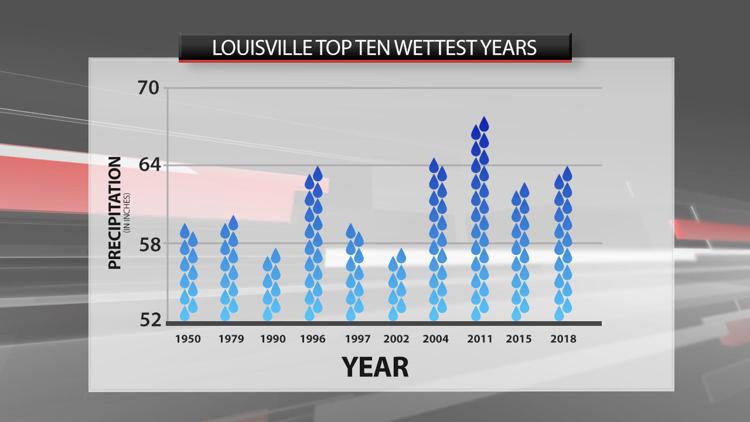 Meanwhile, there's no indication that the increased rain is a temporary phenomenon.
In a 2017 report, the U.S. Army Corps of Engineers projected more rain from climate change could result in more flooding in the Ohio River basin in the decades to come.
Thus far, recent flooding has placed new pressure on outdated equipment that's working more than intended. During late-winter flooding in 2018, for example, pumps failed at the Paddy's Run and Upper Mill Creek pump stations. MSD officials say they are still evaluating damage to the Pond Creek Flood Pumping Station in southwestern Jefferson County.
"We're starting to see some pretty horrific stories about flooding and what it can do and how it can damage your community and threaten human lives," MSD Executive Director Tony Parrott said in an interview. Just this summer alone, he noted, flash floods swamped Washington, D.C., while the Mississippi River flooded many parts of the Midwest.
"We want to be in front of those types of events, and the critical repair plan gives us an opportunity to do that comprehensively," he said.
MSD brought in dozens of experts to develop a list of high-priority needs, then fanned out across the area in 2017 to lobby business leaders, neighborhoods associations, small cities and others about the plan. Mayor Greg Fischer said he would support a proposal to let MSD raise annual rates by 10% for four years to kickstart the program.
But that effort failed, and MSD has mostly delayed those projects as a result.
MSD's board approved a 6.9 percent rate increase in July for its operating budget. It also plans to use $60 million from a debt service reserve fund to pay for its capital budget.
The rate increase will let MSD move forward on some projects viewed as critical for now, but not the bulk of those in the 20-year plan. In a press release, Parrott called it a "stopgap budget, not a cure-all budget."
The average user's wastewater bill will climb by $3.47 per month, to $53.59, and the stormwater bill to $10.58, a 68-cent-per-month jump. Since 2014, the typical monthly bill has increased by 38 percent.
Board member Andrew Bailey said he voted against the increase, even though he agrees that MSD needs additional revenue for the 20-year spending plan and other needs.
Bailey, who represents southern Jefferson County, said some people in his district complained to him about the rising rates.
"It just can't come off the backs of the customers constantly," he said. "If McDonald's was raising prices every single year, people would stop going eventually." 
Parrott said one of MSD's major obstacles to pursuing its 20-year plan is the consent decree it entered into with state and federal agencies in 2005 to solve the longstanding problem of sewer overflows.
MSD estimates it must spend an additional $400 million to meet its $1.2 billion obligation by 2024.
That's put the agency in a difficult spot, MSD officials say. Most of the money it's now borrowing must go to finish those projects. If it borrows more without raising rates, it risks lower bond ratings – adding costs and higher interest rates.
"In this next five-year window our borrowing capacity is limited, and we have to prioritize most of that borrowing capacity to finish that consent decree work," Parrott said. 
In the current fiscal year, $115 million of the agency's $205 million capital spending goes toward projects in the consent decree, such as finishing stormwater storage basins in the Portland neighborhood and Shawnee Park and a 4-mile underground storage tunnel.
MSD is moving forward with the remaining consent decree projects in the 20-year plan, but flood protection and other projects now estimated at $3.9 billion haven't begun.
It is looking for other sources of revenue, such as a U.S. Environmental Protection Agency loan program that grants low-interest loans for significant regional or national projects. MSD was selected to apply for $250 million in loans for three projects, including $88 million to allow the Morris Forman waste treatment plant to add new equipment to produce biosolids.
That project is one of MSD's top priorities, but officials say it can't be funded in the near future without a rate increase.
A measure that would have given MSD the ability to raise rates up to 10 percent failed to advance in 2018 amid concerns from some on the Metro Council about constant rate increases and the sewer agency's financial stewardship.
Since then, the 26-member council has added seven new members. Parrott said MSD has begun talking with some of those newly elected officials about the state of the city's sewer systems and other facilities.
"We're still trying to build that understanding because obviously the last thing folks want to do is raise rates," he said. "But I think there's understanding being built that these are vital assets."
Council member Barbara Sexton Smith, a Democrat who co-sponsored the previous ordinance, said she wasn't surprised that the measure died last year. She compared it to this year's effort to raise the city's insurance tax premium to address Metro Louisville's growing pension costs.
"It shows a lack of political will and a lack of political courage," she said. "Sometimes you have to do the unpopular thing to protect the masses."
At the same time, she said she understands no one wants to pay more. "The citizens won't stand for constant increases from every angle. So, it's complicated."
Republican council member Kevin Kramer said he previously asked MSD for a detailed list of its facilities needing urgent repairs but never heard back.
"It's hard to really start talking about how do you fix the infrastructure, when you don't even know which infrastructure you're afraid is going to fail and what the costs are," he said.
Asked to respond to Kramer, MSD provided WDRB News with a PowerPoint presentation it gave to board members in April outlining the agency's most urgent needs.
After a cab driver died last September in flash flooding, Metro Council President David James said he planned to revive talk of the ordinance giving MSD the limited authority to raise rates. But that no longer appears to be the case.
In a recent interview, James said council members aren't actively discussing that.
"They're totally focused on revenue for Metro Government," he said.
Correction appended: This story has been updated to clarify that the $60 million from a debt service reserve only funds MSD's capital budget.
Reach reporter Marcus Green at 502-585-0825, mgreen@wdrb.com, on Twitter or on Facebook. Copyright 2019 WDRB Media. All rights reserved.