LOUISVILLE, Ky. (WDRB) – The cracks that had formed last year, imperceptible to casual observers, had only widened and deepened as this year's legislative session wore on.
Many Louisville teachers were more than eager to make the break.
Over the past two years, teachers from across Kentucky have flooded the state Capitol and emerged as a noticeable and controversial lobbying force. Led by a group called KY 120 United, educators last year swarmed the statehouse to protest sweeping pension reforms and, eventually, Gov. Matt Bevin's budget vetoes.
But for many local educators and some advocates, KY 120 United wasn't willing to go far enough.
That led to the splinter group, JCPS Leads, which was the driving force behind most of this year's "sick outs," or mass teacher absences that forced Kentucky's largest school district to close six times during the 2019 legislative session. On one of those days, three neighboring county school districts joined their protests. On another, just one school district shut down alongside JCPS.
"I think it was an outlet for people who were looking for more direct action," said Ivonne Rovira, a Spanish teacher at Wilder Elementary and one of two administrators of JCPS Leads. "… These bills were going to happen, and I really do think that our being there is what made the difference."
To Nema Brewer, a design specialist at Fayette County Public Schools and co-founder of KY 120 United, the formation of JCPS Leads came as no surprise. After KY 120 United called for a Feb. 28 sick out to protest a bill that would change how trustees on the Kentucky Teachers Retirement System board are nominated for elections, JCPS Leads emerged as a sounding board for teachers who wanted to continue their demonstrations against other bills.
There was a constant refrain that eventually reached a crescendo this year, she said: "We're the biggest county. We should lead."
"My response was, 'Lead on,'" Brewer said. "You always have an option to do something else. This is just a group that we've worked hard to keep together and make the right decisions, but hey, lead on."
But now, some are concerned that teachers, egged on by JCPS Leads, overplayed their hand this year.
And there are questions about the future of the private Facebook group, which has more than 5,000 members.
The forced closures prompted the Kentucky Department of Education to resolve to bring sick outs to an end through policy changes at the local level. The Kentucky Labor Cabinet entered the fray as well, subpoenaing JCPS and other school districts that closed for sick outs this year for the names of teachers who called in sick, among other information, as it investigates potentially illegal work stoppages. 
The cabinet can issue penalties of up to $1,000, but on Tuesday, Attorney General Andy Beshear threatened to sue the agency if it didn't rescind its "unlawful" subpoenas within 10 days. 
While most in the Louisville area were primarily concerned with whether JCPS would have school during the final days of this year's legislative session, behind the scenes, JCPS Leads showed signs of instability.
Leadership changes, in the form of Facebook group administrators, were frequent. What started as a broad group of leaders ultimately whittled to just two: Rovira and Michael McCloud, a community activist.
Tim Hill, an Academy @ Shawnee teacher who stood before news cameras as a face of JCPS Leads after its first coordinated sick out March 6, did not respond to interview requests. A former administrator, he is no longer involved with the group.
Some, including local unions that represent school workers, have accused JCPS Leads of peddling misinformation to goad teachers into staging sick outs on some evenings during the session. One former administrator said his efforts to give his colleagues accurate information led to his dismissal from JCPS Leads. Other teachers who spoke up, he said, also saw their comments deleted from the Facebook page.
"A lot of us noticed that when we were correcting people on information that a lot of us were being blocked from the group and our voices were being silenced pretty quickly," said Jason Nelson, a social studies teacher at Noe Middle School who was an administrator of JCPS Leads for less than a day.
"Anything that we put in that group that suggested that we didn't need to sick out or that some of that information was wrong was usually deleted or completely blocked altogether."
"I think it's a lot stronger after the session, and I think that teachers have places where they can come up with different ideas," Rovira said.
Nelson disagrees.
"From what I can tell right now, they've lost most of their credibility," he said. "… From people that I've talked to, a lot of them have left the group. Teachers who I've talked to who said they've remained in the group, they mainly do so to see what else they're going to say."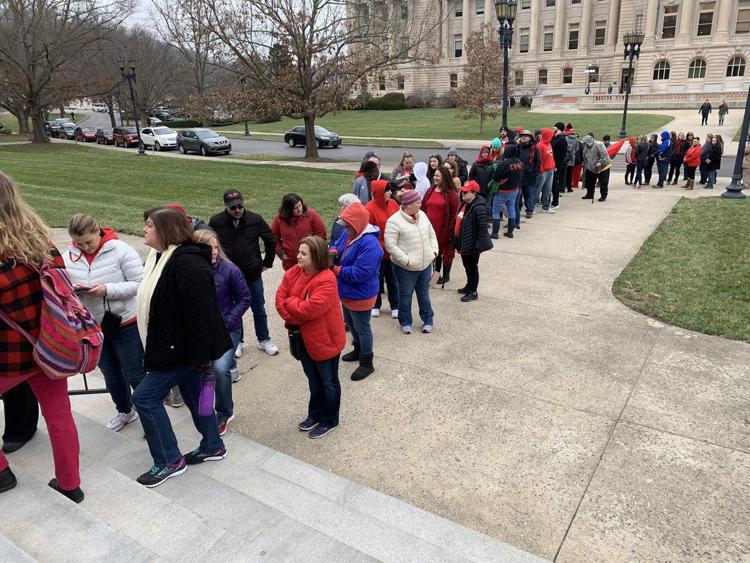 An early rift, a growing divide
Brewer traces the beginnings of the breakup between KY 120 United and JCPS Leads to last year's legislative session, when some Jefferson County teachers felt more action was needed to combat House Bill 169, the gang violence bill, because it could disproportionately affect minorities.
The bill ultimately passed the General Assembly on April 13, 2018, the day thousands of teachers from across the state staged another sick out to push lawmakers to overturn Bevin's budget vetoes.
But KY 120 United, then in its infancy, took no position on the gang violence bill as it headed to Bevin's desk. HB 169 stiffened penalties for gang-related crimes and made gang recruitment a felony offense, and Bevin signed it into law on April 26, 2018.
Brewer said she had hoped to maintain the group's coalition at the time and keep its focus simple: protecting teachers' pensions, funding public education and voting out those who don't. Voicing opposition to the gang violence bill, she and other 120 leaders reasoned, would mean the group would need to take stands on other legislative initiatives beyond education and risk fracturing the nascent movement.
"The discussion amongst the zone leadership and leadership in general was, 'Listen guys, if we start muddying this water right now, we're going to lose half the state,'" Brewer said.
"I think it might be hard for people in Lexington and Jefferson County to understand, but if anybody thinks people in Whitley County give a rip about a gang bill, they need to think again. That's the hardest part about a statewide movement. We have a rural-urban divide in this state, and so when you're so young and so fresh into what's going on, we had to stick to the main mission, which was pensions and the funding of public education."
That's when, Brewer said, people began to come after her personally.
Some called her and others in the 120 group bigots and racists, she said. She said she and at least one teacher from Fayette County were doxxed, an online practice of revealing personal information about someone as a means of harassment.
"At that point, we realized there are certain people that we just can't work with at this particular point  because that's not the way we do business, and we most certainly don't want to affiliate ourselves with those who do," Brewer said.
Nelson, too, said he was doxxed this year in JCPS Leads.
Rovira said doxxing is something the group would not tolerate.
"Somebody might have said, 'Oh they teach whatever,'" Rovira said. "I wouldn't consider that doxing. But anything else like where they live or whatever, that's just unacceptable."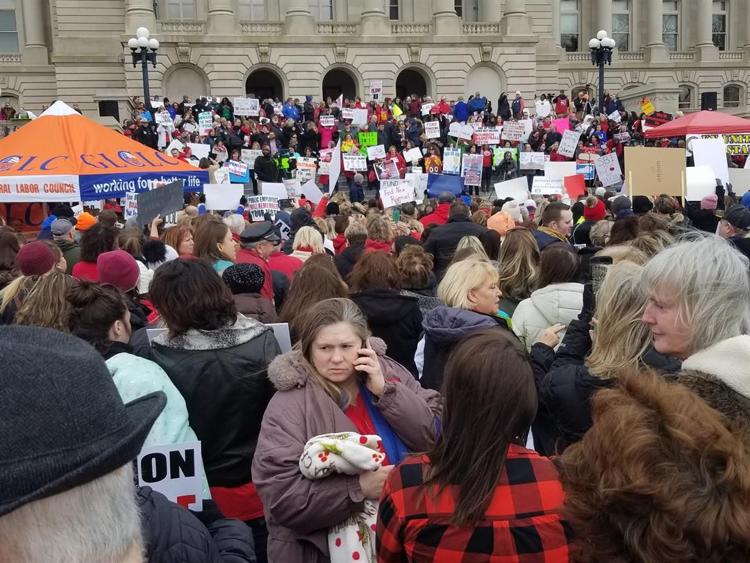 The claims of bigotry didn't sit well with Brewer. She eventually jettisoned local education activist Gay Adelmann from KY 120 United, which has some 40,000 members and 7,200 in Jefferson County's "zone," and Adelmann said it was over a misunderstanding. Her point, she said, was that HB 169 was a racist piece of legislation, not Brewer herself.
"She interpreted it however she wanted to," Adelmann said. "That's when I got kicked out of their group."
Moments later, Adelmann said there's not room for everyone in the 120 coalition "because she kicked out all my black friends that didn't say or do anything."
"Ask her about that," she said.
Among those Adelmann mentioned were McCloud, who did not respond to requests for comment through Rovira and social media.
Brewer said race was not a factor in the removal of the three people mentioned by Adelmann.
"To imply race had anything to do with their removal is insulting and flat out incorrect," she said.
Adelmann also said KY 120 United has its roots in Save Our Schools Kentucky, saying Brewer was a decision-maker as a member of the group's Facebook chat that discussed legislative matters.
"She went her own way to copy what other successful states were doing, which was needed," Adelmann said in a message to WDRB News. "We supported them! But when the legislature went into a 10-day veto period, and there were still two critical days of session remaining, Nema changed her message and strategy, which unfortunately derailed the momentum groups like Dear JCPS, Save Our Schools KY and The Kentucky Alliance (Against Racist and Political Repression) had been working for years to build."
Brewer, however, said Adelmann has misrepresented her affiliation with Save Our Schools Kentucky. She said she was added to a Facebook group chat where people throughout the state would discuss legislative issues, but she never considered herself a decision-maker in any capacity for Save Our Schools Kentucky.
Brewer said she still follows the group on Facebook, "but mainly for entertainment purposes."
"The simple truth is that this back and forth is ridiculous," she said. "She wants people to work with her that clearly don't want to. She just doesn't seem to be receiving that message."
Narrow focus or a wide net?
There was another point of contention for Brewer and Nelson: the influence that people who aren't school district employees had in the movement generally and swaying JCPS teachers toward sick outs particularly.
Rovira and McCloud bring connections with Adelmann, who lost a bid for the 2018 Democratic nomination for the 36th Senate District held by Senate Majority Caucus Chair Julie Raque Adams, R-Louisville. Rovira and McCloud are members of Dear JCPS and Save Our Schools Kentucky, the latter of which lists McCloud as a director on business records maintained by the secretary of state. Rovira is included among administrators and moderators of the closed Dear JCPS and Save Our Schools Kentucky Facebook pages, which have about 6,500 and 1,400 members, respectively.
"They've been doing this work for years," Adelmann said. "Why wouldn't we continue to work with them?"
Rovira said parents and other community members deserve to have their voices heard. Community activists, she said, helped direct families to churches where meals were available for kids who were out of school during the sick outs.
"I think it's a terrible mistake to say that a movement like this can be limited to teachers or even education personnel," she said, saying that community involvement was evident in similar labor actions across the country in recent years.
"I know they have a bugaboo about Gay. I like Gay very much. She was working against charter schools long before anyone else. I don't know if it's jealousy or what, but you know, I think you should fight the real enemy, and it ain't Gay Adelmann."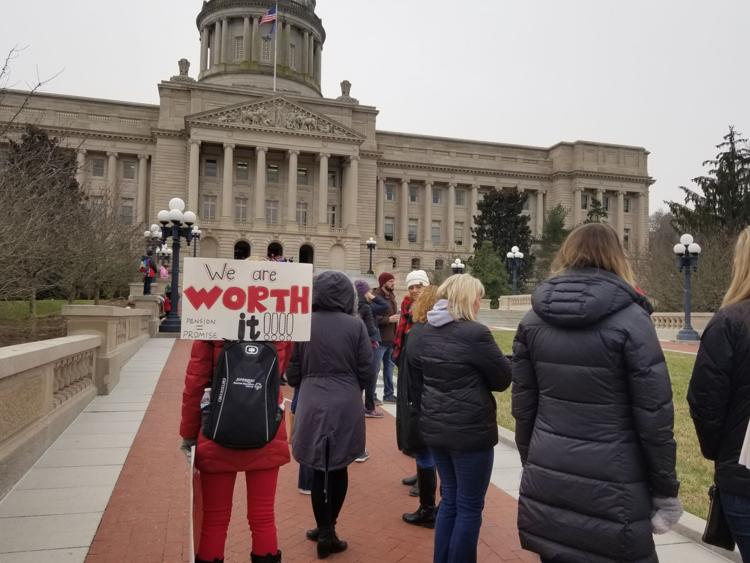 Adelmann had previously said that she had never advocated for teachers to sick out during this year's session. WDRB News obtained screenshots of the Dear JCPS Facebook account saying teachers "should really put in a sick day and see if enough others do too" during the late afternoon post March 5, a day before JCPS teachers held their first solo sick out.
"This is not worth taking a chance on, in our opinion," the account wrote as it shared a separate post from the Save Our Schools Kentucky account.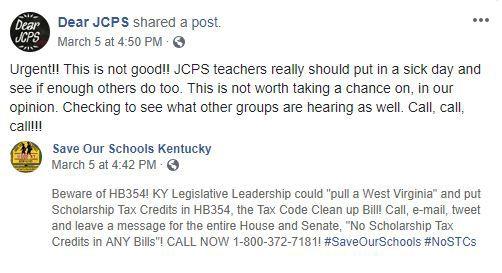 Adelmann maintained that she, as an individual, did not call for teachers to sick out this year. Others in the group could have posted from the primary account, she said, mentioning McCloud specifically.
"When it's Dear JCPS, it could be any of us," she said. "I have no idea."
But Brewer and Nelson took issue with people who don't work in school districts influencing teachers' decisions on requesting sick time and forcing administrators to cancel classes.
Such tactics from non-workers wouldn't fly in groups like the Teamsters or the United Mine Workers of America, Brewer said.
"It's fascinating to me that someone who doesn't pay dues to an association (and) is not a public school employee all of the sudden is trying to bust up a union that they're not even a part of," Brewer said.
Adelmann said she didn't want to "bust up" the Jefferson County Teachers Association, and Rovira said actions by JCPS Leads forced the union to take a more proactive approach on social media and made it a "much stronger" organization.
"I want to bust corrupt leaders out of unions, people who stop compromising and making deals," Adelmann said.
JCTA President Brent McKim suspected that Adelmann's attacks on union leadership stemmed from failed attempts at obtaining "lucrative" contracts for things like printing, public relations and canvassing.
"Maybe she believes if she attacks union leadership enough, she will get different leaders who will give her a personal service contract," he said.
Adelmann said her requests to JCTA were "hardly" lucrative and that the union helped cover marketing expenses for Save Our Schools Kentucky in the past and sponsored a visit by public education advocate Diane Ravitch.
Adelmann said her self-employment as a marketing professional is a privilege that gives her "the flexibility to advocate" during business hours and on short notice that teachers and those living in poverty don't have. But expenses for her advocacy work "come out of my and other volunteers' pockets," adding that her focus on advocacy has affected the time she can work for paying clients, she said.
"I'm not just approaching JCTA. I'm approaching anyone sympathetic to the cause of saving public education and who needs printing work done in their normal course of business," she said. 
"My advocacy expenses far outweigh any revenue I've received from this relationship."
Nelson said he hopes to see teachers reclaim the reins locally and take matters into their own hands when needed. 
"There are some people in the community who seem to think that we need to go to extreme measures, and I think that they want to push for a strike," he said. "… We just don't need any of these outside groups encouraging us to do things like that. If it comes to that, that should be a decision made by us."
For Brewer, she worries that the actions of some Jefferson County teachers may harm their fellow educators throughout the state.
"Here's the thing: We're all in this together ultimately," she said. "They say we left them holding the bag. Well, we're both holding the bag now. All of us."
Copyright 2019 WDRB Media. All Rights Reserved.