SHELBYVILLE, Ky. (WDRB) – When Wendy Graney became Shelby County Circuit Court Clerk in January, she took over an office that manages lawsuits, criminal cases and other court records. She also moved to the front line of sweeping changes to Kentucky driver's licenses. 
The state's 120 circuit clerks long have handled new licenses and renewals, a process that for most drivers has meant turning in their expiring card every four years, taking a picture and leaving with an updated one. But that's ending as Kentucky tries to meet a 9/11-era requirement for states to make their identification documents more secure.
Although the new rules are mandated by the U.S government and overseen by the Kentucky Transportation Cabinet, local clerks will be the face of an entirely new system of getting a driver's license, set to start in April.      
In Shelby County, Graney said she is preparing by training all her staff on how to process driver's licenses. 
"We're going to do the best we can," she said. "We're going to try and make it as easy for our citizens as possible.
"This is such a complicated and huge change. Anytime there's change you're going to have issues and you're going to have people who are going to be frustrated."
Kentuckians still will apply at their local clerk's office. But, in some cases, they'll have to track down documents like social security cards or birth certificates that they may not have used for years. And for people who have changed their names, it could mean having to bring a marriage certificates or divorce decree to their driver's license branches.
Q & A | Kentucky's new driver's licenses
Meanwhile, the state has pushed back the start date as it continues to test the new system, which shifts the production of driver's licenses from individual counties to a state vendor, Idemia Identity & Security USA of Massachusetts.
Originally scheduled to begin in January, the launch was then moved to mid-March, but last week the Transportation Cabinet announced that the rollout would be in April.
Plans now call for a pilot program to start in Franklin and Woodford counties early next month. Then, if all goes smoothly, Kentucky's 118 other counties will begin handling the applications starting two to three weeks later.
A county-by-county schedule isn't yet available. But state officials expect it will take about two months for all counties to complete the rollout.
"I'm sure there are some people frustrated over the delays," said Greg Helton, the Knox County Circuit Court Clerk and president of the Kentucky Association of Circuit Court Clerks. "But we are happy as a group that they're not putting out a product that doesn't work."
The rollout in Franklin and Woodford is meant to detect any issues and fix them before other counties begin offering the licenses. One change is that clerks will have to scan multiple documents as part of the application process.
Matt Henderson, Kentucky's vehicle regulation commissioner, said starting in those two counties will make it easier for the rest of the state.
"We're going to monitor that process to make sure all the systems are working appropriately, that people are getting their credentials within an appropriate time and just to see if there's any bugs in the process that we can fix before we hit larger urban communities."
Kentucky is one of 12 states that has yet to meet the standards Congress approved in the Real ID Act of 2005. The law was in response to a finding of the 9/11 Commission, which noted that several hijackers in the Sept. 11, 2001 terror plot used fraudulently obtained ID cards.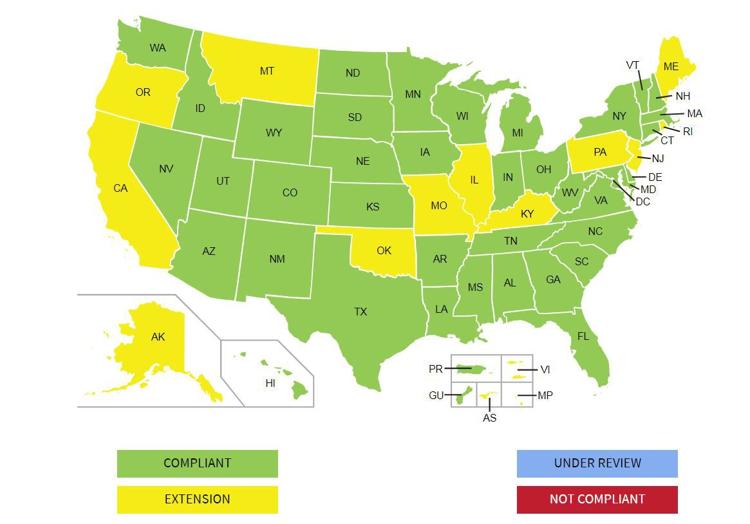 The state is now operating under a federal extension that has allowed residents to continue using their existing licenses.
But in October 2020, the U.S. government no longer will accept those licenses at some federal facilities, such as Fort Knox, or for boarding domestic flights at Louisville Muhammad Ali International Airport or other airports.
Kentuckians will choose between two different types of driver's licenses.
A license that's nearly identical to the current Kentucky driver's license will be called a "voluntary travel ID." Its holder will be able to drive, buy alcohol and other age-limited purchases, board domestic flights and enter military posts.
The other type that will be offered, a "standard driver's license," is good for driving, age-restricted purchases and entering federal buildings for basic services. But after next October, the Transportation Security Administration won't accept it for air travel within the U.S. Instead, a passport or other federal ID would be required.
State officials say that by offering two licenses, residents can choose the one that best suits their lifestyle. Some lawmakers and critics contend the approach may cause confusion and result in people who have no way to board an airplane in a family emergency, for instance.
The new credentials will have laser-engraved, shaded gray images instead of color photographs. They'll also feature Kentucky symbols and icons, such as the tulip state tree, in a bid to make counterfeiting harder.
To get a travel ID, Kentuckians will need to bring documents with them that prove their identity and social security number and two proofs of residency. For example, a certified birth certificate, a current year's tax return and a current salary statement and LG&E bill would be accepted.
LIST OF ACCEPTED DOCUMENTS FOR A 'TRAVEL ID'
People with a driver's license won't need to retake the driver's test. Anyone renewing their licenses for a "standard" ID – the one that won't work at airports – will not need the extra documents.
Kentucky also is doubling the lifespan of the licenses, from four to eight years, although until early 2023 the state will offer a half-priced version of both. The travel IDs will cost $48 for eight years, while the standard one will cost $43, up from the $20 now charged for a four-year license.
The additional requirements have concerned some state lawmakers, such as Rep. Sal Santoro, a Republican from Florence in northern Kentucky. He worries that people who don't bring the proper documents may instead settle for the license that doesn't grant aircraft access -- not realizing the consequences until later.
"They're going to come in and they're going to want the cheapest thing they can get," he said. "Two years later they're going to want to fly to go somewhere. They're not going to be able to get on that (airplane.)."
In Franklin County, Circuit Court Clerk Amy Feldman said she's advising residents to learn about what will be accepted. For example, a copied birth certificate won't pass muster; it must be original or certified. 
"People just need to be prepared and start getting those documents in order if they want the voluntary travel ID," she said.
Back in Shelby County, Graney stresses that anyone with a name change will have to be able to prove their identity. A woman who has a birth certificate with her maiden name and a social security card with her married name would need to show up with a certified marriage certificate to show the name change. 
"I'm going to have people who are going to come in here. They think they have everything they're supposed to need and I may have to have them go get a certified marriage certificate or their divorce decree," she said.
Above all, Graney said people need to be patient.
"Patience is going to be huge when it comes to this," she said. "Be patient and understanding with your clerks. We're doing everything we can to make it as easy as possible for everyone."
Reach reporter Marcus Green at 502-585-0825, mgreen@wdrb.com, on Twitter or on Facebook. Copyright 2019 WDRB Media. All rights reserved.