SUNDAY EDITION | Kentucky's job protection for smokers comes under fire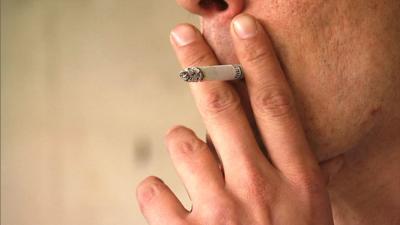 LOUISVILLE, Ky. (WDRB) – Najla Aswad's food business in Louisville is all about simple, "clean" ingredients.
Inside a nondescript industrial building in Lyndon, Najla's Specialty Foods churns out cookies, wraps and other goodies for customers like the Heine Brothers coffee shop chain, the Rainbow Blossom grocery chain and Southeast Christian Church.
Aswad, who started the business in 2006, said it's pretty obvious that a smoker would not be a good fit for her 17-person company.
She has difficulty breathing around people who light up and doesn't want second-hand smoke or tobacco residue anywhere near her kitchen.
"My employees really do enjoy the environment that they work in," she said. "This is clean air."
But if Aswad were to tell job applicants, "No smokers hired here," she'd be breaking the law in Kentucky, where smoking is a civil right.
In 1990, Kentucky became one of the first states to go along with a tobacco industry push for "anti-discrimination" laws protecting smokers from being denied jobs or fired because of their habit.
In addition to protecting people on the basis of race, national origin, age and disability, the Kentucky Civil Rights Act says employers may not refuse to hire smokers, though they can prohibit smoking on the job and  charge smokers higher rates for health insurance.
Kentucky is not alone – 29 states have so-called "smoker protection" laws, according to the American Lung Association. That includes Indiana, which enacted its law in 1991.
But some powerful interests in the Bluegrass State, including the Kentucky Chamber of Commerce, are trying to change that.
"Employers should be able to say, we don't want to hire smokers," said Ashli Watts, a spokeswoman for the chamber, the state's main business lobby.
A bill pre-filed for the 2019 legislative session that starts next month would remove the smoker protection.
If passed, employers would be immediately free to fire people because they smoke, absent other job protections such as an employment contract or collective bargaining agreement, said Louisville labor attorney Shelly Henry, who examined the proposed bill at WDRB's request.
A fired smoker might be able claim he or she is disabled because of a nicotine addiction, but that would be a "novel argument" in the eyes of the law, Henry said.
Employers could also refuse to hire smokers and subject workers to tests, like drug screens, for tobacco use.
Louisville-based Humana grabbed headlines in 2011 when it started screening potential employees for nicotine use in Arizona and Ohio – states that have no smoker protections for employment purposes.
Humana spokeswoman Kate Marx said in an email last week that those policies remain in place and that Humana would be "open to applying these types of policies across the country in accordance with state law" given its corporate focus on healthy living.
Marx did not reply when asked if Humana supports removing Kentucky's protection for smokers and what that would mean for smokers already employed here. Humana employs about 12,000 in Louisville.
Supporters of the change say smoking never should have been elevated to a "protected class" with the same special employment protections afforded for race and gender.
"What this does is put smokers on an even keel with every other person," said state Sen. John Schickel, a Republican from Northern Kentucky, the sponsor of the bill.
Schickel noted that employers are generally free to hire or fire anyone for "wearing a red shirt" or "being bald" or other arbitrary reasons, so long as they don't  discriminate based on race and the other factors in state and federal civil rights laws.
Will being denied a job help smokers quit?
Nearly a quarter (24.6 percent) of Kentucky adults smoke, the second-highest rate in U.S. behind West Virginia (26 percent) and significantly higher than the national rate of 14 percent, according to federal statistics compiled by the Campaign for Tobacco Free Kids.
Kentucky also continues to rank highly in rates of heart attacks, lung cancer and other problems caused by smoking.
Watts and other supporters say ending employment protections for smokers will help curb Kentucky's "epidemic" of smoking, but not everyone is convinced.
Ellen Hahn, a nursing professor at the University of Kentucky and director of the Kentucky Center for Smoke-free Policy, said she's seen "no evidence" that the threat of losing a job – or not getting hired – helps smokers quit.
"The reality is, this is an addiction. It's a hard, hard thing to quit," she said.
On the other hand, people do get help from cessation medications and therapies, which are generally covered by employer-provided health plans because of the Affordable Care Act, she said.
While she takes a "neutral" position on Schickel's bill, Hahn questioned how smokers would have access to those services if they can't get a job or if they lose employer-provided insurance.
"(The) best practice, really, is to provide support for tobacco users," she said. "It's not to punish them."
Angie Lena, 53, a customer service and inside-sales worker in Lexington, said she's smoked since she was a teenager and has tried to quit five times, most recently a few weeks ago.
During a worktime smoke break last week, she said she won't try to quit again until she's "personally ready," and no threat from an employer would change that.
"If you want to fire me, go on," she said. "I was looking for a job before I found this one, and they'll be another one down the road. Not everyone will discriminate against me."
'Tobacco is alive and well' in Kentucky
On March 5, 1990, when the Kentucky House of Representatives overwhelmingly passed the anti-discrimination bill for smokers, the lawmaker who championed the bill said it was a sign that the tobacco industry's historic power in Frankfort hadn't waned.
"I guess it shows that tobacco is alive and well in the Kentucky legislature," said Rep. Donnie Gedling, a Democrat from Cloverport, according to a Courier Journal article from the time.
Or, as the American Cancer Society's Kentucky Division wrote to lawmakers at the time: "It is obvious that the long, strong arm of tobacco has some legislators by the throat."
While the industry no longer wields the same clout, Virginia-based Altria Group Inc., the successor to Philip Morris, is regularly among the top spenders on lobbying in Frankfort (along with the state chamber).
Altria did not respond to a request for comment about removing the smoker employment protection.
Kentucky's 1990 law was part of a concerted effort by companies like Philip Morris and the industry's trade now-defunct trade group, the Tobacco Institute, to pass "smokers' rights" bills in dozens of states. The measures were a counterweight to increased cigarette taxes, new smoke-free laws and other efforts to curb smoking.
The industry's fingerprint on such bills is evident from internal documents made public through lawsuit settlements.
In fact, the Tobacco Institute "drafted" the Kentucky bill and "quarterbacked (the) lobbying effort" for it, according to a 1991 document listing industry-supported legislation in dozens of states.
"Like discrimination based on race or sex, discrimination against smokers involves the oppression of one social group by another -- resting largely on intolerance and prejudice," the Tobacco Institute wrote in a March 1990 letter to Kentucky lawmakers.
The documents indicate that the industry had allies on the bill including the American Civil Liberties Union and union groups such as the Kentucky AFL-CIO. (Philip Morris operated a unionized cigarette factory at Broadway and 18th Street until the early 2000s).
Amber Duke, a spokeswoman for the ACLU of Kentucky, declined to comment for this story, saying the group would need more time to research the issue.
Bill Londrigan, president of the Kentucky AFL-CIO, said in an email that removing the smoker employment protection would amount to "an unnecessary intrusion on personal freedom of choice."
The current law "protects applicants from discrimination for smoking and prevents employers from regulating lawful behavior of individuals away from the workplace," he said in an email.
"Currently, if employers desire their employees to quit smoking they can, and many do, provide guidance, assistance and incentives to quit smoking," Londrigan said. 
Copyright 2018 WDRB Media. All rights reserved.