LOUISVILLE, Ky. (WDRB) – If Louisville Gas & Electric Co. has its way, hundreds of thousands of utility customers in Jefferson and 16 surrounding counties will not only face higher bills beginning in May, but they won't be able to do much about it even by adjusting the thermostat or getting a more efficient refrigerator.
A closer look at LG&E's proposed rate increase shows the utility wants to continue hiking "basic service charges," or fixed amounts that customers pay each month just to have service, regardless of the amount of natural gas or electricity they use.
For a residential customer who gets electric and gas service from LG&E, the minimum charge would rise from $28.60 a month to $35.91, according the utility's proposal.
The proposal must still be approved by the Kentucky Public Service Commission, and if past history is a guide, LG&E will not get the full increase that it seeks.
LG&E executives say shifting to fixed charges would make bills less volatile from month to month while more fairly distributing the utility's own fixed costs – from power lines to customer service – among its customers.
"It's essentially a minimum charge of what it takes to provide service to a customer regardless of how much or how little energy they use," said LG&E spokeswoman Natasha Collins.
But critics say the fixed charges unfairly burden the poor and discourage residents from cutting their energy use, making their homes more efficient or installing solar panels because those efforts would yield a lower bang for the buck.
"If they raised the usage rate, it encourages more conservation. That is not what they want," said Sarah Lynn Cunningham, executive director of the Louisville Climate Action Network.
When fixed charges are hiked, she said, "customers are locked into paying more money and they can't do anything about it."
"We want people to be in control of their bill," said Cathy Hinko, executive director of the Louisville Metropolitan Housing Coalition. 
Under LG&E's proposal, the typical residential customer's combined electric and gas bill would average $173.32 per month, up from $164.16 under current rates.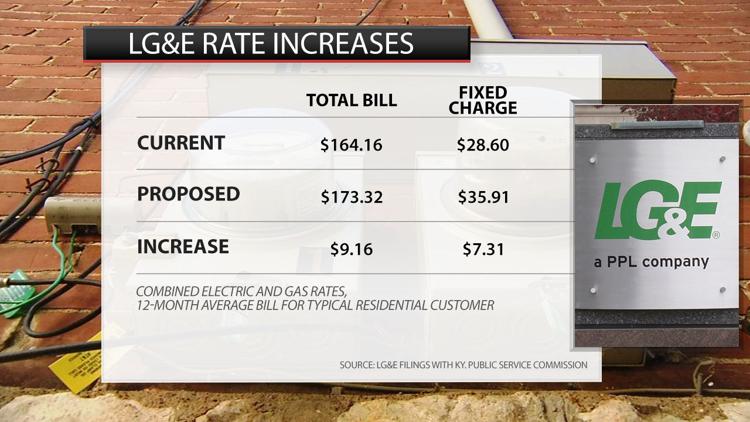 Of that $9.16 increase, $7.31 would be in fixed charges. The basic charge for electricity would rise to $16.13 per month, from $12.25 currently. For gas, the basic charge would be $19.78, up from $16.35.
To be sure, those figures don't include the already scheduled expiration of a credit customers have been getting since April to reflect savings under the Republican-led corporate tax cut, so the effective increases would be higher, as WDRB reported in November.        
LG&E and its sister company, Kentucky Utilities, are subsidiaries of PPL Corp., a publicly traded company based in Allentown, Pennsylvania.
KU proposes an identical basic charge -- $16.13 per month -- for the electric service it provides to 77 counties in western, central and eastern Kentucky.
LG&E & KU's rate increases will be considered by the Public Service Commission, a three-person board appointed by Gov. Matt Bevin, in a four-day hearing that begins March 5.
Typically, the commission grants the utilities a portion of the increases they want, but not the full amounts requested.
LG&E and KU have had fixed charges as part of their bills for decades, according to Public Service Commission spokesman Andrew Melnykovych.
But in recent years, the utilities have shown a strong preference for getting more – or all – of their increased revenue from fixed charges.
In 2016, LG&E proposed nearly doubling fixed charges, to a total of $46 for combined electric and gas customers. The current $28.60 combined charge came after the utility settled with Kentucky Attorney General Andy Beshear's office and other parties.
Beshear, whose office serves as the main public advocate when utilities want to raise rates, said his staff will fight LG&E's latest proposed increase and attempted shift to fixed charges.
"The more you move over to those fixed costs, the harder it is on many families that are just barely struggling to get by and who turn down the thermostat, who turn off the lights, who do everything they can to control their bills," Beshear said in an interview with WDRB last month. "We've got to be very careful to avoid raising the burden on them."
Tia Lecian, 46, lives in the shadow of LG&E's Cane Run power plant in southwest Jefferson County.
She said she keeps the air and heat down in the small house she shares with her 19-year-old son, her adult niece and 7-year-old great nephew, but LG&E bills can still reach $250 a month.
Lecian, who gets help with her utility bills through the LIHEAP and All Seasons Assurance Plan low-income assistance programs, said she fears increased costs, especially fixed charges that she can't control.
"There are people out here who have the means to pay that extra money, but they are not looking at those who don't have it," she said.
But LG&E says higher fixed charges are actually fairer to customers like Lecian.
Under current rates, customers who use more electricity subsidize those who use less, LG&E consultant William Steven Seelye said in a document filed with the Public Service Commission in September.
One "particularly problematic" example, Seelye said, is a customer who generates his or her own energy through solar panels but who "falls back on the utility when sunlight is unavailable."
Under rates that depend on usage, solar-generating customers don't pay their fair share of the transmission lines and other infrastructure necessary to connect their homes to the grid and provide power on demand, Seelye said.
"In those instances, the fixed costs are thus shifted to customers who have not installed distributed generation technology" such as solar panels, Seelye said.
Cunningham, of the Louisville Climate Action Network, said the fixed charges are LG&E's way to "screw the solar customers" who are helping to combat climate change but not buying power from LG&E. (The vast majority of LG&E's electricity is produced from coal).
LG&E's Collins denied that the fixed costs are meant to discourage residential solar projects.
"We encourage renewable energy. We continue to look for ways to install more renewable energy throughout our system," she said.
She said the fixed electric charge is a way to ensure that conventional power from the grid is available to solar customers whenever they need it.
"It provides those services regardless of how much or how little energy they use," she said.
Copyright 2019 WDRB Media. All rights reserved.