LOUISVILLE, Ky. (WDRB) – As she packed facial cleansers and other skin-care products into small boxes on the floor of Radial's vast warehouse in Shepherdsville, Tremaine Shepard kept one number in mind.
"I just keep thinking about $27," said the 34-year-old mother of three, who has a baby on the way.
Shepard was referring to the overtime wage she can make, through a staffing agency, as part of her seasonal job boxing up online orders that are shipped out from the 484,000-square-foot warehouse.
"That's pretty good; that's why I am here," said Shepard, who makes the 25-minute drive from her home near downtown Louisville to pick up hours at Radial.
She said it's a "pretty easy" job in a "laid back" atmosphere. "The worst part," she said, "is the standing."
Radial, which was formerly called eBay Enterprise and GSI Commerce, stores and ships products ordered from the websites of dozens of name-brand retailers like Aeropostale, Dick's Sporting Goods and Urban Outfitters.
Shepard is one of the 5,700 temporary workers that Radial, through staffing agencies, plans to hire in the next two months to handle the rush of online orders between Thanksgiving and Christmas at its two warehouses, in Shepherdsville and Jefferson Riverport.
Radial pays $13.50 to $14.50 per hour but offers double time for overtime hours – instead of the federally mandated time-and-a-half – for the busiest weeks of the peak season, which is how Shepard can earn $27 an hour.
"Obviously it's a strong need for people, so we are doing everything in our power to be as creative as possible and entice people to come in," said Jeff Flood, Radial's director of operations at the Shepherdsville fulfillment center.
That includes things like occasionally catered meals and bonuses for productive workers, he said.
The Louisville area is the backyard of e-commerce with warehouses like Radial's taking advantage of proximity to UPS' Worldport global air hub at Louisville Muhammad Ali International Airport.
The warehouses typically hire tens of thousands of temporary workers for the November-December rush. This year, they'll be looking for those workers amid the tightest job market in nearly 20 years.
The unemployment rate in the Louisville-Southern Indiana metro area hit 3.3% in September, the lowest rate for that month since 2000, according to the U.S. Bureau of Labor Statistics and the Kentucky Center for Statistics.
Meanwhile, retail continues to shift from physical stores to online, meaning more volume for businesses like Radial.
The National Retail Federation expects online and other non-store sales to rise 11% to 14%, to $162.6 billion to $166.9 billion, during the 2019 peak season compared with a year earlier. Traditional in-store sales, which are still the vast majority of retail spending, are expected to grow only about 2%, according to the trade association.
Warehouse operators and temp agency executives say Amazon, which has large warehouses in Shepherdsville and Jeffersonville, Ind., is helping to push the market-wide going rate for seasonal warehouse jobs closer to $15 per hour, which the company set as its own minimum wage last year.
In fact, Amazon is advertising pay of "up to $20" per hour at its Jeffersonville fulfillment center.
Amazon spokesman Andre Woodson declined to comment on the company's hiring plans in the Louisville area. He confirmed that the company's hourly rate exceeds $15 depending on the employee's shift, but did not respond when asked exactly how workers can earn $20.
At Fanatics' warehouse in Fairdale, workers customize shirts, jerseys and other apparel for sports leagues like the NFL.
Looking to hire 800 seasonal workers, Fanatics is offering $14 to $16 per hour depending on work assignment and shift. That's up from $10.50 to $12.25 five years ago, according to WDRB reporting from the time.
"It is very, very tight … Anybody who wants a job can find a job," said Andres Astralaga, vice president of human resources for Fanatics, which is based in Jacksonville.
He stressed the company's welcoming culture and noted that workers who speak Spanish can thrive in the job.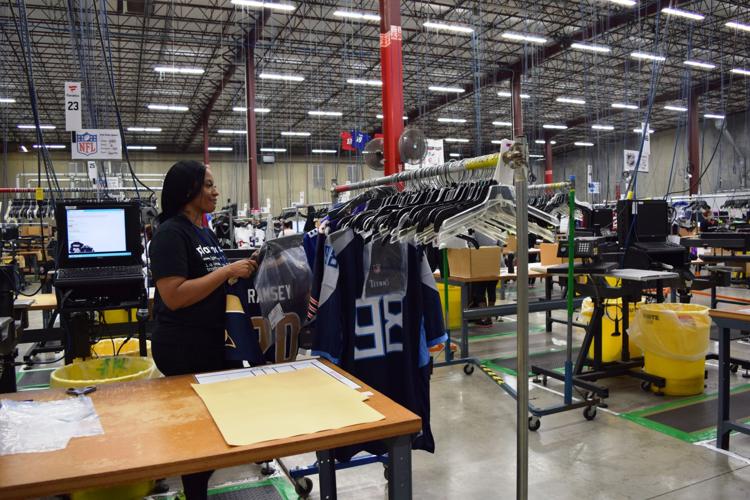 LaTerri Gudger, who is primarily a nurse for an east Louisville hospital system, was pressing numbers onto Pittsburgh Steelers jerseys on Wednesday at Fanatics, where she has picked up extra money around the holidays for the last five years.
Gudger said she likes the job for a change-of-pace and the friendly atmosphere. "I've even learned how to talk Spanish," she said.
UPS itself plans to hire 2,600 seasonal workers in the Louisville area, primarily package handlers at the company's Worldport hub, delivery drivers (including people using their personal vehicles) and driver-helpers.
The shipping giant projects it will handle 32 million packages per day between Thanksgiving and Christmas, a 5% increase from 2018's record volume.
UPS' starting wage is now $14, up from $10.50, after the company reached a new labor contract with the Teamsters union earlier this year and increased its rate from the contract's $13.50 minimum.
But with weekly bonuses of $50 to $100 paid to new workers, UPS' effective pay can be much higher than $14. For example, a package handler who works six hours on the company's Sunday sorting shift gets a $50 bonus, raising the effective rate to a little more than $22 per hour.
The bonuses are given to all new workers simply for showing up each week, but they last only through the end of the year.
UPS spokesman Mike Mangeot said the bonuses reflect the competitive job market, but UPS' higher starting wage has helped the company fill positions.
"Hiring is going very well this year and certainly, people have noticed the new rate," he said.
INFORMATION ABOUT SEASONAL JOBS:
UPS
Pay Range: $14 an hour for package handlers; $16.80 per hour for driver helpers, $21 per hour + mileage for personal vehicle drivers, $21 per hour for tractor trailer drivers.
Location: Louisville International Airport, other locations
Website: www.jobs-ups.com
Fanatics
Pay Range: $14 to $16 per hour
Location: 9205 National Turnpike, Fairdale, KY 40118
Website: https://jobs.lever.co/fanatics
Radial
Pay Range: $13.50 to $14.50 (depending on staffing agency)
Location: 350 Omega Pkwy, Shepherdsville, KY 40165; 7700 Trade Port Dr, Louisville, KY 40258
Website: Adecco: https://www.adeccousa.com/companies/radial-jobs/ Surge: https://jobboard.surgejobs.com/
Amazon
Pay Range: $15 to $20 per hour, depending on shift
Location: 900 Patrol Rd, Jeffersonville, IN 47130; 100 W Thomas P. Echols Ln #3, Shepherdsville, KY 40165
Website: http://www.amazondelivers.jobs/about/holiday-hiring-at-amazon/