LOUISVILLE, Ky. (WDRB) – Before tolls started on Louisville's bridges in late 2016, the project's decision makers zeroed in on a potential problem: collecting from drivers who don't live in Kentucky or Indiana.
State legislators already had passed laws keeping Hoosiers and Kentuckians from renewing their vehicle registrations if they had unpaid toll bills. But cracking down on violators from other states would be trickier.
Besides simply hoping that people across the U.S. would pay what they owe, Kentucky and Indiana state agencies agreed to "use their best efforts" to sign enforcement pacts across state lines. That approach, for example, would let Kentucky bar a driver from renewing her car's license plate until her Florida tolls are paid -- and vice versa.
But more than two years after tolls began, officials say those discussions aren't occurring. Nor has RiverLink taken legal action to recoup money from any of the nearly 129,000 out-of-state toll scofflaws who ignored multiple invoices in 2018.
RiverLink wasn't immediately able to provide data on how much money that represents. But a WDRB News analysis suggests the toll network overseen by Kentucky and Indiana state governments failed to pursue at least $8 million in unpaid tolls and fees from those drivers last year.
The analysis, based on reports obtained through public records requests, was conservative. It assumed each of the 128,871 final notices sent to out-of-state drivers had unpaid tolls of $4, the initial cost of a single bridge crossing, plus the $60 in fees that accrue if invoices linger. 
Of course, some of those drivers may have decided to pay after getting the notices. Regardless of any lagging out-of-state revenue, RiverLink met its overall toll collection goals last year, bringing in more than $106 million.
Still, the states' strategy reveals a disparity in how they choose to enforce toll violations. Thus far, they've focused on collecting from local and regional RiverLink users, bringing in more than $4 million last year after freezing registrations of drivers in Kentucky and Indiana who owed tolls and late fees.
RiverLink officials say the emphasis on local drivers makes sense, because those bridge users account for the majority of the Ohio River crossings on the tolled Interstate 65 Kennedy and Lincoln bridges downtown, and the upriver Lewis and Clark Bridge.
Even so, Megan McLain, the Kentucky Transportation Cabinet's innovative finance manager, said out-of-state drivers aren't safe from penalties if they continue to ignore RiverLink toll invoices.
"I would say that we haven't pursued all of our options yet," McLain said, such as taking out-of-state drivers to court in Kentucky.
But, she noted, unlike the penalties that apply to Kentucky and Indiana drivers, "we can't hold their registration."
The states' long-term approach to those violations may become clear in the coming months. McLain said Kentucky and Indiana's new toll adviser, HNTB Corp., plans to conduct a "risk assessment" that will include how to deal with people from other states who ignore toll bills.
Kansas City, Mo.-based HNTB, which Kentucky and Indiana are paying $5.1 million over the next five years, will make several recommendations for improving RiverLink's operations, said Mindy Peterson, a toll network spokeswoman.
"I would expect those recommendations to include out-of-state collection efforts," she said. "What are we doing today, and what can you do to beef up that enforcement?"
Peterson also said RiverLink invoices now make it clear that only Kentucky and Indiana drivers face registration holds, which apply after they fail to respond to four invoices. A previous version of the toll bill suggested that all drivers, regardless of where they live, could be subject to the holds.
After a trip last summer to Louisville's Kentucky Kingdom amusement park, Jason Leaor believed he needed to pay a RiverLink bill or he couldn't register his car in West Virginia, where he lives with his family.
An invoice, which Leaor shared with WDRB News, reads: "Failure to pay the amount due by the date specified will result in placing this vehicle on registration HOLD with the appropriate Department of Motor Vehicles. The vehicle will remain on hold until the debt is paid in full to RiverLink."
Leaor said he has been trying to dispute toll fees he received starting last fall. He said he doesn't mind paying $24.60 for the six trips his family made between Louisville and their Jeffersonville, Ind., hotel, but he argues he shouldn't be liable for late fees.
Leaor said he never received an initial invoice; the first bill he got included a late fee, which is supposed to start with the second notice that tolls are due. Additional late fees piled up – totaling $60 – as he said he pleaded his case with customer service representatives.
During that process, Leaor noticed that RiverLink appeared to be threatening to freeze his registration.
"I started looking at it, especially when they said they were going to put a hold on it – because it does say that on the notice," he said. "But I didn't know that they couldn't do that."
'A little more challenging'
Toll roads in the U.S increasingly have gone cashless, using transponders and mailing bills by license plates instead of building toll booths that slow traffic. But that approach faces several dilemmas when drivers don't live in the state where the toll is charged.
First is how to even locate them. Kapsch TrafficCom, the company Indiana and Kentucky hired to operate RiverLink, uses a vendor that gets data from motor vehicle bureaus across the country. Then bills are sent to drivers.
In 2018, the vendor was able to locate owners of out-of-state cars 68.5 percent of the time. By comparison, the success rate was nearly 90 percent for Kentucky and Indiana.
Peterson said the out-of-state rate of locating owners is in line with toll industry standards.
"This is not a RiverLink issue. This is an issue for toll systems across the country with all-electronic tolling," she said. "Reaching those out-of-state drivers is a little more challenging. Making sure that those out-of-state drivers pay those invoices is another challenge as well."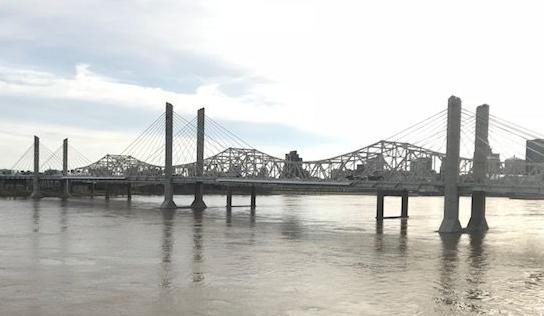 There have been efforts to make out-of-state collections easier. One step is a national system in which toll agencies can read each other's transponders and avoid having to send bills and wait for payment.
In fact, Congress ordered that such a network be in place by 2016, but that deadline came and went.
J.J. Eden, president of the national Alliance for Toll Interoperability, said there's now standard technology in place that could make the system work within the next several years.
"I think it's closer than it's ever been but there's still some hurdles," including getting states and state agencies to cooperate with each other, Eden said.
Like Kentucky and Indiana, states routinely have passed laws allowing vehicle registration holds for residents who haven't paid their tolls. And a compact among New Hampshire, Massachusetts and Maine lets each state hold car registrations if its residents owe tolls in the two other states.       
But no one else has enacted similar interstate enforcement programs, Eden said, although Florida, Georgia and North Carolina have discussed a deal, as have Maryland and Delaware.
In some cases, he said, state lawmakers are wary of giving other states power within their borders.
"It's a hard sell – politically -- across state lines," Eden said. "It's easier if both states have tolls, but if you're bordering a state that doesn't have tolls, what's the incentive for that other state?"
Also, he said state-by-state rules on toll violations lack consensus on penalties and other finer points.
As RiverLink's new adviser HNTB noted in a 2013 report, billing out-of-state drivers without an interstate enforcement agreement amounts to the "equivalent of the honor system."
So how do states handle violators from elsewhere?
A cashless toll road system in Austin, Texas, simply ignored out-of-state drivers in past years because officials said they didn't have the ability to get registration information from those states.
And those trips weren't inconsequential. With events like the South By Southwest conference in Austin, drivers from outside Texas make up eight to 12 percent of all traffic, said Billy Blackman, toll operations manager for the Central Texas Regional Mobility Authority.
The authority can't place registration holds on out-of-state cars. But Blackman said a new vendor that started late last year has access to owner data and began billing drivers from across the U.S. in January.
"Now we are getting that information from plates that aren't from Texas, and we're kind of entering uncharted territory," he said.
In Colorado, officials overseeing a toll road outside Denver can seek civil judgments in state courts once a hearing process is concluded, although they haven't historically done that, said Dave Kristick, the E-470 Public Highway Authority's deputy executive director and operations director.
But in an email, Kristick said the agency is working with the state's court administrator to "begin doing so."
For RiverLink, Kentucky and Indiana officials have discussed setting a minimum dollar amount of unpaid tolls and fees before trying to collect from an out-of-state driver, said McLain of the Kentucky Transportation Cabinet.
One suggestion: Don't file a lawsuit for anything less than $500.
"We're definitely not going to take anybody to court over $8," she said. "The cost of paying our lawyers to do it – it doesn't make sense."
Reach reporter Marcus Green at 502-585-0825, mgreen@wdrb.com, on Twitter or on Facebook. Copyright 2019 WDRB Media. All rights reserved.