LOUISVILLE, Ky. (WDRB) – One former nurse at the Kentucky State Reformatory in La Grange called the prison a "cesspool" of sexual harassment by men in leadership.
An attorney for another former employee described the prison as having a "cover-up culture" that discouraged employees from speaking up about wrongdoing.
And a woman who now works as a corrections officer claimed the reformatory had a "good-old-boy" culture: Complaints were "swept under the rug" and those who tried to protest were "targeted" for retaliation.
In fact, after multiple internal investigations, the state now concludes the prison had a "toxic culture."
For example, one corrections worker was accused of groping a co-worker, grabbing her by the neck and "shoving it down to his penis," according to investigative records obtained by WDRB News.  It is unclear what happened as a result of this complaint.
Sexual harassment of female workers and inappropriate behavior among prison employees is not uncommon in Kentucky and across the country.
But the problems at the 1,058-bed state reformatory in Oldham County have led to two lawsuits this year and a slew of ongoing investigations and firings, including two supervisors at the prison. James Erwin, the commissioner responsible for the state prison system, was fired earlier this year.
The state Department of Corrections confirmed Thursday that former warden Aaron Smith was fired April 5, the day after WDRB first published a number of allegations of sexual harassment and assault against two former employees at the prison. Smith did not respond to a request for comment.
Smith led the reformatory for four years before being named director of the department's Correctional Industries Division last June. His termination letter does not give a reason for his firing.
In addition, Mike Wilson, a corrections officer at the reformatory, was placed on leave on Feb. 12, and the state Justice Cabinet's Internal Investigations Branch is investigating him.
As a result of the problems, the Kentucky Justice and Public Safety Cabinet late last year took over the state correction department's internal affairs process and "worked to swiftly address allegations of misconduct and create a safe environment for all employees," said Mike Wynn, a spokesman for the justice cabinet.
Wynn said "there are several ongoing investigations," but did not provide details.
In recent weeks, WDRB looked at lawsuits, reviewed hundreds of pages of internal investigative documents and interviewed a dozen past and present employees at the prison.
Taken together, the information paints a picture of a volatile work environment where complaints of sexual harassment, hostile working conditions and retaliation were often ignored or dispatched with superficial investigations.
Past and present female prison employees told WDRB they were subject to lewd remarks and inappropriate touching by male workers. And there was little recourse; in some cases, they said, their supervisors were the offenders.
"It's a cover-up culture at (Kentucky State Reformatory) where if people did things that were wrong, those in power did what they could to cover it up so that those things could keep happening," said attorney Nick Naiser, who has filed a lawsuit on behalf of Ginny Fentress, a nurse who was fired from the reformatory last year.
Among the allegations in hundreds of pages of internal investigative documents WDRB obtained under public records requests:
• A nurse who claimed she was sexually assaulted by a male supervisor and harassed by another saw her complaints ignored and, in fact, was transferred to another prison, which she felt was punishment for speaking out.
• A male officer was accused of grabbing a female employee by the neck and shoving her head toward his penis.
• A prison employee had a sexual relationship with an inmate in 2016, but the claim wasn't investigated because the head of internal affairs for the prison said he "forgot" to conduct an investigation.
• The same supervisor failed to investigate an allegation that inmates watched as two prison employees had sex on a desk in an office in 2017.
• Some female workers told investigators they heard about a betting pool in which male employees would bet on which of them would have sex with the newest female hire first. (Male employees denied this, according to investigative records.)
• An undated note in a batch of investigative documents said "must change culture. Employees fear retaliation if they complain."
Fentress, who worked at the prison from 2014 to 2018, claims in a lawsuit filed in Oldham Circuit Court that she was fired, in part, for complaining about the hostile work environment.
The lawsuit also alleges Fentress was retaliated against for cooperating with an investigation of a discrimination complaint by a co-worker.
State prison officials declined to comment on Fentress' allegations.
"The people who were supposed to put a stop to this discrimination just didn't," said Naiser. "They didn't investigate or they covered up when others did things that were wrong."
A corrections officer who still works at the prison said in an interview that if an employee tried to file an internal complaint, "it would either not be reported, it would be swept under the rug, you'd be called a liar." The employee asked not to be identified because she was not authorized to speak with the media.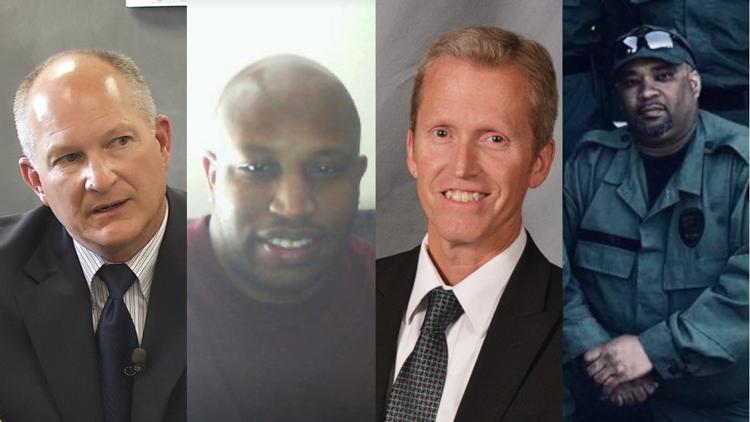 "They were pretty much able to get away with anything, including physical violence towards others," she said. "They were allowed to do a lot of things as long as it wasn't caught on camera or there were no witnesses."
The issues at the reformatory came to light publicly when Erwin was fired in February and filed his own wrongful termination lawsuit.
Erwin claims he was let go when he refused to fire two officials at the reformatory, Capt. Michael Williams and Lt. John Grevious.
Erwin argues the justice cabinet's investigation of Williams and Grevious was not airtight and moving to dismiss them could come back to haunt the state.
Grevious and Williams, who were fired last month, are accused of sexual assault and harassment, respectively, as well as ignoring allegations of improper behavior by other employees, among other alleged misconduct.
Asked if Grevious and Williams are being criminally investigated, Corrections Department spokeswoman Lisa Lamb said "it is the policy of the Cabinet to not specifically comment on open investigations."
A Kentucky State Police spokesman said he would check whether there were any pending investigations of the men, but he did not respond. 
Williams, who was head of internal affairs at the prison, and Grevious, the prison's Equal Employment Opportunity Coordinator, have hired Louisville defense attorney Thomas Clay to fight to get their jobs back.  
The former officers claim many of the allegations are false and they were fired, in part, because they are black.
But past and former employees say the two men regularly prevented complaints about misconduct at the prison from being investigated and retaliated against those who tried to speak up.
"I would rather be shut in with an inmate one-on-one than with Grevious or Wilson or Williams," a former nurse at the reformatory told WDRB. The nurse requested anonymity for fear speaking out could damage her career. "It was expected as the norm and it was kind of one of those things like, 'keep your mouth shut or you are going to get fired.'''
Wilson, a corrections officer currently under investigation, could not be reached for comment. 
The state has pledged to "change the culture in which victims feared retaliation for coming forward and incidents went unreported," Lamb said. "We appreciate the courage of those who have previously stepped forward, along with those in the media who have helped bring issues to light."
"P.S. Help"
Current and former employees, as well as internal state investigative documents, show the problems at the reformatory have lingered for years, and numerous investigations have failed to change the culture at the prison.
WDRB reviewed complaints and investigations at the prison as far back as 2013, where the same patterns were noted year after year. In several instances, when employees did come forward with complaints and investigations were completed, the allegations were unsubstantiated.
In May 2015, then-Corrections Commissioner LaDonna Thompson received an anonymous letter including multiple allegations against Williams.
The letter said the person was coming forward "to get help for the mistreated, scared and bullied staff that does not want to sacrifice their careers as so many have done in the last year."
It was signed "P.S. Help."
Thompson assigned Erwin, then deputy commissioner, to launch an investigation into the allegations in the letter and other complaints. 
Several of the allegations were determined unsubstantiated. But the summaries of the investigations released by the state are heavily redacted.
One substantiated complaint involved Williams showing a class of recruits multiple nude photos of a female officer. He was counseled by a supervisor and ordered to complete equal employment opportunity training.
The next year, Williams failed to investigate or report an allegation that a prison employee had a sexual relationship with an inmate in 2016. Williams claimed he "forgot" to conduct an investigation, according to documents in the probe.
In 2017, there were multiple allegations that inmates watched an officer and a nurse have sex on a desk. Williams said he was told about the investigation but did not review video or investigate in any way. The two employees denied the conduct.
Also in 2017, Williams and another employee were investigated for allegedly intimidating a female worker to show them a tattoo she had between her breasts.
"Now take your bra off and show me for real," one of the male employees allegedly said, according to a summary of the investigation. "I know you have a thing with (redacted) and I'm a patient man. One day I'm going to tear you up."
However, the investigation was closed with the allegations unsubstantiated. Williams admitted that, as head of internal affairs, he should have reported the incident to his superiors.
Two months later, that same nurse claimed in a conversation with a corrections employee that she was moved to a different prison because she "knew too much," including information about the alleged incident in which inmates watched two employees have sex and "so many other things."
The information, from an email dated March 17, 2017 recounting the conversation, also identified other employees as having affairs with each other, though names are redacted.
The name of the person the nurse was speaking to and the person who received the email are redacted. It appears the person who summarized the conversation with the nurse was supposed to fill her position at the reformatory.
The person who sent the email concluded: "I want to follow up by saying I am very unsure of the move to KSR now. … I want no part of any of this information I shared with any of the people listed and I am apprehensive about interactions between myself and those listed above."
Also in March 2017, Correctional Care Solutions, the prison's medical provider, sent a memo to the state Department of Corrections alleging multiple allegations of sexual harassment, sexual misconduct and inappropriate sex acts by reformatory employees, according to records.
One nurse complained on March 29, 2017 that she was sexually assaulted by a male employee whose name is redacted from the investigation.
In the documents WDRB received, handwritten notes on March 30, 2017 say "liability could be big. Great move on putting him on leave. State investigation ASAP."
The note, which is not signed, also says "obligation to follow up to a certain point. We should dig to protect our agency. Obligated to dig as far as we can."
It is unclear if the handwritten notes are referencing the alleged sexual assault. 
But the issues continued.
In March 2018, an Equal Employment Opportunity Commission coordinator with the state Department of Corrections asked for an investigation into complaints of harassment and retaliation by employees, although their names are redacted.
In the complaint, it was noted there "was also concern that complaints never made it past the EEOC desk and that there was fear of retaliation," according to a cabinet memorandum.
In October 2018, a prison employee whose name has been redacted complained that Williams was having an inappropriate relationship. Much of the allegation is redacted.
Another complaint the same month suggested Williams could be having more than one inappropriate relationship.
Asked last week about the results and effectiveness of previous investigations, Wynn would only say the cabinet is "in the process of reviewing prior investigations that occurred under the department's watch."
It was an allegation last year by a prison nurse that she was sexually assaulted by Grevious and groped by Williams that seemed to have finally prompted a thorough review by the state and the massive changes at the reformatory.
A state investigation launched in November concluded that Williams had "forcefully kissed" the nurse in her office in July 2018.
He also failed to investigate an allegation that Grevious sexually assaulted the same female employee, according to his termination letter. Williams told the nurse she needed to contact outside law enforcement and did nothing else with the allegation.
Grevious also was accused of not investigating or telling anyone about the nurse's complaint of sex harassment against Williams.
He told investigators he did not remember her telling him about the allegation but was not surprised "because he had seen so much at KSR," according to a summary of Grevious' interview.
When investigators asked the female employee why she didn't tell anyone else, she said she "felt powerless and was scared."  In fact, she was moved to a different prison, causing her to "feel like she has done something wrong," according to a memo from the lead investigator.
Williams and Grevious denied the allegations made by the nurse. Grevious said the sex was consensual and Williams denied anything happened with the nurse.
Clay, the attorney for Williams and Grevious, says the investigation into the men was "slipshod" and "we're going to put to the test these allegations and we hope that we can prove that they are not based on fact."
The current employee who agreed to speak with WDRB on the condition she remain anonymous said the atmosphere at the prison has changed for the better since the management overhaul earlier this year.
"We are now feeling more safe there," she said. "People are wanting to come to work again."
Copyright 2019 by WDRB News. All rights reserved.