LOUISVILLE, Ky. (WDRB) -- About two years after Kentucky teachers started raising their profile in Frankfort, next month's gubernatorial election is the most important test of educators' political power.
The preferred candidate of the state's most powerful and vocal teacher advocacy groups and unions, Democratic Attorney General Andy Beshear, has made public education a focal point of his campaign against Gov. Matt Bevin.
Beshear has tried to make political hay out of critical comments the Republican governor has made regarding teachers who have protested at the Capitol in recent years, and he's promised to raise teacher pay, increase state resources to schools and even replace the entire Kentucky Board of Education, throwing out school-choice supporters appointed by Bevin. His running mate, Jacqueline Coleman, is an assistant principal at Nelson County High School.
Bevin, for his part, has pushed back against Beshear's talking points by reminding voters that per-pupil spending and payments into the state's beleaguered pension systems, including those that cover benefits for teachers and other school workers, have gone up since he took office in 2015.
He's also criticized Beshear for not disclosing exactly how he plans to pay for the increased education spending he's proposed on the campaign trail. Two leaders in the GOP-led state Senate said Thursday that Beshear's plan to raise money by legalizing casino gambling has no shot of passing their chamber.
Unions and advocacy groups have also boosted the coffers of super PACs that are supporting Beshear's gubernatorial bid. Political action committees of the Kentucky Education Association, Jefferson County Teachers Association and National Education Association have combined to give $1.2 million so far to groups trying to get Beshear elected governor.
Whether Beshear's decision to put public education at the forefront of his campaign will pay off when voters hit the polls Nov. 5 remains to be seen. A recent public poll by Mason-Dixon Polling and Strategy has the race deadlocked.
"Teachers as a voting bloc can make a difference in a close election when the turnout is low, and teachers do seem relatively mobilized in Kentucky compared to usual," said University of Kentucky political scientist Stephen Voss.
Still, Voss said he's "doubtful that teachers in and of themselves are going to make the difference." Instead, Bevin's "high-profile and sometimes ugly clashes with teachers" may impact his popularity with voters and push some people to explore their political options ahead of Election Day, he said.
"Just because you're shopping around doesn't mean you vote for the challenger," Voss said. "Sometimes you shop around and decide to keep what you have."
Teachers who have been canvassing on Beshear's behalf hope voters give their candidate more than a passing glance in the run-up to the election.
And even though many legislative candidates with education backgrounds lost their bids to join the General Assembly last year, teachers who were active in those elections say they're applying the lessons that they learned on the campaign trail in 2018.
"I think when we take a look at 2018 versus 2019, we're realizing how important the ground game is," said Emilie Blanton, an English teacher at Southern High School in Louisville. "It's not enough to say that you're going to vote for somebody. It's not enough to talk to your friends about who they're going to vote for. It's about going and knocking on individual doors, and it's about meeting with people that you don't know and getting them on the same page as you."
Some teachers who are canvassing for Beshear also believe that Kentucky's more conservative electorate can separate their views on issues like abortion and their support of President Trump to vote against Bevin, who has made both key points in his re-election campaign.
In fact, Trump is planning an 11th-hour Kentucky rally on the day before the election to stump for Bevin at Rupp Arena in Lexington.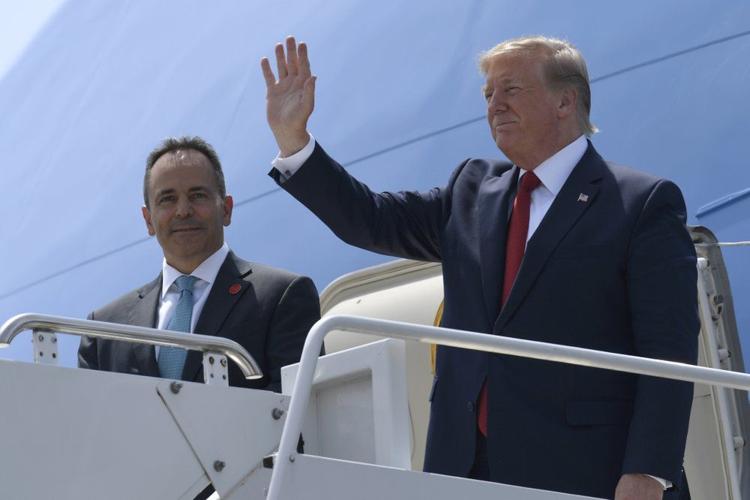 Despite that, Jeni Bolander, a special education teacher in Fayette County and a zone leader for the education advocacy group KY 120 United, said she thinks voters can separate Bevin from Trump.
"I know a lot of people -- my family members, some friends included -- that are absolutely supportive of Trump and are not going to support Bevin," Bolander said.
"What we've told people is if you really feel strongly about abortion or gun rights, if those are your big things, then your election is next year," she added, referring to presidential and U.S. Senate contests in 2020.
But picking up conservative support, particularly in rural areas of the state, will be a challenge for Beshear, said Les Fugate, a Republican political consultant. He said education generally isn't the single issue that determines whom voters select.
"Just from my own hometown, which is heavily Democratic, I've heard folks say, 'At the end of the day, I disagree with Matt Bevin on education, but I support him on these social issues and the other issues that are important to me, and at the end of the day, I'll end up supporting Matt Bevin because of that,'" the Prestonsburg native said.
"That's the big hill that Andy has to climb over, to get people to care more about that one single issue, education, than this whole plethora of issues where rural Kentucky, for the most part, is aligned with the Republican Party."
Voss agreed that social issues will play a critical role in the gubernatorial election.
"If you're going to pick a single issue that keeps a lot of voters of low socioeconomic status tied to Republicans, it's abortion, and then when you roll in the other social and cultural issues on which many Kentuckians are more conservative, it's this huge threshold that Democrats have to get past before they're serious contenders," he said.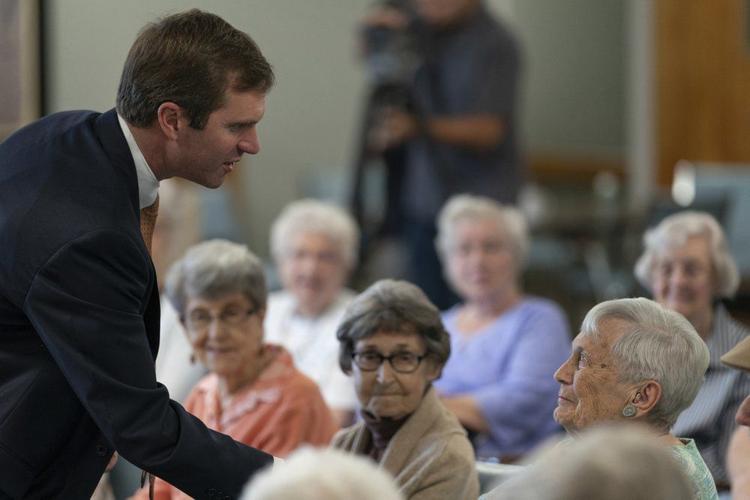 Still, some educators are crossing party lines in their support for Beshear.
Tiffany Dunn, an English as a second language teacher at Lassiter Middle School, said "there's a really good chance" that she will be canvassing for a GOP gubernatorial candidate in four years. But for now, she's passing out campaign materials and talking to voters as she goes door-to-door for Beshear in Oldham County.
"We've got to get Bevin out of office if we want to save our schools," said Dunn, a Republican critical of Bevin's support of school-choice measures like charter schools and scholarship tax credits.
Blanton said she has seen "a pretty united front" from educators heading into Election Day.
"Are there teachers that voted for Bevin the first time around? Sure. There are some that work in my building," she said. "They're not voting for him this time, and I cannot find a single teacher in Louisville that looks me in the eyes and says, 'Yeah, I'm going to vote for Bevin again.'"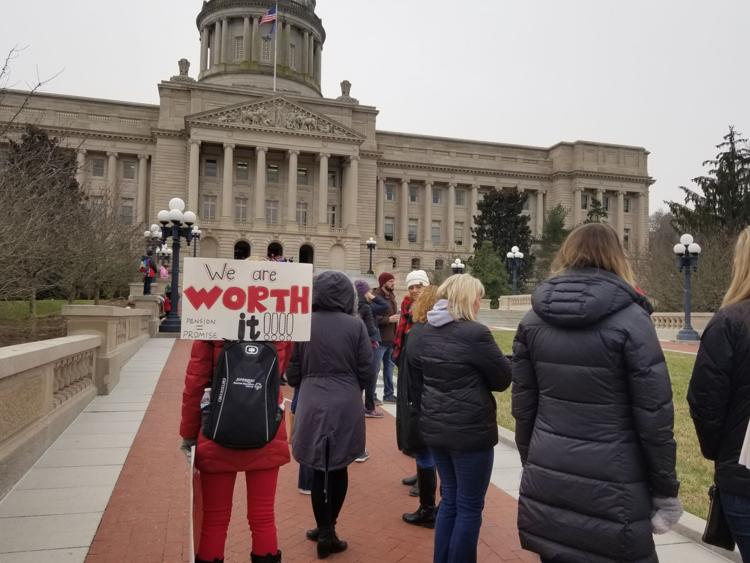 Teachers who spoke to WDRB News are also confident that if Bevin wins another four-year term, the political capital that they've developed in Frankfort recently won't wane. Democratic political consultant Matt Erwin agreed, saying active and retired teachers "are always going to be an important constituency" for legislators in the General Assembly.
"I don't see a scenario in which educators lose their seat at the table just because you still have state lawmakers who have to be responsive to their concerns," Erwin said.
But Fugate said teachers may lose influence at the Capitol if their best efforts against Bevin fail to keep him from a second term on Nov. 5, especially considering that teachers triggered "sick outs" at their school districts in the past two legislative sessions to protest against pension- and education-related bills.
"When you use that kind of rhetoric and those kinds of approaches and you don't get the electoral results that you expect, I think you may see an emboldened political class willing to take on issues when normally they might have feared the teachers' union," Fugate said.
"When you go all-in like they have and you're not successful, it can really hurt you," he added.
Copyright 2019 WDRB Media. All Rights Reserved.