LOUISVILLE, Ky. (WDRB) -- Once the blood started flowing in the first R-rated movie she watched, Marion C. Moore senior Katelyn Nuckolls knew she wanted to pursue a career in medicine.
"I was like, 'That's cool. I want to do that,'" she said.
Nuckolls, who wants to be a trauma surgeon or nurse, and hundreds of other students at schools throughout Kentucky who are interested in the medical field soon will have a chance to jump start their ambitions thanks to a five-year, $10 million apprenticeship program unveiled by Louisville-based Trilogy Health Services on Friday.
Half of that total will be invested in Jefferson County Public Schools, and 500 of the 1,000 students who are accepted into the program will come from the state's largest district.
The Trilogy Scholar Program will initially launch a four JCPS schools with health-related pathways in the Academies of Louisville program – Moore, Valley High, Waggener High and Doss High – before expanding into other schools in JCPS and throughout the state this year.
As part of the scholarship program, Trilogy has committed to hire 200 participants every year for the next five year into newly created jobs. Students who are accepted into the program must complete a 96-hour pre-apprentice externship before they transition to paid positions within the company, which will cover tuition as students pursue their degrees and industry-recognized credentials.
Todd Schmiedeler, Trilogy's senior vice president of foundation and workforce development, said he wanted his prospective employees to join the senior living company without student loan debt, which he called "an elephant on their chest." Trilogy began offering a student loan repayment program for its employees four years ago, he said.
"Our goal is not to just help our employees who are dealing with that; our goal is to ensure that you don't get in it," Schmiedeler said. "...We know that we can make a difference, and we want to start that difference here in Louisville and in Kentucky."
The senior living company will be looking for nurse aides, dietary aides, guest relations associates, environmental services assistants, life enrichment associates and maintenance assistants, Trilogy said in a news release.
JCPS Superintendent Marty Pollio sees the Trilogy Scholar Program as a natural extension of the district's Academies of Louisville initiative and its push to expand apprenticeship opportunities for students.
He said he hopes that Trilogy's commitment Friday will coax other companies to offer apprenticeship programs geared toward JCPS students.
Within the program's first five years, Pollio wants the impact that Trilogy experiences to be noticed by other local businesses looking for a steady stream of prospective employees.
"In our high schools I want hundreds of kids leaving, whether they're juniors or seniors, in the middle of the day to go and actually continue their relevant learning in a workplace like Trilogy," Pollio said during a news conference.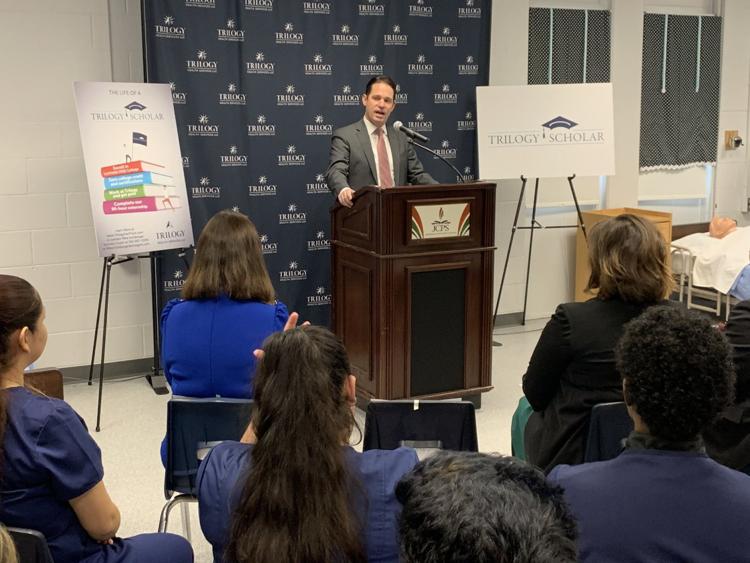 While the first JCPS schools that will be part of the Trilogy Scholars Program have been identified, it's unclear exactly which schools in other parts of the state will be included in the initiative.
Schmiedeler told WDRB News that the schools themselves haven't been determined yet, but they'll likely be situated near Trilogy facilities in Lexington, Harrodsburg and Cynthiana.
He said Trilogy will "definitely reevaluate investing" in the apprenticeship program after the first five years.
"We just know that in the changing world of what we have in healthcare five years is a long time for us, and so we wanted to make a substantial commitment over that time period to say, 'Look, we're here, and we want to help the students be able to get a great experience and work, earn a living while they're working and learning,'" he said.
Students like Nuckolls, who plans to attend the University of Louisville, still have to apply for the program.
She's confident in her chances and says the prospect of leaving college with a degree – and without a penny of student debt – is too tantalizing to pass up.
"It will let me focus on actually learning and honing my skills that I need to get my job instead of just worrying about money," Nuckolls said.
Copyright 2020 WDRB Media. All Rights Reserved.