U of L president reveals challenges and vision for the future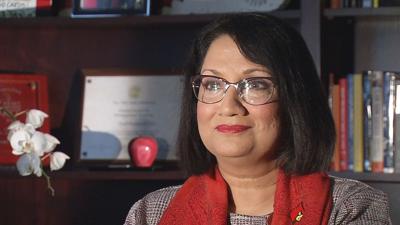 LOUISVILLE, Ky (WDRB) -- Dr. Neeli Bendapudi knew the job would not be easy. 
"These problems didn't happen overnight, so it's naive to think they will be solved overnight," she explained.
Eight months ago, Bendapudi took over a university reeling from athletics department scandals and financial troubles in its foundation.
Bendapudi didn't see it as an obstacle so much as she saw an opportunity to do right by the university.
"To me, it seemed that the actions of a few tainted a lot of people, and I felt genuinely that this was an opportunity where core foundations are so strong and all we needed to do is redirect to the core purpose and we'll be fine," she said.
Bendapudi says she's encouraged that alums are still proud of their alma mater.  That's important because she needs their moral and financial support.
"I keep telling them, 'Don't punish the university if you are angry about some decisions that were made.  Don't punish the students.  Don't punish the faculty and staff.'"
Bendapudi has made communication and transparency priorities in her administration.  She sends out weekly emails or video updates.  She has also added the presidents of the student, faculty, and staff senates to senior leadership meetings. While the meetings are confidential, Bendapudi says its important that all stakeholders are involved in candid conversations about the direction of the university.
"It's important that my students see that, every day, every decision I make, to the best of my ability, will be, 'Will this make the University of Louisville a better place to learn for our students?' That's number one," Bendapudi insisted.
Priorities number two and three are making the university a good place to work and a good place to invest.
Bendapudi says the university's foundation implemented several controls before she arrived that should have a lasting, positive impact on the university. She insists on regular communication with donors, so they know their gifts are being used exactly as directed.
"For me, the biggest challenge will be earning the trust of everybody," she admitted. "And, that's something you do over time."
She is already building trust with the athletics department, which is in on the rebound from basketball scandals and a disappointing football season. Bendapudi says she and Director of Athletics Vince Tyra are on the same page.
"Vince gets it, and I think all the coaches get it," she revealed.  "We want a culture of transparency, integrity, absolutely competitiveness.  I want to win as much as anybody, but we do it with integrity."
Bendapudi has faced many immediate challenges, but she has not let those distract her from her big ideas for the future of the university.
She envisions a university that celebrates diversity, fosters equity, and does its best to make sure everyone feels included.
She wants to make the University of Louisville a national leader in a few, key areas with local businesses and industries to support those endeavors.  One potential area of interest:  optimal aging.
"We're not going to be all things to all people, I won't tell you we'll be great at everything," she explained, "But, I think, realistically, we will have a handful of programs that we can take big picture problems and say anyone in that area will look to us."
The president is a saleswoman for the university and for the city of Louisville.
"It is such a gem. I cannot stop talking about Louisville," she said. 
She wants others to sell it, too. She says people have to realize that the success of the city and the commonwealth is closely linked to U of L's success. She's confident the best is yet to come.
Copyright 2018 WDRB Media. All Rights Reserved.