CRESTWOOD, Ky. (WDRB) -- During lunchtime at El Nopal in Crestwood, Brianna Johnson would normally be delivering the chips and tacos. But Wednesday, she was doing the ordering.
It was a rare treat for her family after a tough year.
"COVID really just kicked our butt," Johnson said.
The COVID-19 shutdown halted her restaurant from doing much business and her paycheck from coming in. Then, Johnson found out she was pregnant. A baby boy comes in three weeks. It's a blessing, for sure, but also making it impossible for her to work recently.
"I am considered a high-risk pregnancy," she said.
The hits kept coming when her husband separated his shoulder, keeping him off the job.
"I was terrified, honestly," Johnson said.
She knows bills don't care about the trials and tribulations of life. They keep coming, and that reality came dangerously close to costing her everything.
"I'm going to lose my car," she thought a couple months ago. "I'm going to lose my home."
Hope came in the form of a Facebook page Johnson heard about called Adopt-A-Server. Hannah Koller and her mom started the online community that connects people struggling with those that want to help.
"They can post what they need," Koller said. "I mean, we've had people say they're getting ready to get evicted, lose their car or they just need a meal on their table."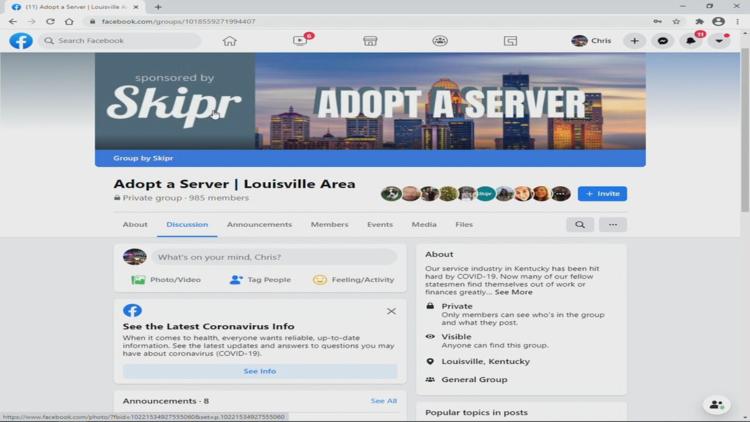 Johnson wrote about her struggles, and it wasn't long until she was contacted.
"She was like, 'This is paid, this paid,'" Johnson said. "I was like "Oh my gosh!'"
It was the Kollers, with news that an anonymous donor wanted to help.
"It was a little over $2,000 worth of payment," Johnson said. "It was a true blessing."
Stories like Johnson's are happening every day on the Facebook page.
"There were multiple nights where I was praying and just thanking God that there are still people like that in the world," Johnson said.
Waiting may be Johnson's job, but waiting to figure out what happens next still troubles her, with no clear path forward. But the pandemic has taught her to take it one day at a time, while being grateful for the help along the way.
Copyright 2021 WDRB Media. All Rights Reserved.