LOUISVILLE, Ky. (WDRB) -- Now that more than 50 people were forced to leave their homeless camps under I-65, where will they be going now?
That's the question homeless advocates and the Coalition for the Homeless asked Tuesday afternoon.
"How do we increase affordable housing? How do we increase zoning and change zoning regulations?" asked University of Louisville Health Professor Susan Buchino, who researched the homeless situation in Louisville and presented the findings to the city.
City crews came in and enforced a 21-day notice Tuesday morning for the homeless to leave their camps under I-65.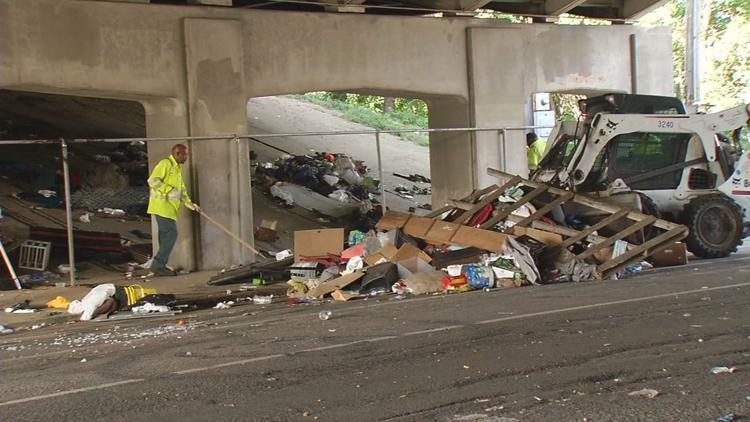 Organizations like Coalition for the Homeless said the removal is only a temporary fix just for that certain area unless more low-barriers shelters are created.
"The only way we're going to get that is if the community demands it from our local government, from state government and federal funding sources," said Melissa Raley, director of development for the Coalition for the Homeless.
Walter Manford was homeless for years and has been told to leave where he was staying, including overpasses, nearly 20 times.
"We don't want to be on the streets any more than the city wants us on the streets," Manford said. "I think they know that you're going to come back in two days, so you just kind of go ahead and roam around for a couple days, come back and do it again."
Homeless advocates agree removal of the homeless camps could force them into more open, public spaces like parks.
"I mean, they literally have nowhere to go," said Wendy Manganaro, director of Fed with Faith. "Where else are they going?"
The city has agreed to hundreds of thousands of dollars of investment in care and housing for the homeless, programs that need to continue or strengthen in order to be successful long-term.
"I realize hindsight is 20/20, but if we are not putting this money into housing, this does not make any sense," Manganaro said.
Manford said many of the homeless will just walk 200 feet to the next overpass and live there for a while until they are, again, forced to move.
The city said it currently has no plans to remove any other homeless camps but that it's a day-by-day decision based on health and safety.
Related Stories:
Copyright 2019 WDRB Media. All Rights Reserved.