LOUISVILLE, Ky. (WDRB) -- Louisville Metro Council approved a controversial development project near Cherokee Park, but the developer still has a lot of work to do before the project takes shape. 
Despite concerns about the project from some area residents who thought the project was "too big and too tall," Metro Council gave the controversial One Park project a green light Thursday night.
The council unanimously voted to approve it with only one council member abstaining. Councilman Brandon Coan said he had worked with the developer before and wanted to avoid a conflict of interest. 
The planned $250 million development would be 18 stories at its tallest point and would be completed in one phase. The project site encompasses an area at Lexington Road and Grinstead Drive. 
"It's been a lot of work and a long period of time to get there. We're very pleased," said John Talbott, one of the attorney's representing developer Kevin Cogan. 
The project plans include 400 residential units, a hotel with 250 rooms, office space, retail and restaurants.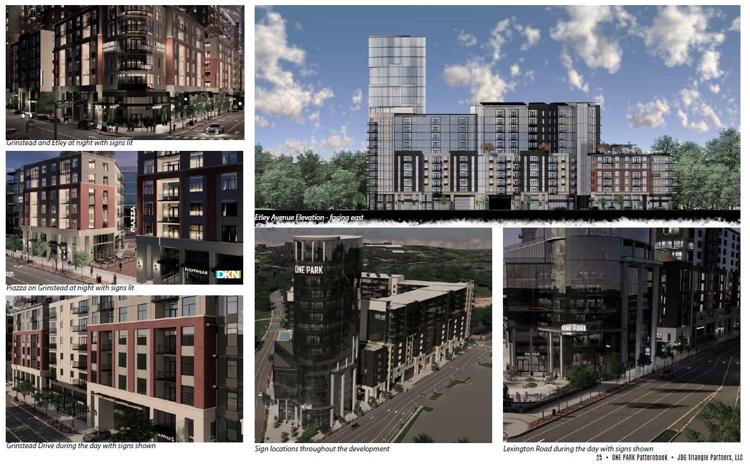 "At this point, we will work on the architectural, the engineering and construction plans," Talbott said. "And as you can probably imagine, for a development of this size, that's a lot of work to get involved in that ... It's a large project, and we want to do it right."
Cogan hasn't disclosed how the project will be financed, Talbott said, adding that the project plans have been years in the making and that shouldn't be an issue.
"What I can say is that this project, while big for Louisville, is a project that's done all over the place in communities nearby like Nashville and Indianapolis," he said. "So when you get the proper people like Kevin Cogan that know what they're doing, that shouldn't be a problem."
There are also concerns about the businesses already operating on the site. A popular restaurant, a gas station, a dry cleaner, a fitness studio, a car wash and a coffee shop are among the businesses that call the site home. 
Le Moo owner Kevin Grangier supports the project but isn't quite sure where exactly his popular restaurant will end up.
"I think now that decisions have been made we start planning and start asking questions," Grangier said. 
He's been in contact with the developer throughout the planning process but hasn't made any set decisions. He's hoping feedback from customers will help guide his plans. 
"I think are so many different options right now," Grangier said. "I really would like to talk to the people who come to my restaurant every week and see what they think about it." 
Talbott said Cogan wants to work with the businesses to figure out a plan for the future.
"He would like to keep all of them as tenants in the new project, and I think the ones he's spoken to all would like to come along," Talbott said.
The design phase will be a lengthy process, and Cogan hopes to possibly break ground in 2021. 
Related Stories:
Copyright 2019 WDRB Media. All Rights Reserved.