LOUISVILLE, Ky. (WDRB) -- Kentucky recorded the highest number of new COVID-19 infections last week since the pandemic began, and Gov. Andy Beshear said he believes the state and nation are seeing the beginnings of another case spike.
"We are not sitting at a plateau … but a third escalation," the governor said Monday afternoon.
He urged Kentuckians to renew their sense of urgency and to follow the guidance, especially wearing masks.
The state recorded 5,113 cases in the week that ended Sunday, an all-time high. Through the first two days of this week, the state has recorded 912 cases, which is 67 more than last week at this point.
"We have to do better," Beshear said.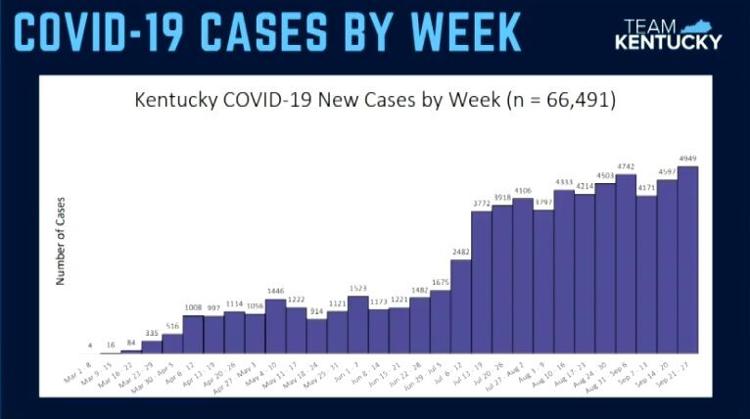 The latest report from the White House, too, indicates that Kentucky's case numbers are getting worse. The White House said Kentucky is now in the "red zone" for cases, with 111 new cases per 100,000 population, up from 99 cases the week before. The national average is 93 new cases per 100,000 population, up from 86 the prior week.
Beshear also reported five more virus-related deaths, bringing the state's death toll since the beginning of the pandemic to 1,162. Monday's deaths included three people from Jefferson County, all in their 90s, but they also included a Fayette County woman who was 56.
Of all the people who have died in Kentucky, more than 75% were at least 70 years old, and about 50% were at least 80.
Also, the virus' mortality rate in the state still appears to be declining and on Monday stood at 1.73%. That's down from 1.96% in late August. That means that in late August, one Kentuckian died out of every 51 who tested positive for the virus. Now, one Kentuckian dies out of every 58 who test positive. Nationally, one patient dies out of every 35 infections. Globally, it's one out of every 33.
Nonetheless, Beshear has said that a higher number of cases means more deaths. For example, at the current mortality rate, last week's 5,113 cases would produce 88 deaths.
And while the state's mortality rate is declining, September, with two days to go, already has been the pandemic's deadliest month in the commonwealth, with 229 deaths. The state recorded 198 deaths in August and 170 in July.
The Institute for Health Metrics and Evaluation, at the University of Washington, projects that Kentucky will have suffered more than 4,000 deaths by Jan. 1. That means the last three months of the year would produce an average of 946 deaths each.
Beshear also urged school districts that are restarting in-person instruction to pay attention to the state's incidence map. If that map indicates the district is in a red county, schools should move to online learning, he said, and some schools are not doing that.
"We can't manage the virus that way," he said.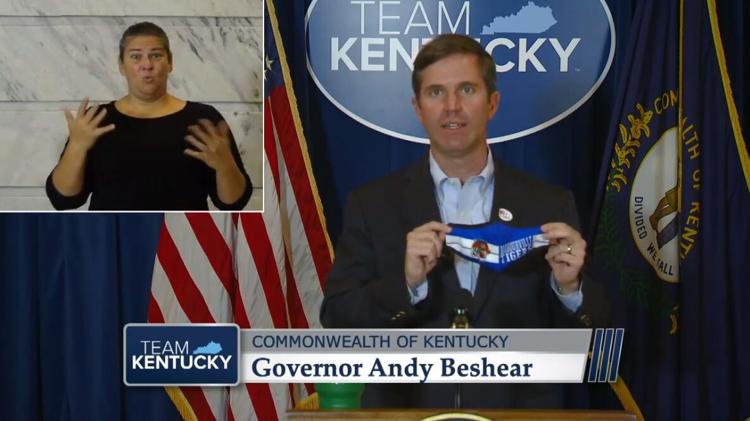 Beshear also said that other states, such as Florida, are making "reckless" and "dumb" decisions to remove all capacity restrictions on bars restaurants. Indiana, too, removed such restrictions Saturday.
Kentucky's capacity restrictions will remain for now, he said, and when they will be removed depends on virus spread.
"As long as I'm governor, we're not going to pretend that this virus doesn't exist," Beshear said.
The governor urged all Kentuckians to adhere to the mask mandate and other guidance, because, he said, compliance of those rules will dictate how much of the state economy remains open, how many children can go back to school and how many people die.
Nationwide, more than 7.1 million people have tested positive, and nearly 205,000 have died, according to Johns Hopkins University. The IHME projects that by Jan. 1, more than 371,000 people in the U.S. will have died. Globally, more than 33 million people have tested positive and nearly 1 million have died. According to the IHME, the global death toll by Jan. 1 will exceed 2.5 million.
Copyright 2020 WDRB Media. All Rights Reserved.