LOUISVILLE, Ky. (WDRB) -- Seven months ago Monday, Nicole Cowherd buried her son, Richard Harper, after he was shot and killed at a bus stop.
"He was a great person, loveable, loved life," Cowherd said.
She said she'll always remember her youngest son. Dookie, as he was called, was killed near Shawnee Park at a bus stop in January. In his honor, Cowherd hosted her first Stop the Violence Backpack Giveaway on Sunday.
"I was at the event when my phone rung," she said.
It was a call she wasn't expecting but always hoped for.
"I just fell to the ground and kept saying, 'Thank you, Lord,'" she said.
On the phone was an Louisville Metro Police Department detective telling her that her son's killer was arrested and detained in Ohio near Toledo, and police were on the way to bring him back to Louisville.
"I needed this news," Cowherd said. "We don't understand it, but it gives us a little peace."
Police say the suspect is 17 years old, and they're not releasing his name, because he's a juvenile. But Cowherd knows who the suspect is and says the accused shooter was her son's friend at one time. She said the shooting was over a girl.
"I knew justice would be served one day," she said.
Harper leaves behind a 1-year-old son. Together, his son and mother walked across the stage at his high school graduation this spring and accepted his diploma.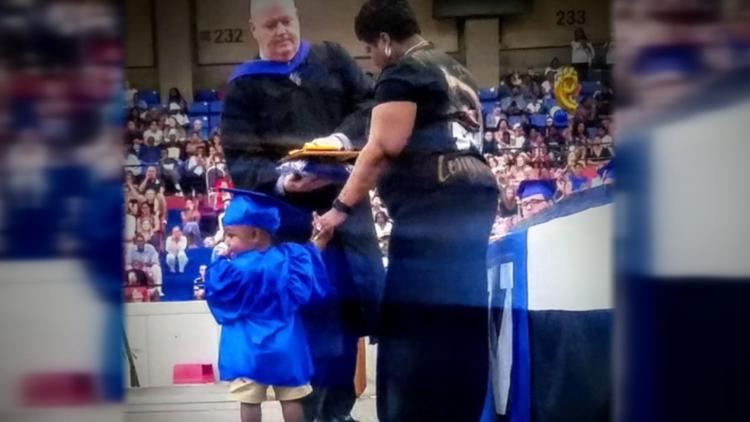 Through it all, Cowherd has had to stay strong in her faith. She is also looking for justice for her husband, Charles Cowhered, who's 2016 killing remains unsolved.
"God, ain't nobody but Him carrying me. Nobody," she said. "And God places people in your life to help get you through situations. Without him, I would have lost my mind a long time ago."
Cowherd said she will be at every court hearing for her son's accused killer.
Copyright 2019 WDRB Media. All Rights Reserved.