LOUISVILLE, Ky. (WDRB) -- Ballard High School won't be hosting any home football games this season after it was discovered that some of the bleachers in the school's stadium were not structurally sound.
According to an Aug. 22 letter sent to parents by the school's principal, the bleachers in the home section will be removed and replaced. The news came the day before the Bruins' first football game of the season. 
"The process to fix this will take several months and we will not be able to host home football games this season," Principal Jason Neuss wrote. "When the project is complete, Ballard will have a brand new stadium that will last for many years to come."
The school said the field can still be used, and the bleachers in the visitor's section are structurally sound. Soccer and lacrosse teams will still have home games on the field, with spectators using only the visitor's section.
"I hope that the community understands that the safety of the students is first and foremost," JCPS School Board member James Craig said. "This is a 50-year-old structure that we've had some issues maintaining over the years, and it needs to be replaced. What the engineers and administrators found last week is that it simply would not be safe to have our kids on that side of the stadium."
It's unclear where the team will play the rest of its games this season, but the team's head coach Adrian Morton said they won't let this derail the team's focus or its season. 
"I'm really proud of these guys, the way that they've handled it," Morton said. "When I told them about it, they didn't care. They were just like, 'We wanna play ball coach.'"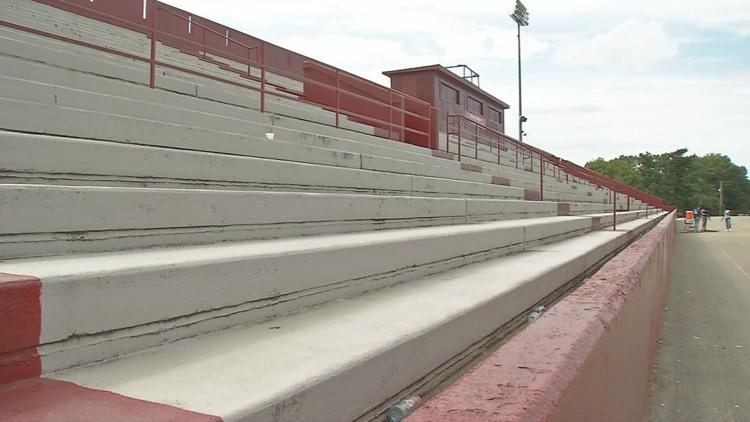 In the letter, Neuss told parents the school will still honor Bruin passes for the games against CAL, Fern Creek, Trinity and Scott County. 
New bleachers will be built over the next few months, and Craig said an entire stadium renovation is on the table. He's been pushing for a nickel tax, which would take 5 cents for every $100 in assessed property value.
Craig believes the tax could help alleviate issues like this in the future.
"This is exhibit A in why we need to be considering the nickel tax," He said. "We have facilities challenges throughout JCPS."
Copyright 2019 WDRB Media. All Right Reserved.