LOUISVILLE, Ky. (WDRB) -- When 18-year old Tae-Ahn Lea was pulled over in August 2018, it was the first time he'd ever been stopped by police. 
The young black man placed his hands in plain sight on the steering wheel, assured officers he had no drugs or alcohol in his orange Dodge Charger and made no threats. Within minutes of talking to the LMPD officer who stopped him near Algonquin Parkway and Dixie Highway, the African American teenager was being pulled from his car and placed in handcuffs on the side of the road. Several other officers responded along with a drug dog to search his vehicle. Lea continued to assure them he'd done nothing wrong. 
After more than 20 minutes on the side of the road, officers ultimately found nothing illegal on Lea. The 18-year-old was given a citation for making a wide turn. It was later dismissed in court. 
"I was always told if you didn't do nothing wrong, you ain't got nothing to worry about," Lea said in an interview Friday. "But that's obviously not true."
This week, LMPD Chief Steve Conrad outlined new guidelines for the right and wrong way for officers to handle traffic stops. The new policies go into effect Aug. 1. The highlights of the changes are:
Interactions with the public will be conducted free of bias
Being nervous or in a high-crime area is not justification for pulling a driver over
New guidelines for handcuffing people who are not under arrest
Updated policy for removing people from a vehicle or asking them to sit on the ground
Changes to how searches are documented
New guidelines for conducting canine searches
LMPD started an increased policing effort in the city's poorest communities, targeting drugs and guns. It led to stops involving a disproportionate number of black drivers and complaints from those drivers saying they were racially profiled and harassed.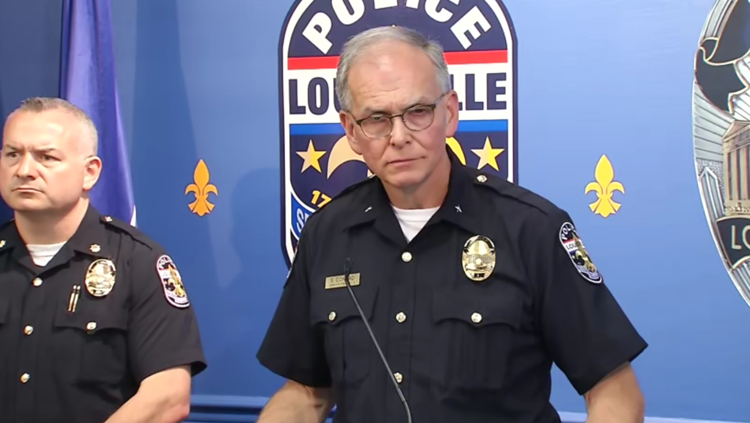 Lea said he sought counseling after his first altercation with police as it left him with anxiety, fear and anger. 
"I went to the gas station to get a slushy and chips, and it turns into getting pulled out of the car by a man with a gun," Lea said. "That's definitely life-changing."
The new guidelines say traffic stops because of a driver's nervousness, prior criminal history or location in a high-crime area are no longer reason alone to pull someone over. The policy also says handcuffing someone not under arrest won't be allowed unless they prove to be a danger to the officer or public, and removing someone from a vehicle cannot be routine practice.
Officers will also be required to fill out a "Vehicle Stop Reporting Form" for every traffic stop whether a ticket is issued or not.
"I'm happy for the community, because we can say 'look, (police) are supposed to be doing something different,'" said Tija Jackson, Lea's mother. "I am happy about that part that (Conrad) acknowledged something needs to be changed."
Lea said he knew to keep his composure in part as his mother is a private investigator by trade and commonly works with the justice system. In addition to a policy change, the family wants an apology from Conrad and the officers involved in Lea's stop. It's something Conrad wasn't ready to give when asked at his Friday press conference. 
"I think we owe the community our best in every interaction, and that's what we try to deliver," he said. "Sometimes, we come up short. But the vast majority of the time, we try to do the right thing. We are constantly evolving and working to improve, and I think what this does is to give us a chance to demonstrate that we are willing to listen, and we're willing to change based on that feedback." 
"Our police department is only as legitimate as the community sees them, so we hope this announcement will send another message that we understand your concerns," Louisville Mayor Greg Fischer added. "And if there is an area the police can improve, they will improve."
Lea has hired legal council, and his attorney said she's preparing to sue the Louisville Metro Police Department for deprivation of rights, illegal detention and emotional distress. 
"What was done to Tae-Ahn was illegal, demeaning and damaging to him," Attorney Josephine Buckner said. "A perfectly innocent person, knew he was innocent, is afraid of going to jail over a wide right turn... Where are we?"
While Lea waits for his apology, he does take satisfaction in one thing.
"A mother and her son in a community can make a change in policy," he said. 
Conrad said training on the new policies will takes place over the next couple months.
Related Stories:
Copyright 2019 WDRB Media. All Rights Reserved.