ELIZABETHTOWN, Ky. (WDRB) -- A massive indoor sportsplex will open its doors to hundreds of people in January.
The Bluegrass Sportsplex is a 103,000-square-foot building that can host indoor sports ranging from soccer to pickleball.
Various tournaments will be held inside the sportsplex, beginning with a Futsal tournament in January.  Other tournaments to be hosted there include basketball, indoor soccer, tennis and especially volleyball.
One half of the main floor space will feature space over 20,000 square feet with a flooring material that will give the area capabilities to host volleyball, basketball, tennis, pickleball and many other things.
"If someone wants to have an event, set up tables and chairs like a chamber luncheon, or maybe it's a concert or an MMA match, we can host those kinds of things," said General Manager Bryan Reesor.
The other half features a 180 feet by 84 feet turf field. The field will be used for soccer, lacrosse and 7-on-7 football. Some football teams have even reached out about occasional practices there, management said.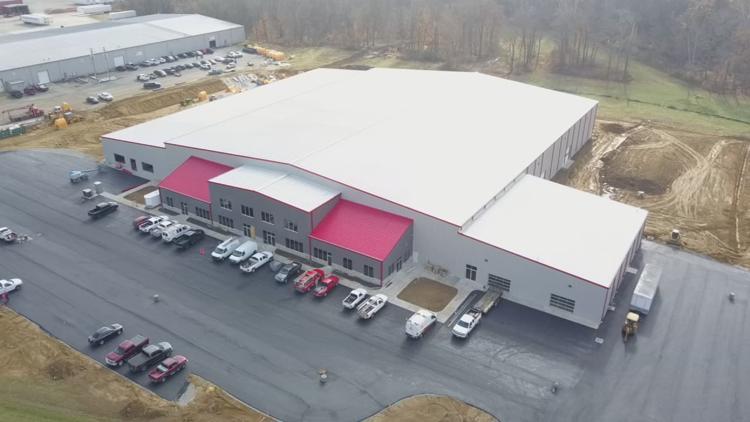 "I just can't wait to get the doors open and let the community reap the benefits of it," Reesor added.
The building also has two wings that will be home to Crossfit Elizabethtown, batting cages, yoga rooms and more that haven't officially been announced.
There are rooms for meeting space for businesses, concession areas and common rooms.
All of these things rolled up into one complex will bring a new element to a rapidly growing city.
"It's going to make everything boom from restaurants to hotels, just bringing in all these people for local businesses that way they can see what ETown really has to offer," Reesor said of the impact the sportsplex would have.
Each weekend that features a tournament will bring in teams, families and spectators from all over the state. It's something that has been missing from Elizabethtown and now that will change.
"So many people, for so many years have driven to Louisville, and that's not a bad thing, but we wanted to be able to offer something to our local community and our surrounding counties that they might not have gotten to participate in before," Reesor said.
Opening weekend at the Bluegrass Sportsplex is Jan. 11.
Copyright 2019 WDRB Media. All Rights Reserved.