LOUISVILLE, Ky. (WDRB) -- An anonymous donor is offering a $2,500 reward for information that leads to the arrest and conviction of vandals who were caught on camera defacing a mural of Breonna Taylor on a basketball court at a Louisville park. 
The mural of Taylor, a Black woman who was killed by white Louisville Metro Police officers in March 2020, was vandalized a less than a week after it was unveiled on the Lannan Park basketball court. 
Metro Councilwoman Donna Purvis on Tuesday shared video from a private security system near the court that appears to show two people ride a motorbike onto it before vandalizing the mural. 
Taylor's mother, Tamika Palmer, in a statement called the vandalism "disappointing" and "heartbreaking." 
"It's very disappointing and heartbreaking that other people of the community would go to this length to say a black woman's life didn't matter, a woman who still deserves justice today," Palmer said in the statement. 
"But know that you did not hurt Breonna, the system already did that. What you did was hinder the healing process going on in the city," she added. "I hope that when you are caught you face charges for your heinous acts and you know you failed the city and the community with your disregard for a black life, a woman's life, a life that has brought this city and its communities together like never before."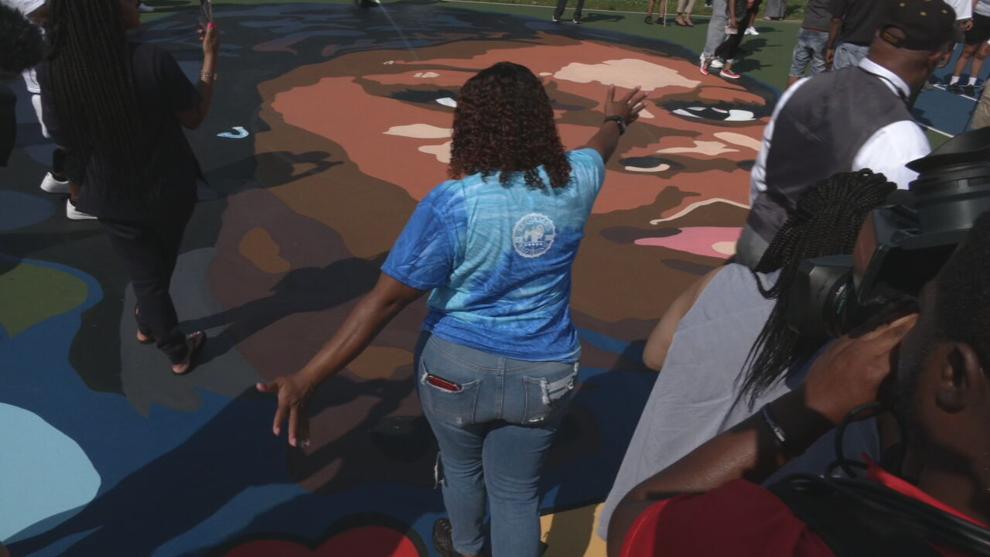 Anyone with information about the vandalism is asked to call LMPD's tip line at 502-582-CLUE (2583). 
"I am thankful for the anonymous donor stepping up and showing the community hate will not be tolerated," said Purvis, D-6, in a statement. "I am hopeful that we can co-exist and move the community forward."
Related Stories: 
Copyright 2021 WDRB Media. All Rights Reserved.