LOUISVILLE, Ky. (WDRB) -- A group of local firefighters is donating used fire gear in an effort to keep the homeless warm on frigid winter nights.
The Buechel Fire Department is providing sets of specialized, pro-grade gear that no longer meets fire safety standards but goes a long way toward trapping heat and keeping its wearers warm.
It'll be a big help for the homeless who are sleeping out in the cold on Jefferson Street.
"I got under as many covers as I could, and some of them was wet, and I was freezing, and I couldn't get warm," said one homeless person, who asked not to be identified Monday afternoon.
Buechel Fire Chief Adam Jones knew his department could do something about it.
"It really breaks your heart," Jones said. "The emergencies are obvious when we go out, but somebody just on the street who just needs a warm hand or a warm coat is just key from a public safety standpoint."
Jones sent that message in an email to every fire chief in Jefferson County and throughout the state to convince them to do the same. The Buechel Fire Department modeled the program after a similar donation effort in Indianapolis. 
"Historically, what we've done with fire gear is discard it through a dumpster, because the standard says every 10 years it's gotta be," he said.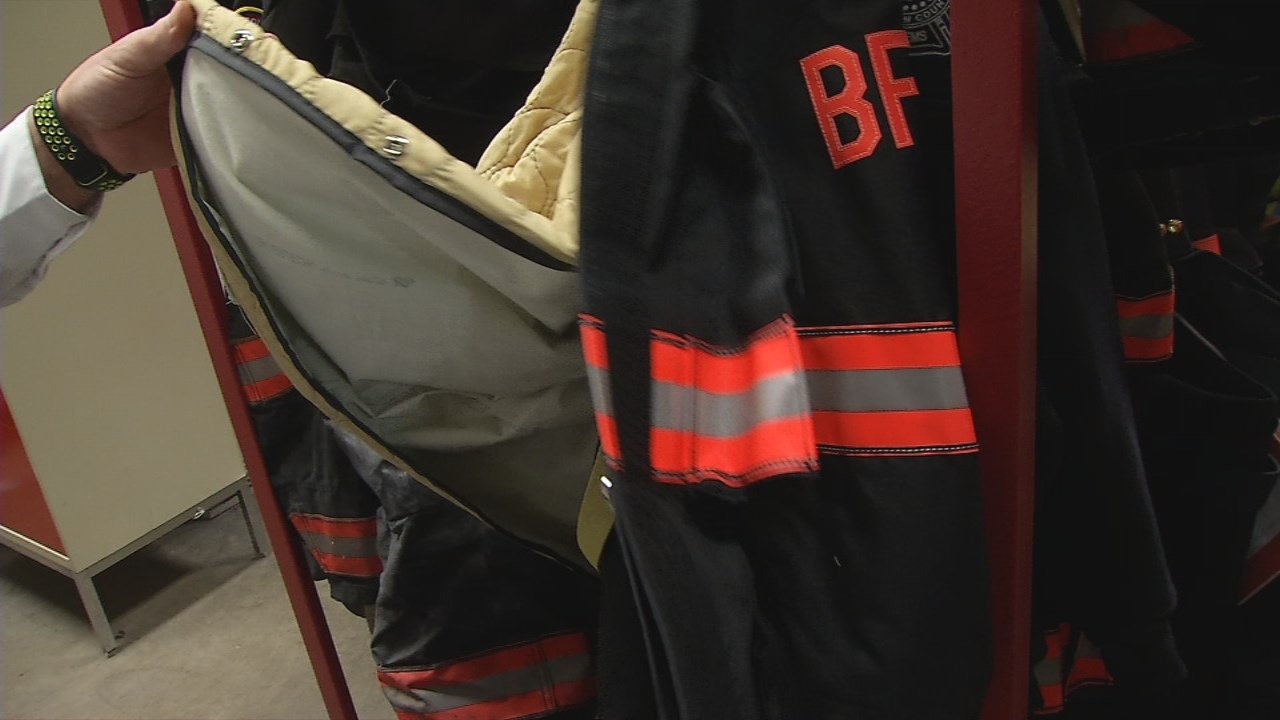 While the gear no longer meets fire safety standards, Jones believes it would warm people getting by with just a hoodie on the street. The department plans to work with homeless outreach groups to get the gear in the hands who need it most.
"So it kind of warms your heart up a little bit," Jones said. "At the same time, you are warming them up with a coat."
The Buechel Fire Department has eight sets of specialized gear, but that's only one department with one station. Jones said all 16 departments in Jefferson County likely also have rooms stacked with retired gear.
According to the Coalition for the Homeless, about 1,500 people live homeless at any time in Louisville. And Executive Director Natalie Harris said as many as 300 of those sleep outside on a given night.
"There are people who die on the streets of Louisville every year," Harris said. "We don't have adequate shelter places in the city ... What they really need are things that will really keep you warm."
One homeless man who was out on the street Monday wanted to remain anonymous but said he planned to do "whatever I have to do" to stay warm.
"Whether it's wrap up in plastic or hide inside of a parking garage," he said. "The main thing is staying dry and staying out of the wind."
For men like him, this donation can't come fast enough.
Any fire department wishing to make donations to help the program can contact Jordan Yuodis of the Buechel Fire Department at jordan.yuodis@buechelfire.com
Copyright 2018 WDRB Media. All Rights Reserved.