LOUISVILLE, Ky. (WDRB) -- A pink cross and a pacifier are the things you expect to find in an 8-month-old girl's room.
A bullet hole is not.
Pictures were snapped shortly after the smoke cleared inside the Fern Creek home. In one, you see the little girl in her crib and the damage to the wall right behind her. Another shows a bullet on a top of a diaper box.
"It sounded like it was literally right outside the window from us," said the girl's father, who wanted to remain anonymous.
The man said he's worried his home was the intended target of shots fired in the wee hours of morning Monday. He wonders if the same person who fired at his house may have also fired in the direction of a police officer's home last Thursday on Bates Road.
"When I saw that, it just sounded very similar," he said. "If someone isn't scared to shoot at the police, they're definitely not scared to shoot at me."
The locations are about 5 miles apart, but the Louisville Metro Police Department was quick to say the incidents aren't related.
There are so many reasons for the family who lives in the shot-up home to feel thankful. Its brush with violence was only part of a tough year for dad, mom and daughter.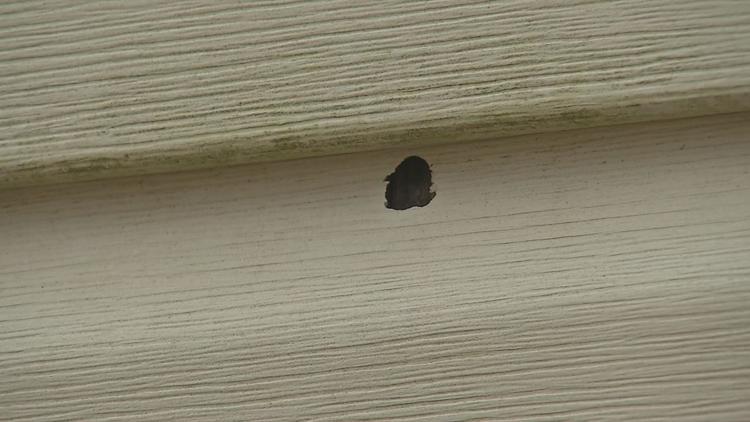 "She was born at four pounds, and now she's back on track with her weight and completely healthy," her father said.
She made it through that and through a brush with violence. Now, her dad is holding her close and looking into other places to live while also making sure his current neighbors know the person who shot at his house could do it again.
"Hope it doesn't happen to somebody else," he said.
Copyright 2020 WDRB Media. All Rights Reserved.