LOUISVILLE, Ky. (WDRB) -- Airfares are one of the great mysteries of mankind. How much you pay for your seat can differ greatly, depending on things like time of the year, the time of week, the time of day, maybe even the alignment of the planets and the ocean tides.
A longtime aviation journalist and author of "Attention All Passengers," William McGee said airline fares are "among the most complex products you can buy" and trying to get a decent airfare can be a full-time job. 
"It's not unusual to have a flight with 100 passengers, and there might be 88 different fares on that flight," McGee said, adding that the price you pay can also depend on the device or browser you use to search for airfares.
"The airline industry and the travel technology industry -- they claim this phenomenon doesn't exist."
McGee was recently part of a study by Consumer Reports magazine, investigating whether airfares are influenced by the way you search for them. It conducted hundreds of searches on third-party sites like Travelocity, Expedia and Orbitz.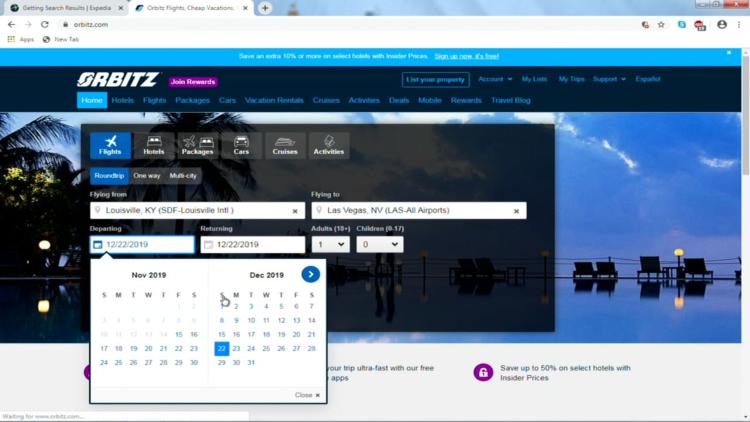 In some cases they scrubbed browsers — removing the cookies that record browser history — when they looked up a fare. In other cases, there was a history of searching. The findings: The scrubbed browsers typically got a higher fare.
"The travel sites say that that's not supposed to happen -- that the exact same information is offered to everyone at the exact same time," McGee said. "And yet, we've seen it time and again. They know how impulsive you are. They know how much time you spend. They know, on average, you spend 3.5 minutes looking for a fare or 55 minutes looking for a fare."
But, in many cases, researchers got a lower fare using a browser with no history of searching. That recently happened to me. I went on Allegiant's website and found an incredibly low fare of $66 round-trip from Nashville to see relatives in Allentown, Pennsylvania. But, I didn't immediately buy.
When I searched for that same flight on the same laptop the next day, it went up to $147. Went I went back a third time on that same computer moments later, it was $169. Then, I tried a different device with no history of my searching for that airfare, and I got the original $66 fare.
McGee said the differences in those results shows you should try everything: repeatedly search for the same fare on the same device then clear your browser history or try different device and use a variety of websites.
"The advice that we've been giving for years hasn't changed, and that is that you'd better shop around," McGee said.
So, when do you have the best chance of finding a lower airfare? McGee said to try looking Tuesday morning when new fares get loaded in bulk.
He also said to look on Sunday evenings when airlines look at how flights are selling and adjust fares.
Copyright 2019 WDRB Media. All Rights Reserved.