LOUISVILLE, Ky. (WDRB) -- Churchill Downs Inc. will spend $300 million – roughly what it cost to build the 30-story Omni Hotel in downtown Louisville – to build a hotel while adding 4,700 permanent seats and a gaming facility featuring up to 1,000 slot-like historical racing machines at the company's historic Central Avenue racetrack.
The Louisville-based company on Thursday detailed plans to transform the track's First Turn area, saying the construction project will be done by the end of 2021.
The project signifies Churchill Down's desire to make the track into a year-round destination and to capitalize on the success of slot-like historical horse racing, which has grown exponentially in Kentucky, a state that does not permit actual casino gambling.
The plans for the hotel and historical racing facility were first disclosed in August.
The seven-story hotel will feature 156 rooms, many of which will face the track and offer private balconies overlooking horse races. The hotel will also house a sports bar, VIP lounge and multiple year-round dining venues.
Churchill Downs CEO Bill Carstanjen told stock analysts on Thursday that, during non-racing months, the hotel will cater to visitors to the University of Louisville, to the Kentucky Fair and Exposition Center and to people "just passing through" along the Interstate 65.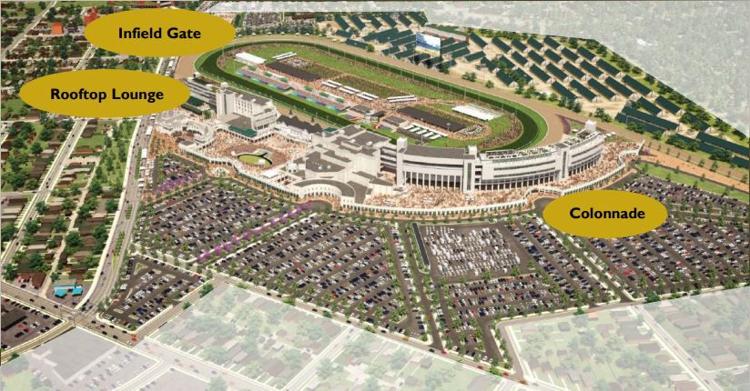 Another draw for the hotel: a historical racing venue similar to Derby City Gaming, Churchill Downs' off-track gaming facility on Poplar Level Road that opened in September 2018.
Company executives have been thrilled with Derby City Gaming's financial performance. On Wednesday, the company said Derby City Gaming delivered $9.5 million of adjusted earnings, a measure of profitability, on $22 million in revenue during the July-September quarter.
Churchill Downs, which has historically advocated for casinos in Kentucky, has placed big bets lately on historical horse racing, in which players sit in front of gaming machines that look and work like slot machines, but the results are based on randomly selected horse races that were already run and are invisible to the player.
By 2022, Churchill Downs will operate four historical racing venues: the two in Louisville; one under construction in Oak Grove, Ky.; and one the company plans at Turfway Park in northern Kentucky.
Asked whether the slot-like gaming obviates the need for casinos in the state, Flanery said: "We're very satisfied with where we are and we are going to play with the rules we have."
Flanery also shrugged off the possibility that the state Supreme Court will invalidate the legality of historical horse racing. Whether the games constitute pari-mutuel wagering is the subject of a nine-year court battle that the high court is scheduled to take up for the second time in the near future.
"We're confident where we are with historical horse racing," Flanery said. "It is a business that is happening all over Kentucky. We've invested in it, and we think it's been good for the state."
Churchill Downs executives are confident that Louisville can absorb the new gaming facility at the track without detracting from Derby City Gaming, Flanery said.  
"We believe this market can absolutely support both facilities," he said.
Related stories: 
Copyright 2019 WDRB Media. All Rights Reserved.