LOUISVILLE, Ky. (WDRB) -- Google Fiber, the superfast Internet service that city officials have long craved, is now available to some homes in Portland, Newburg and the Strathmoor area of the Highlands.
The launch of service in Louisville comes a little more than two years after Google Fiber, a unit of the Silicon Valley giant Alphabet Inc., first said it was interested in coming to the city, and two months after Louisville Metro government won a court battle with AT&T over a new city law intended to help Google Fiber build its network.
Mayor Greg Fischer made the announcement alongside Google Fiber officials in Portland Wednesday morning. He said it's the culmination of efforts that began in 2012 to land the service in the city.
Google Fiber officials declined to say how many homes in the three neighborhoods are eligible for the service, nor which areas of the city they will wire next as part of a goal to cover all of Jefferson County.
Customers can check whether the service is available by putting in their address at https://google.com/fiber/louisville.
In August, WDRB mapped the initial areas of service by examining Google Fiber's right-of-way construction permits on file with Metro government: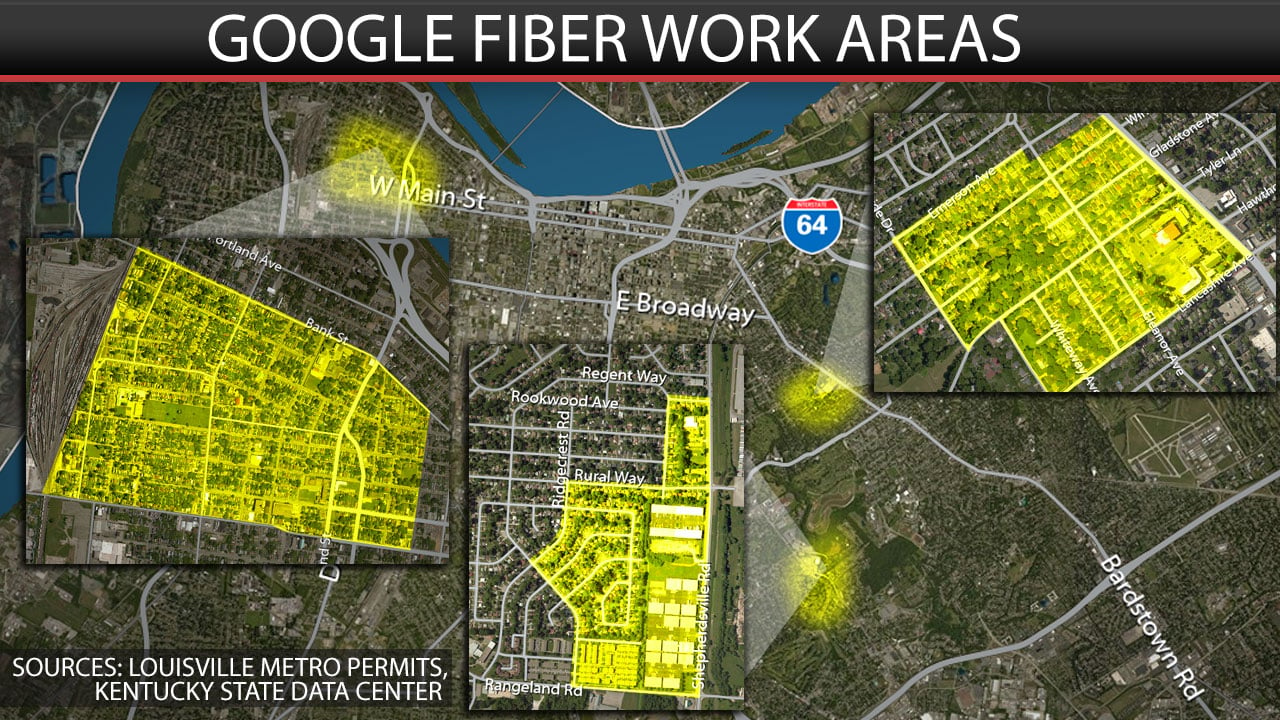 "What we really want to do is focus on these areas, get them launched (and) make sure there is an incredible customer service experience there, and then continue to build out the network," said Ashley Kroh, a Louisville native who is Google Fiber's network deployment and operations lead for the east region.
But construction, which started in May, is proceeding faster than in the company's previous cities due to process improvements and advanced techniques, Kroh said.
Two-tier pricing with no contracts
For Louisville customers, the service offers a two-tier price structure based on connection speed: 100 megabits per second for $50 a month; or a gigabit – 1,000 megabits per second – for $70. Both prices are before "applicable taxes and fees."
Unlike in the 10 of other cities where it is live, Google Fiber will not offer a traditional pay-TV bundle to the Louisville market.
Instead, the company encourages customers to purchase an Internet-based streaming service, which should perform well over the superfast connection.
"Our philosophy is, we're going to give you the fastest Internet connection possible, and then you do with it what you want," said Scott Pluta, city manager for Google Fiber in Louisville.
Google's own YouTube TV – which can be ordered through Google Fiber -- costs $35 per month and includes the four major broadcast networks and their local affiliates plus cable networks like ESPN – but not the Turner channels (TNT, TBS, TruTV) that carry much of the NCAA Tournament in March and April.
Other streaming services like DirecTV Now offer more expansive bundles for monthly fees of up to $70.
Google Fiber requires no contract or commitment on the customer's part, officials said. Google Fiber provides an in-home router for no additional cost.
AT&T is well ahead of Google Fiber in terms of offering high-quality connections over fiber-optic cables to the Louisville market.
The company said in August that AT&T Fiber is available to more than 80,000 homes, apartments and small businesses, and not only in Jefferson County but areas like Crestwood and New Albany and Jeffersonville, Ind.
Reach reporter Chris Otts at 502-585-0822, cotts@wdrb.com, on Twitter or on Facebook. Copyright 2017 WDRB News. All rights reserved.