LOUISVILLE, Ky. (WDRB) --  Passport Health Plan is adding to the West Louisville site where it plans to construct an office building to house its roughly 550 employees.
The nonprofit managed care organization, which administers Medicaid benefits in the region, spent just shy of $1.2 million this month to buy the Greatest Car Wash at 2014 W. Broadway and a former day care building at 1912 W. Broadway, according to Jefferson County property records.
The car wash and day care parcels are adjacent to the roughly 18-acre site where Passport announced in April it would construct a "health and well-being" campus that includes a two- or three-story office building for its headquarters, perhaps with a parking garage.
The overall site had been slated to house a Walmart Supercenter until the retailer backed out of that plan last fall, leading Passport to step in and save the site's owners from a bank foreclosure.
In addition to the day care and car wash, Passport is under contract to purchase  the retail strip center building that houses Jackson Hewitt and Republic Bank at 2028 W. Broadway and is "in discussions" with the owner of the O'Reilly Auto Parts store at 2012 W. Broadway, according to Passport spokesman Michael Rabkin.
Spokespeople for Springfield, Missouri-based O'Reilly Automotive did not respond to a request for comment.
If Passport were to acquire the strip center and auto parts store, it would have complete control of the frontage along West Broadway between Dixie Highway and Dr. W. J. Hodge Street.
The additional real estate is shown in the map below as "existing retail owned by others" in the northwest corner of the site: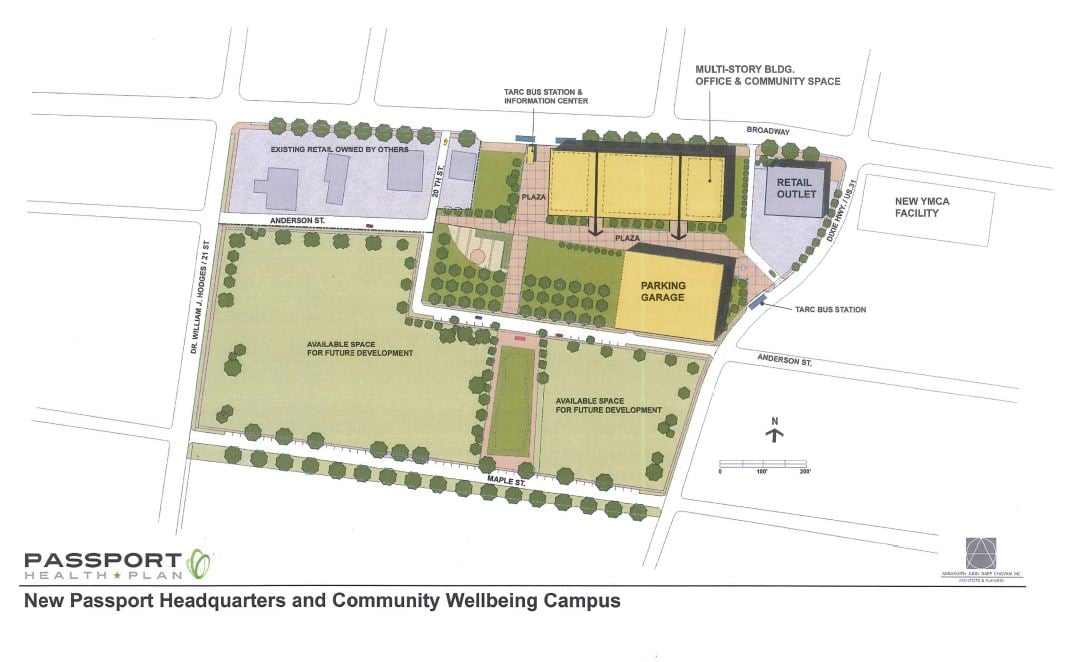 Rabkin said Passport has no specific plans for the additional real estate other than making it part of the overall "health and well-being campus."
"Everything is early in discussion phases right now," he said.
Following the announcement in April, Passport CEO Mark Carter said the goal is to recruit "appropriate retail" to the site such as a "neighborhood grocery" that would sell "affordable, nutritious food" and a pharmacy – but not, for example, a fast food restaurant.
"We want the kind of retail that is going to align with the health and wellness campus we have planned here," Carter said.
He added that health providers or social services agencies could be part of the development.
Carter said it would take about a decade to build out the campus, starting with the office building in late 2019 or early 2020.
Passport has not yet purchased the main site at 1800 W. Broadway from Newbridge Development, owned by construction company executives Frank and Teresa Bridgewaters. Passport said in April it would pay $9.1 million for the site, which used to house a Philip Morris cigarette factory and is now vacant.
Reach reporter Chris Otts at 502-585-0822, cotts@wdrb.com, on Twitter or on Facebook. Copyright 2017 WDRB News. All rights reserved.