ROCKPORT, Ind. (WDRB) -- Corey and Donna Alvey and their two children were sound asleep last week when their home went up in flames.
"We should not have made it out," Donna Alvey said.
As smoked and flames filled the home on Elm Street in Rockport, Alvey said heard something.
"I didn't hear a smoke alarm. I didn't hear the carbon monoxide detector," she said. "I woke up because the cat was crying and digging at the door, and I opened my eyes, and the room was just full of smoke."
Alvey's husband and children were still sound asleep.
"I screamed 'The house is on fire!' and punched him," Alvey said. "I don't remember any of that. I just remember trying to get to our son and daughter."
The couple eventually made it to their 8- and 9-year old son and daughter.
"We all got out with not a hair singed," Alvey said.
But the fire was spreading fast.
"I was first to arrive on scene and assumed instant command," said Jeff Harris, assistant chief of the Ohio Township Volunteer Fire Department.
Harris said the flames were massive. Right now, the only thing that's left is charred rubble from the fire.
"I could see the glow from the fire as I was coming out of my house just a couple of blocks away," he said.
The fire eventually spread to both neighboring homes, and heat from the flames scorched leaves on trees and siding on a house on the other side of the street. The heat also nearly took out a fire engine.
"It actually slightly damaged the engine and the plastic lights and things, because it got so hot on our trucks," Harris said.
Despite losing everything, Alvey now believes that not all heroes wear capes.
Some wear collars.
"She saved our lives," Alvey said. "If she hadn't of woken me up, they said, we just wouldn't have woken up."
In addition to losing their house and cars, the hero cat and two dogs also died in the fire.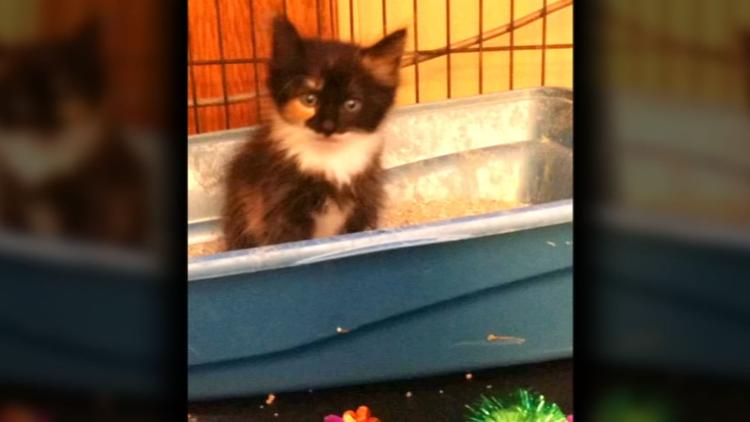 Right now, fire investigators still don't know what caused the fire.
Copyright 2019 WDRB Media. All Rights Reserved.