LOUISVILLE, Ky. (WDRB) -- The leaders of a west Louisville food non-profit organization want to make something sweet out of the city's abandoned properties.
Chef Space helps early stage food entrepreneurs develop and grow their businesses and move out into the real world. President Andrew Held said he's trying to work with the city to rehab vacant properties in the community into retail food shops. 
"I can assist my retail food sales partners with an opportunity to sale that right now they don't have access to," he said.
Those retail sales partners are essentially students of Chef Space, like Lake Langdon.
"I needed to try to change my profession," Langdon said. "I was just cooking a little on the side, and people told me I needed to turn it into a business."
Currently, Langdon sells BBQ on the side of the road, caters on occasion and runs a made-to-order menu out of the Chef Space incubator kitchen near the corner of 18th Street and Muhammad Ali Boulevard. Langdon said he's learned about marketing, food prep process, packaging and overall management from the non-profit. He already owns a barbershop and wants to merge his two passions.
"My dream is to have my area, Parkland, thriving ... having a food district, a place where people can convene and do things like back in the day," Langdon said.
Drive any direction from the Chef Space incubator, and you can't help but see the number of empty buildings, stained by spray-paint with busted windows. Last year, Louisville launched a program offering to sell the blighted properties to developers for as little as $1 with an approved rehabilitation plan and quick timeline for construction. 
Held stressed Chef Space's role in this is in its infancy and that he's still trying to put together funding but considers it a viable way to solve some of the issues with a "food desert" in west Louisville. 
The vacant property plan revealed Thursday coincided with a visit from U.S. Small business Administrator Linda McMahon. 
"This is the highest level of optimism that small businesses have had as long as they've been keeping records. So it's a great time to go into business," McMahon said after touring Chef Space. "The economy is booming."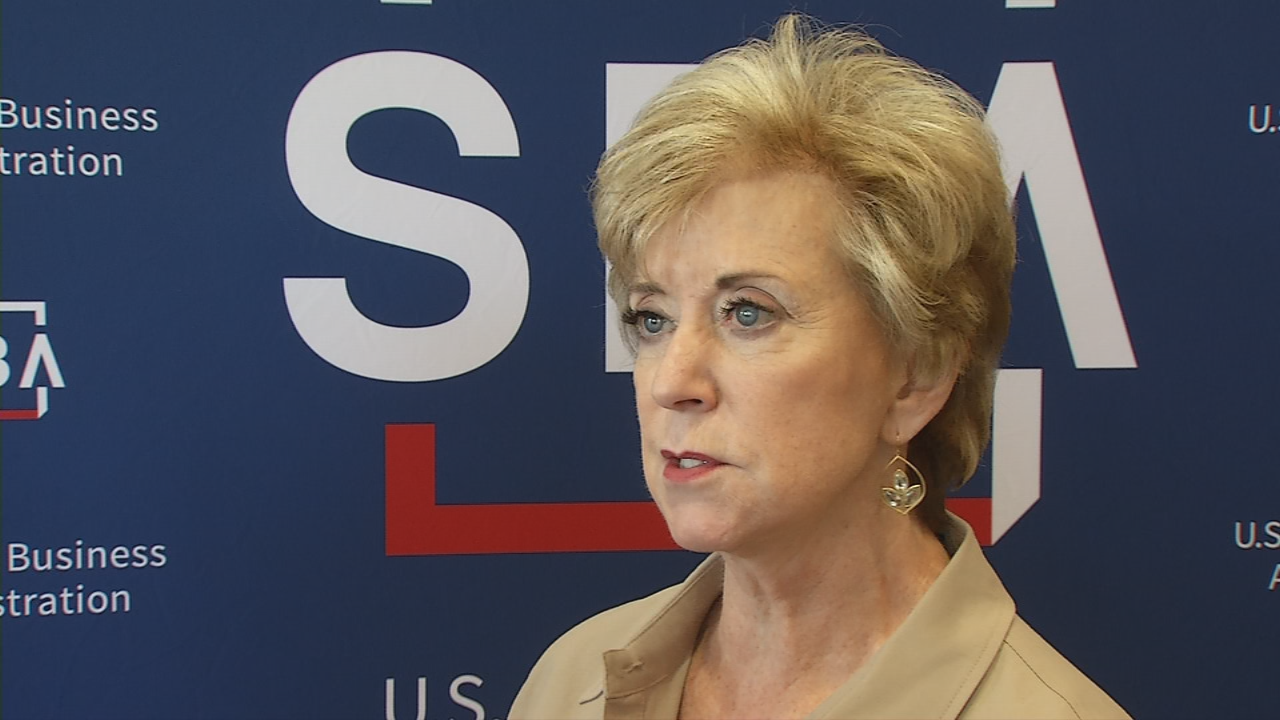 McMahon said the Chef Space concept is one that should be replicated throughout the United States as not just an incubator kitchen but a place where entrepreneurs learn the vital skills needed to thrive in the food and restaurant industry. 
McMahon knows a thing or two about knocking out sales. She's the first lady of the first family of professional wrestling. Linda is the wife of Vince McMahon. Together, they grew a small regional wrestling business into the billion-dollar sports entertainment empire known as World Wrestling Entertainment, or WWE.
Before two unsuccessful runs for U.S. Senate, Linda McMahon served as president and CEO of the WWE.
These days, McMahon doesn't seem to wrestle as much with politics. She's emerged as one of the least polarizing figures in President Donald Trump's cabinet, being confirmed by the Senate with more than 80 votes.
"Everyone wants to see small businesses succeed," she said. "They may have different versions of taxes and regulations and policies, but by in large, this is a train that everybody is kind of on."
The train everyone is on includes the cooks and future business owners taking off at Chef Space. Three years after it launched, eleven graduates have gone on to open their own businesses, and 21 partners are currently using the space. 
McMahon's visit is part of her Ignite Tour visiting all 68 Small Business Administration district's throughout the country.
Copyright 2018 WDRB Media. All Rights Reserved.