LOUISVILLE, Ky. (WDRB) -- Construction has begun on a $300 million hotel and gaming facility project and Churchill Downs, and it's happening under the shadow of the iconic twin spires.
The hotel will have seven stories and 156 rooms. There will also be up to 1,000 slot-like historical racing machines at a facility on the ground floor next to the hotel lobby. There will be a sports bar, a VIP lounge and a restaurant serving breakfast, lunch and dinner.
Construction broke ground at the end of December.
"There's a lot of foundation work going on right now," said Ryan Jordan, general manager of Churchill Downs Racetrack.
The hotel will create three new Derby viewing experiences as guests can watch the races from 96 rooms facing the track. New permanent seating for 4,700 will replace the 3,300 temporary grandstands that are typically raised in the area for the week of the Kentucky Derby.
The project will provide approximately 5,500 new reserved seating options for the Kentucky Derby and Oaks. Additionally, 6,700 existing customers will have access to upgraded amenities.
More than 150,000 people already attend the Kentucky Derby, and this allows for more people to have access to seats for the Derby than ever before.
"We have general admission tickets where people can walk around the venue, but there are a defined number of physical seats and hospitality locations," Jordan said. "So to be able to create those experiences, to provide more locations for people who want to come experience the Derby first-hand."
The second floor will have a new 27,000-square-foot ballroom, which is one of the largest ballrooms in the area, Jordan said.
"For Derby week, it will be table hospitality in the ballroom, so similar to millionaires row product: all inclusive food and beverage," Jordan said. "If you leave the ballroom and walk toward the racetrack, there's an outdoor party deck with outdoor bars and betting locations there."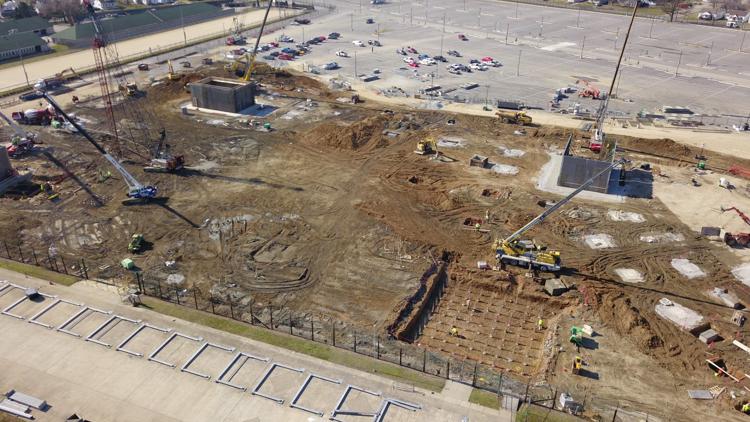 The hotel is scheduled to open by the end of 2021. Guests at this year's Kentucky Derby will see the start of the foundation. The same "Vineyard Vines" temporary seating from last year will be in place this year. 
Copyright 2020 WDRB Media. All Rights Reserved.