LOUISVILLE, Ky. (WDRB) -- City workers plan to clear several homeless camps in downtown Louisville this week. 
Notices were posted Sept. 14, giving those living on downtown streets a 21-day notice before the clearing. Camps will be cleared in areas around a six-to eight-block radius off streets including Jackson, Jefferson, Market, Floyd, Liberty and others.
Signs posted say the clearing will be on or after Oct. 5, 2021. According to the city's Office of Resilience and Community Services, the areas will be cleared the morning of Wednesday, Oct. 6, weather permitting. 
For much of the COVID-19 pandemic, homeless sites had only been cleaned — not cleared — to let people shelter in place. Over the summer, risk assessments of homeless camps began again. Since then, two other locations have already been cleared; one off Southern Parkway and another in the Wilder Park neighborhood. 
City leaders held a news conference in September to discuss the notices posted downtown. 
"Our houseless population needs services, so we have to do everything we possibly can to get those services to them and meet them where they are," Tameka Laird, the city's director for the Office of Resilience and Community Services, said Sept. 14.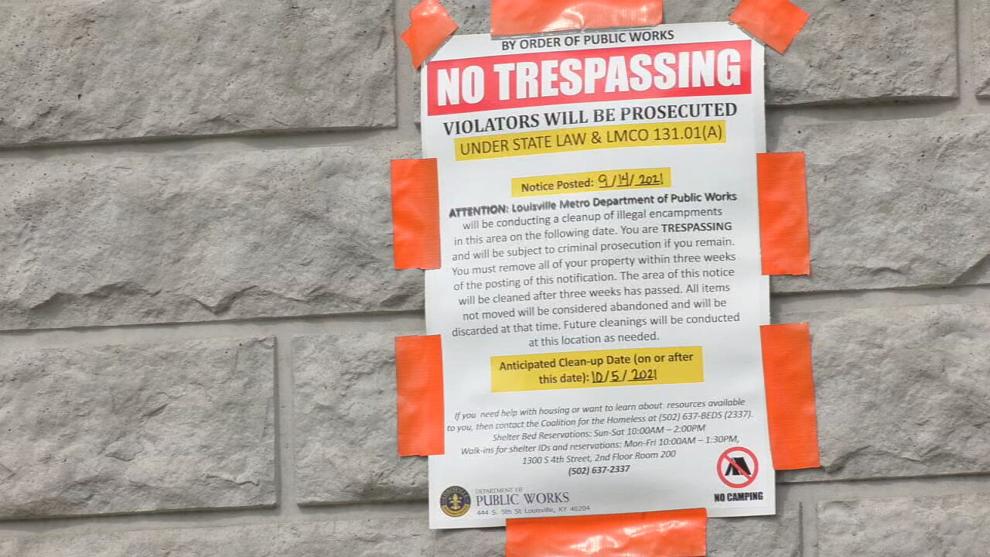 On Tuesday, three weeks since the notices were posted at downtown camps, many people still remained on the streets. 
"We have nowhere to go," said Cora Sparks, who has been living downtown outside Wayside Christian Mission. "It makes me want to cry. I have no money. I have no means. I have no food. And when we leave here, we won't get food no more probably."
Wayside said beds are available inside the shelter, and the city said outreach workers have been working to offer services to those living on the streets. But some people downtown said they're not sure where they will go after the clearing. 
Laird said some camps in Louisville now have deteriorating conditions that pose health and safety concerns, and that is why notices are being posted. She said the goal is to help transition people to permanent housing. 
The city said the 21-day notice is part of the four-phase plan announced in July to address chronic street homelessness with immediate and long-term solutions including a Safe Outdoor Space, transitional housing and increased funding for affordable housing. To read the full plan, click here. 
Laird said the Safe Outdoor Space is expected to be ready in early November. 
Related Stories:
Copyright 2021 WDRB Media. All Rights Reserved.