LOUISVILLE, Ky. (WDRB) -- A vote this afternoon will officially determine the future of a controversial statue in the Highlands.
The Cherokee Triangle Architectural Review Committee is scheduled to vote on what to do with the John B. Castleman statue at 5:30 p.m. Wednesday.
Castleman was a Confederate officer who helped create the Olmsted parks in Louisville.
The Castleman statue has been vandalized several times over the years, just like the George Dennison Prentice statue that was removed from its site in front of the Free Public Library in downtown Louisville in December.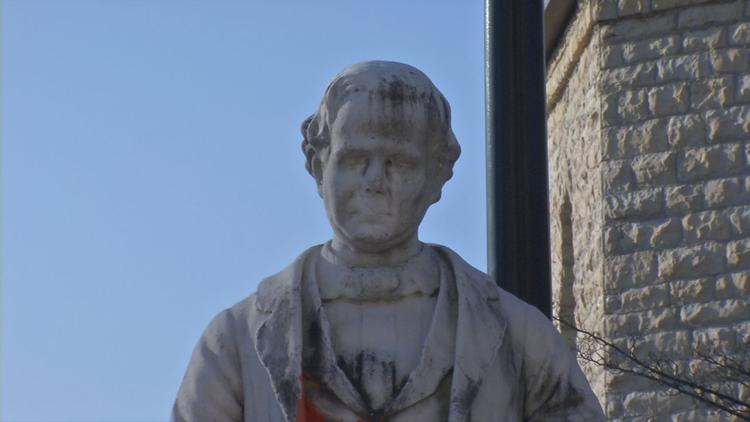 Mayor Greg Fischer had approved removing both statues last year, but the Castleman statue's location in Cherokee Triangle - a historical district - makes getting approval to remove it a little more complicated.
The Castleman statue has been in place for more than 100 years, so the city had to submit an application for removal to the Cherokee Triangle Architectural Review Committee.
Will Ford a communications specialist with Develop Louisville, says the group has to approve any construction or demolition within the historic district, and Wednesday's vote at a public meeting will decide if it will be moved or remain where it is. 
"It is within the Cherokee Triangle historic preservation district, where when the construction or demolition, removal or any sort of exterior change to that environment happens, it triggers a necessary review to make sure that change adheres to the historic preservation guidelines," Ford said. 
Those guidelines include how the removal could impact the streetscape, and the site as a whole, in terms of the area's history.   
If the committee votes to remove the statue, the site would be open for other public art, but until then it would be decorated with plants.
The city is considering moving the statue to Cave Hill cemetery, where there is a burial ground for the Castleman family.
Related Stories:
Copyright 2019 WDRB Media. All rights reserved.