LOUISVILLE, Ky. (WDRB) -- Thousands of law enforcement officers and their families gathered in Washington, DC this week to honor the 158 men and women who lost their lives last year while serving in the line of duty. 
Wednesday was a solemn day in the nation's capital, with May 15 designated as National Peace Officer Memorial Day. About 25,000 people stood shoulder to shoulder outside the capitol to commemorate their sacrifice. 
Among those in the crowd was the family of Charlestown Police Officer Benton Bertram. He was killed in December when his car hit a tree as he pursued a suspect who refused to stop.
The small southern Indiana community was gripped in grief after Bertram's death. With a police department of just 16 people, many know the officers by name. Bertram was among the most well-known because he worked with a K-9 partner.
Bertram's loved ones are still coping with his sudden passing. They spoke with WDRB about their journey through love and loss.
"I really, really miss him," said his sister, Lindsey Wolff. "He was my sidekick. I was the big sister, he was my little brother."
Bertram's brother-in-law Tim Wolff said he was "just a good guy -- he was a guy's guy. He was somebody that I could always turn to when I needed anything."
Lindsey says she wants "everyone to know that Ben was just a good ole country boy who loved his job, loved his dogs."
Tim Wolff said Bertram would not have wanted such an elaborate memorial. "I think he would think it would be way too much -- like 'don't make that fuss over me, I'm nobody special.' But he was special.
"Ben and I were both on the police department. We've talked about what would happen if one of us was to fall in the line of duty, what we would do. And we always promised each other that we would take care of each other's families." 
The memorial did provide some closure for Bertram's loved ones. "To see his name in the wall, it's permanent, it's forever," Lindsey said.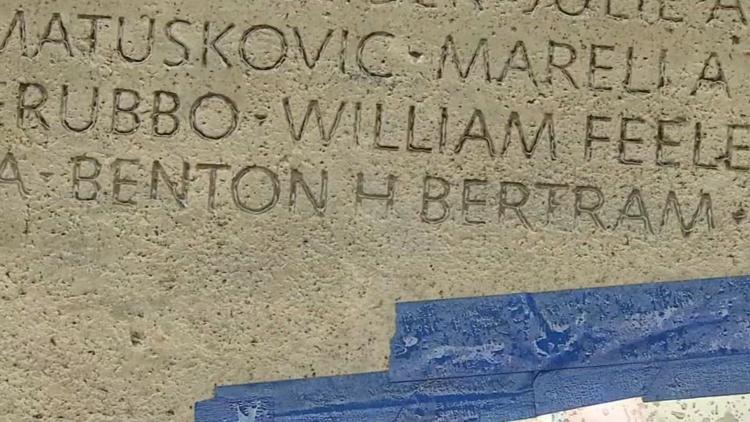 "I really miss him, and I wish he was here," Tim said. 
Copyright 2019 WDRB Media. All rights reserved.