LOUISVILLE, Ky. (WDRB) -- From the packages that arrive at the door to the drugs that flood the streets, Kentuckians have a stake in border security.
That was the message delivered by the acting secretary of Homeland Security and the acting director of Immigration and Customs Enforcement (ICE) in Louisville on Monday.
"What happens at the border affects all 50 states and communities all over the country every day," Acting DHS Secretary Kevin McAleenan told reporters following a speech at a meeting of the National Sheriff's Association.
McAleenan said the border crisis is not just confined to the southwest. He said it is as close as Louisville's UPS hub, which handles packages from all over the world.
"E-commerce from China, and within those shipments, for instance, we see fentanyl and other synthetic opioids being smuggled into the country," McAleenan said.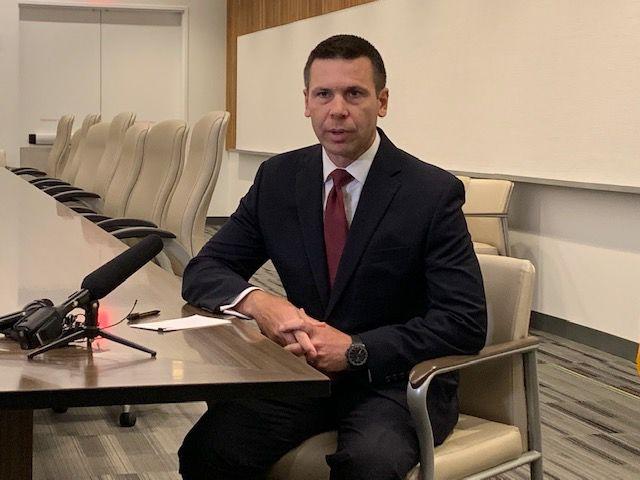 They are deadly drugs that end up on the streets of Louisville, said Mark Morgan, the acting director of ICE.
"When you have a fentenyl overdose, more likely than not, where do you think that fentanyl came from? From the southwest border, from the Mexican cartels," Morgan told WDRB News in a separate interview.
Morgan and McAleenan came to the annual meeting of sheriffs to stress the importance of working with local law enforcement on border control.
"Working with local jurisdictions allows us to ensure that people who commit crimes, and who are also here unlawfully, can be identified and repatriated effectively," McAleenan said.
While Louisville is not a sanctuary city, LMPD policy restricts how closely officers can work with federal authorities on immigration arrests.
"I can tell you, unequivocally, your neighborhoods, your town is less safe when policies like that are passed," Morgan said.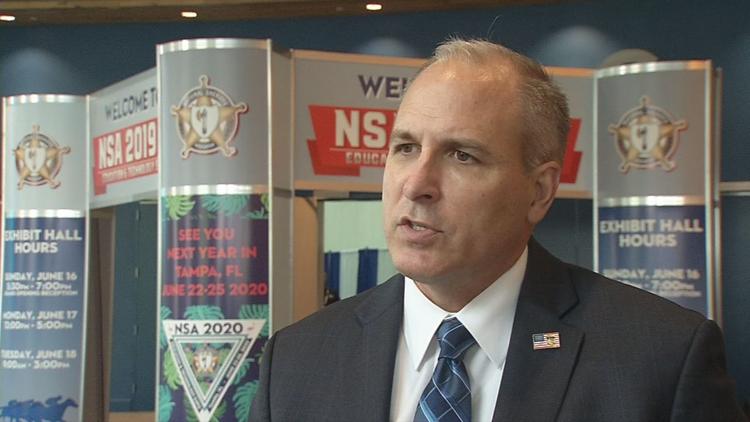 In 2018, demonstrators set up outside the ICE office in Louisville to protest the Trump administration's immigration policies, including separating families at the border.
"That's very rare. It's done in the interest of the safety of the child," McAleenan said. "We're talking about situations where there's a serious criminal prosecution, an emergency medical issue involving a parent or a risk of abuse or neglect."
McAleenan said out of an average of 2,500 families crossing the border last month, one to three families were separated.
Morgan said smugglers are often using children as cover to get into the country, and he urged Congress to pass new legislation to discourage the practice.
"These individuals are going to keep coming, because they know if you grab a kid, that's a passport in the United States," he said. "If you grab a child, you're allowed into the interior of the United States, never to be heard from again."
They said the administration makes no apologies for the efforts to deport families who may be running from violence in their home countries.
"If you're here illegally, and you've received due process, you should be removed," Morgan said. "There should be consequences, including families."
Morgan also called President Trump's threat to impose tariffs on Mexico if they did not do more to enforce border security a "game-changer," despite concerns voiced even by Republicans in Congress, including Kentucky Sen. Rand Paul.
"All I know is before the tariffs they weren't doing it," he said. "After the threat of tariffs they signed an agreement, and they're doing it."
Copyright 2019 WDRB Media. All Rights Reserved.