LOUISVILLE, Ky. (WDRB) -- The busy holiday travel season is just around the corner, but a lot of people are still avoiding air travel because of the COVID-19 pandemic.
A new report from the United States Department of Defense and United Airlines could help change that.
After conducting 300 tests during a six-month time period on United's Boeing 777 and 767, both in flight and on the ground, researchers concluded that the risk of COVID-19 exposure onboard an aircraft is "extremely unlikely" if everyone wears a mask.
Even on a long flight, the risk of exposure is "minimal" if masks are worn, according to the study. The higher risk comes from sitting in the same row as someone with the virus, followed by the rows directly in front and behind them.
"That's good information to get out to the public," said Natalie Chaudoin, the director of public relations for Louisville Muhammad Ali International Airport. "According to that report, it does seem that mask wearing is a very big factor."
The study utilized a mannequin equipped with an aerosol generator, which allowed technicians to reproduce breathing and coughing during a flight and track how aerosols moved through the cabin. The mannequin was tested wearing a mask and not wearing a mask. 
The study's results not only showed that circulating air on planes is unlikely to spread the virus, but it also found that aircraft ventilation systems are effective at removing it from the air.
There are some caveats, however.
First, the study used a mannequin and not human passengers. It also assumed all passengers are masked and facing forward. On most flights, passengers move their heads and walk up and down the aisles while going to the restroom. 
Researchers also noted that they only tested with standard three-ply surgical masks, one of the most popular types and the same kind the airline supplies. However, other face coverings like gaiters, cotton masks or masks made of other materials could vary in their effectiveness.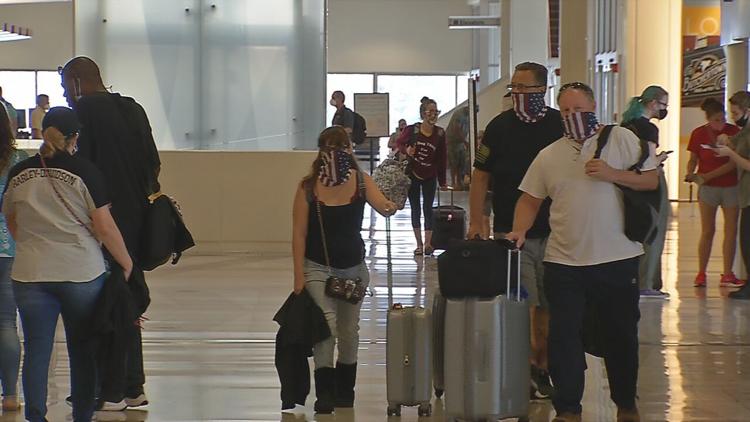 Despite the ongoing reduction in air travel, officials with the Louisville Muhammad Ali International Airport said they are continuing to follow strict Centers for Disease Control and Prevention guidelines throughout the airport.
"We'll start to see things pick up this fall," Chaudoin said. "We're trying to do what we can locally to keep travelers here safe and healthy and to let them know that it is OK to fly, you know, when they're ready to fly."
Copyright 2020 WDRB Media. All Rights Reserved.