LOUISVILLE, Ky. (WDRB) -- All Indiana residents age 16 and older will be eligible to get vaccinated against COVID-19 on March 31, Gov. Eric Holcomb said Tuesday. 
After more Hoosiers become eligible for vaccination, Holcomb said the statewide mask mandate will become an advisory on April 6. Additionally, the state will defer all decisions on venue capacity to local officials. 
"We're letting everyone choose. As long as there are science to back it up and everyone wants to make their own choice, then local government should be able to chose what they want to do as opposed to just a blanket statement per state," said Jordan York, manager of Pearl Street Game and Coffee House in Jeffersonville, Indiana. 
However, others are still hesitant about the mandate being lifted. 
"It shouldn't really be up to the individual, because that one individual could affect so many other people and other things if they chose not to wear a mask," said Sara Raney, who supports the mandate.
Holcomb said the state's steep declines in coronavirus hospitalization and deaths rates along with the growing number of people fully vaccinated justify the steps starting April 6. The date for ending the mask mandate was picked to coincide with the ending of the NCAA men's basketball tournament now being held in Indianapolis and to allow more time for people with at-risk health conditions to get vaccine shots, he added.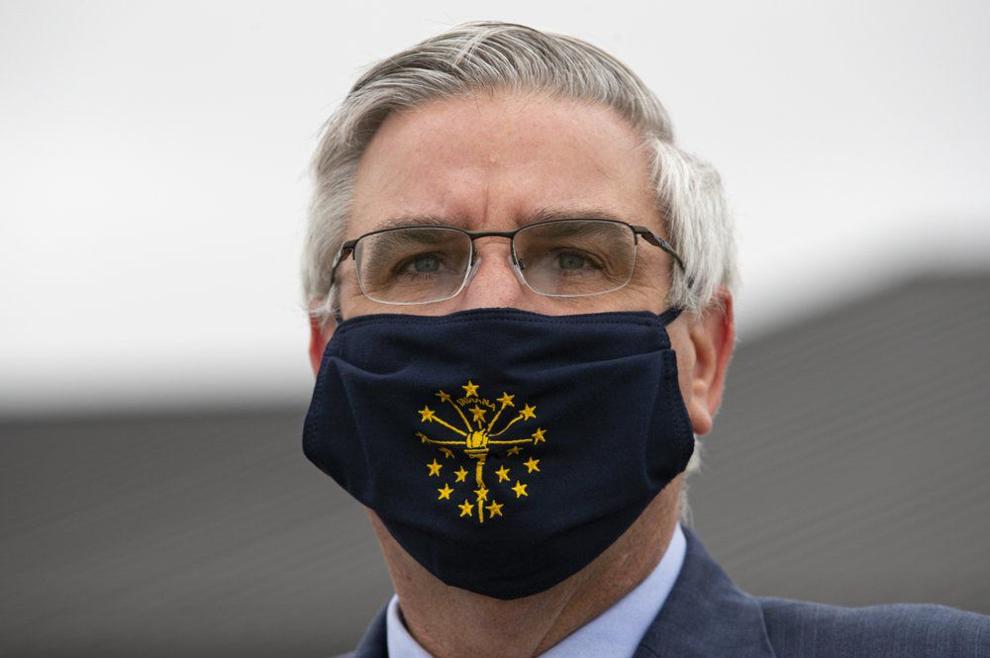 Some health experts, however, worry it is premature to lift the statewide restrictions.
"We put a lot of restrictions in place last year, there was some initial hesitation by some parts of the population to comply with some of those orders," said Brian Dixon, an epidemiologist at Indiana University's Fairbanks School of Public Health. "And then what we saw in the fall is that rates went up, they skyrocketed because people were not following precautions."
Mask wearing will remain mandatory at public schools, state facilities and COVID-19 testing sites, and Holcomb said local governments may impose more stringent guidelines if they choose. The governor urged residents to continue wearing masks in public and that bars and restaurants continue to space out their tables.
"Whether that is a bank branch lobby, on the factory floor or a county courthouse or city hall, they retain the authority to make decisions about COVID restrictions for their operations and should be afforded the respect, compliance and understanding of all who visit them," Holcomb said during a virtual address. "When I visit my favorite restaurants or conduct a public event, I will continue to appropriately wear a mask, it's the right thing to do.
"... The light at the end of the tunnel becomes brighter and brighter," he added. "... It's up to each and every one of us to do our part to stay on our course."
The expansion of vaccine eligibility comes as Indiana expects to receive "large increases in the amount of vaccine that will be flowing to us beginning the last week in March," Holcomb said.
As of Tuesday, Indiana has administered 1,469,362 first doses of coronavirus vaccines, and the state health department reports 970,161 individuals are fully vaccinated against the virus that has killed more than 12,500 Hoosiers over the past year. 
Holcomb also said he plans to renew the state's public health emergency order for another 30 days. 
The Associated Press contributed to this report. Copyright 2021 WDRB Media. All Rights Reserved.