LOUISVILLE, Ky. (WDRB) -- Kentucky reported 1,864 new cases of COVID-19 on Wednesday and 14 additional deaths in which the virus was a contributing factor, Gov. Andy Beshear said. Of the new cases, 352 were reported in Jefferson County. 
With Wednesday's report, Kentucky surpassed 101,000 infections since March, the governor said. Of those 101,494 infections, at least 18,165 have recovered, according to a report from Kentucky Public Health. 
Beshear said a record 923 Kentuckians were hospitalized with the virus Wednesday, and 235 patients were being treated in intensive care units. As of Wednesday, 110 people were on ventilators. Louisville's hospitals, however, are so far not seeing the same spike in intensive care units, according to a WDRB News report Tuesday. 
The 14 deaths reported Wednesday bring Kentucky's virus-related death toll to 1,442 since March. Among the victims were men, ages 70, 80 and 81, from Jefferson County and a woman, age 87, from Jefferson County, according to Beshear.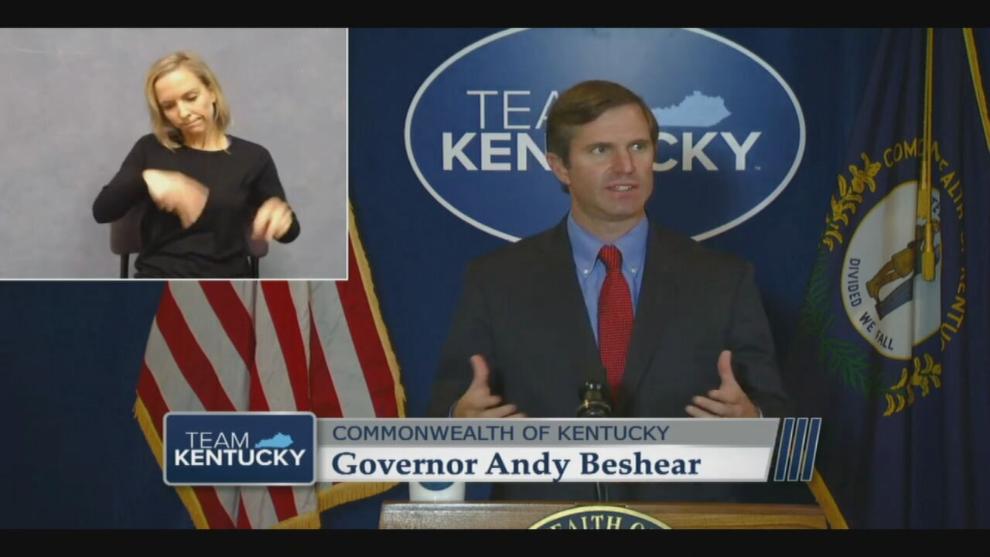 For the first time since Aug. 8, the state's positivity rate, or the share of COVID-19 tests that come back positive, climbed above 6% on Wednesday, Beshear said. A month ago, the rate was hovering around 4.4% before dropping to 4.07% on Sept. 30. 
As of Wednesday, 64 of Kentucky's 120 counties were averaging 25 or more new COVID-19 cases per day per 100,000 residents, according to an updated incidence rate map provided by the state. Forty-seven counties reported "accelerated" spread, and none were on track, the map shows. 
"When you look at the incident map, it also shows you that this is not localized," Beshear said. "And none of us can say, 'It's not in our community' anymore. And none of us should say, 'Well, it's just in the nursing home or just in the prison in our community.' It is in the community." 
"This is the worst this map has ever looked, and every indication would suggest that it's gonna get worse before it gets better," added Dr. Steven Stack, Kentucky's public health commissioner.
The counties that are in the red zone Thursday will be asked to follow nine new recommendations for limiting the spread of the virus, including rescheduling or canceling public and private events and avoiding nonessential activities outside the home. Every business is allowed to be open under the recommendations.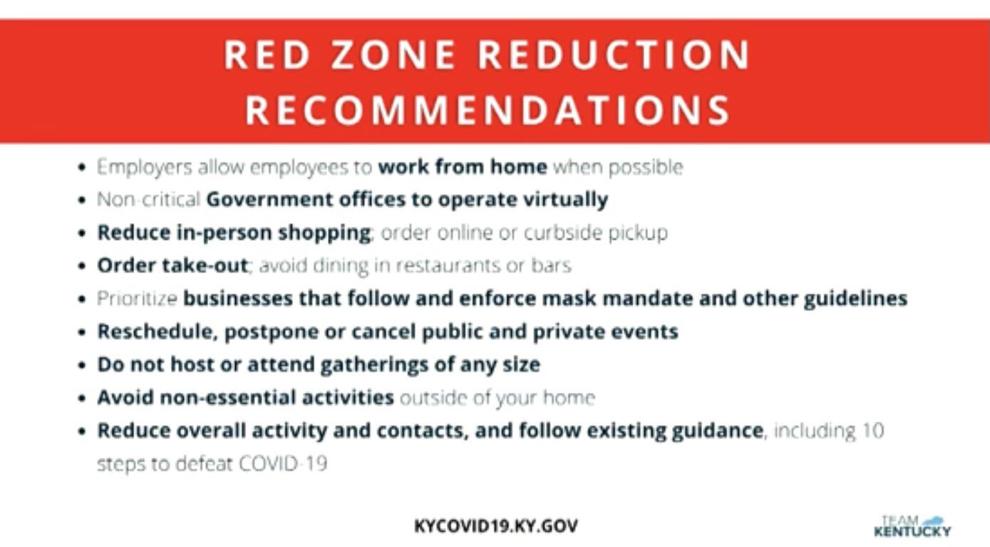 "It takes an entire community to protect the most vulnerable, to keep our schools open and to keep our economy running," Beshear said. "What we need to see is that when a county hits red, everybody comes together in a coordinated effort. 
"That's our long-term care facilities following guidelines, that's our schools following guidelines and that's our government, businesses (and) entire community following guideline," he added. 
A new surge testing site will open from 9 a.m. to 5 p.m. Thursday at the Kentucky Exposition Center and will offer 200 tests on its first day. On Friday and Saturday, the site will be open from 9 p.m. to 5 p.m. and will offer 300 tests. It will close Sunday but reopen for testing from Nov. 2-6. 
Beshear encouraged Jefferson County residents to vote early at the Expo Center to avoid large crowds gathered there on Election Day and to use the testing site while they are in the area. 
To register for a test, visit www.doineedacovid19test.com. 
The Associated Press contributed to this report. Copyright 2020 WDRB Media. All Rights Reserved.