LOUISVILLE, Ky. (WDRB) -- Atria Senior Living will require employees to get the COVID-19 vaccine, the Louisville-based company announced Monday. 
"Our residents deserve to live in a vaccinated environment and our staff deserve to work in a vaccinated environment," Chairman and CEO John Moore said. 
Residents and staff at Atria's facilities in Louisville were some of the first to receive doses of the vaccine in December. 
Serving a population hit hard by the pandemic, Moore is hopeful the vaccine requirement will eliminate the spread of COVID-19 at Atria's nearly 200 facilities in the US and Canada. 
"There's no perfect answer, but it's the next-best answer and the best chance for us to get on the other side of this," Moore said.
Atria's vaccine requirement comes as a recent survey by the Kaiser Family Foundation found that 29% of healthcare workers were "vaccine hesitant." 
"Are there going to be some loud voices that prefer not to? Sure," Moore said. "And we work through that with education and support."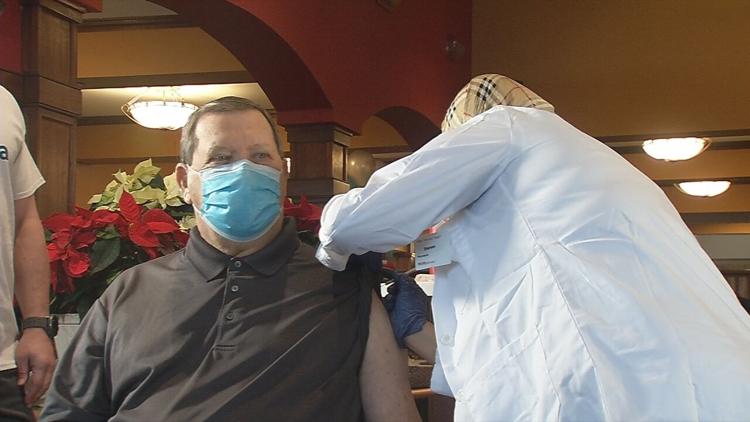 Ariana Levinson, a professor at University of Louisville's Brandeis School of Law, said vaccination requirements will continue to be debated. 
"When we see this coming up more will be as employers start, like in this situation, requiring it and there's actually enough vaccine available," said Levinson, who focuses on labor and employment law. 
Levinson said companies are looking into what to require of employees, something Moore echoes.
"We've received many calls from similar businesses (asking), 'How did you do this?'" he said. "So I'm really hopeful to see other people follow suit."
Thus far, at least 500 Atria employees and 1,000 residents have received the first dose, according to Moore. 
"It's virtually all the residents are immediately taking the vaccine," he added. "They're a generation that saw polio cured, saw small pox eradicated, so they're very comfortable. And the majority of the staff are taking it, as well."
Atria has set a May 1  deadline to get all employees vaccinated.
Related Stories: 
Copyright 2021 WDRB Media. All Rights Reserved.